Dr. Davide Amato
Research director of the Laboratory for Addiction Medicine
Small breakthroughs in psychiatry
Dr. Davide Amato has been the research director of the Laboratory for Addiction Medicine at the Department of Psychiatry and Psychotherapy at Universitätsklinikum Erlangen (German) since 2010. Dr. Amato specialises in the neurochemistry of schizophrenia and drug treatments in this area. In his project 'Antipsychotic treatment failure', he investigates mechanisms which are responsible for causing relapses due to the reduced efficacy of antipsychotic drugsin a large number of treated patients, despite initial success.
In addition to his own research, Dr. Amato also leads several projects in the areas of addiction, depression and schizophrenia and is a mentor for students of medicine and doctoral candidates who work in the laboratory for addiction medicine. He is also working towards obtaining his teaching qualification (Privatdozent).
I enjoy outdoor sports and this is a great place for it.
Dr Amato, you are a specialist in the neurochemistry of psychiatric disorders at Universitätsklinikum Erlangen. What caused you to be interested in this field?
My interest in the field has grown over time. I started research into this field during my doctoral thesis in pharmacology. During my research, I examined diverse antipsychotic substances to develop a model of psychogenic polydipsia. Afterwards, I conducted research into neuroplasticity at King's College London – specifically the changes in neural connections in the nervous system caused by long-term treatment with antipsychotic drugs. The results from these studies led me to take a special interest in this area in my research today.
Could you describe the project your research group is currently working on?

We are concerned with the specification and functional characterisation of the role that neural pathways have in controlling drug dependency, depression and the long-term effects of treatments with antipsychotic drugs.
What have been the most important findings you have made in your research at Universitätsklinikum Erlangen so far?
The most important results we have found include proving that sphingolipid metabolism is involved in depression, demonstrating a build-up of antipsychotic drugs in neurons in in-vivo systems and evidence which suggests that the efficacy of antipsychotic drugs is controlled by mechanisms which we will be describing soon in scientific articles.
What benefits can society in general expect as a result of your research?
The results of our research are linked closely to potential clinical applications. Our research is mostly applied research rather than basic research. Our most recent successes are small breakthroughs in the field of psychiatry, that have led to a better understanding of neurobiological causes which leads to improved patient care and will be considered in future treatments.
Why did you choose FAU as a host university?
It was a happy coincidence: a professor from Universitätsklinikum Erlangen who was interested in my research and experience with specific research methods invited me to continue my research in Erlangen.
What do you think are the main differences between your home university in Rome and FAU?
When it comes to my home university Sapienza in Rome – a very large state university – I would say that size isn't everything. FAU has more financial resources than my home university.
What were your first and later impressions of the Erlangen-Nuremberg region?
My first impression was the size of Erlangen – it seemed very small in comparison to London and Rome. After a while, I grew to appreciate the peacefulness and short distances between university buildings. Above all I like the fresh air, the forest and the mountains. I enjoy outdoor sports and this is a great place for it. There are also a lot of Italian and international restaurants and the beer is second to none!
Do you already have a particular highlight, an experience or a moment during your stay so far, that you'll remember for a long time?
Winter 2010–2011 was a special time for me when I arrived in Erlangen. It was a long winter and there was a lot of snow. It probably had a lasting impact as I had never experienced such weather. Looking back, it was a very pleasant and enjoyable time.
Can you tell us some of your favourite places at FAU and in the region?
I like the Schlossgarten, being close to Nuremberg, the forests, the scenery and the olympic length swimming pool in Erlangen.
What would you say to students or young researchers who are considering whether they should choose FAU for a stay abroad?
I would say that Universitätsklinikum Erlangen is a great place to develop their research career, especially thanks to the outstanding quality of research and many positive personal experiences I have had here.
Is there anything else you'd like to add?
Yes – thank you for interviewing me.
We would also like to thank you for taking part and wish you all the best in your upcoming research.
About Davide Amato: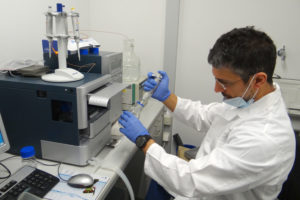 Before coming to Universitätsklinikum Erlangen in 2010, Davide Amato was a postdoctoral researcher at King's College London at the Department of Psychological Medicine (Section of Schizophrenia, Imaging and Therapeutics). He completed his doctoral degree in pharmacology at Sapienza University in Rome in 2008 with a thesis entitled 'Quinpirole-Induced Non-Regulatory Drinking Behaviour: A Pharmacological Model of Psychogenic Polydipsia'. He completed his medical qualification in psychology there in 2004, having obtained a Master of Science in experimental psychology with an outstanding final grade from the same university in 2003. The title of his Master's thesis was 'A study on the discriminative properties of addictive drug abuse using a procedure based on aversive stimuli'. In addition to several other awards, Davide Amato received a 53,000-euro grant for his project 'Neurochemical and molecular adaptations associated to antipsychotic treatment failure' in 2012 from the Fund for Research and Teaching at the University Hospital – Friedrich Alexander Universität Erlangen-Nürnberg.
Interview: June 2015