International court competition in Courtroom 600: Nuremberg Moot Court
'Teams of international students prepare both prosecution and defence for a fictional case,' Christoph Safferling, Chair of Criminal Law, Criminal Procedure, International Criminal Law and Public International Law at FAU, explains what happens during a moot court. FAU's International Criminal Law Research Unit organised an international moot court in Nuremberg with the International Nuremberg Principles Academy.
And the winners are…
On 29 July 2017, the team from the Strathmore University, Kenya beat the team from the National University of Kyiv-Mohyla Academy, Ukraine in an exciting final at the historic Courtroom 600 of the Nuremberg Palace of Justice.
The winning team consisting of Cindy Yvette Wakio, Olivia Wambui Njoroge, Lisa Achieng Owino and Catherine Penda, competed against 35 other international teams. In the fictional case concerning the fight against drug cartels by security forces in the imaginary state of Naboo, the team could successfully convince the panel during the oral pleadings. The moot was held in Courtroom 600, the historical site of the Nuremberg Trials against the main war criminals of the Nazi regime.
Cindy Yvette Wakio (Strathmore University) and Anastasiia Yermolenko (National University of Kyiv-Mohyla Academy) were awarded best overall speakers of this Moot Court.
'We are delighted to see 200 students participating – a lot more than last year. Also several teams came from countries that face a difficult situation in international criminal law, such as in Rwanda, Kenya or Ukraine,' said Klaus Rackwitz, director of the International Nuremberg Principles Academy.
Procedure of the Nuremberg Moot Court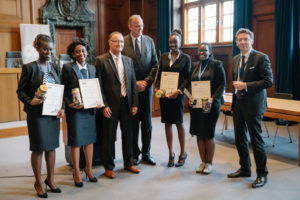 During a simulated trial, a fictional case is presented in the historic Courtroom 600, this is also where leaders of the Nazi regime had to answer for their crimes before the International Military Tribunal. Nuremberg Moot Court consists of teams of three to five students who compete for first place. This year, 36 universities participated from all over the world with entrants from Australia, Afghanistan, Pakistan, Armenia, Ireland and Brazil. 'Nuremberg Moot Court offers a unique possibility for students from all over the world to train their international law argumentation skills in the realistic settings of the historic courtroom of the Nuremberg trials. This competition supports law students' practical skills and improves their early career opportunities,' says Klaus Rackwitz, Director, International Nuremberg Principles Academy.
FAU's International Criminal Law Research Unit and the International Nuremberg Principles Academy are dedicated to promoting and developing the most important principles of the Nuremberg trials of 1945. The aim is to support international criminal justice throughout the world, and effectively combat crimes which contravene international law.
This year's winner is the team from Strathmore University, Kenya. (Image: IANP/LÉROT)
Further information:
Information on event locations and times can be found here: www.nuremberg-moot.de
FAU's International Criminal Law Research Unit
Phone: 09131/85-22186
vstr@fau.de