Erlangen or Nuremberg?
One university, two cities. And both of them have plenty to offer beyond the lecture theatres and laboratories. We asked two insiders for their tips on what to see and do in the cities.
Nuremberg: a vibrant metropolis
Koray grew up in Nuremberg and is in the eighth semester of his degree in business and economics.
For studying…
I like to go to the library. I like studying with other students in the relaxed atmosphere of the group room.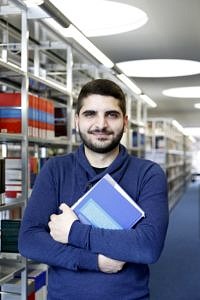 When the weather is good…
we go to Dutzendteich or the Pegnitzbrücke, have a barbecue, play ball games and enjoy the good weather.
And when it rains…
there are a lot of other options. One example is Palm Beach swimming pool, which has a lot of slides, a wave pool and a very large sauna. When you're there, you quickly forget that the weather's not so good.
I especially like Nuremberg because…
everything is so central. If I want to go out, the various locations are all within a ten minute walk of each other. If I have some errands to do, I don't have to travel for hours with public transport. Despite its size, the city still offers a wide variety of events, there's always something going on.
If I go for a trip in the region, I go to…
the Brombachsee lake. The Brombachsee is perfect for relaxing and unwinding, it's the perfect place to go to get away from it all for a while, and it only takes an hour to get there.
When I go out in the evenings…
we usually have some drinks at a friend's flat and play some drinking games, then we go on to a club. Most clubs charge reasonable, student-friendly prices for cocktails and entry.
You can meet nice people…
at student associations. During courses and lectures you often don't have the chance to meet cool new people who are on the same wavelength as you. I would definitely recommend getting involved in a student association.
My recommendation for culture in Nuremberg…
is the Imperial Castle. It's the perfect place to enjoy the view and relax in the evening after a long, tiring day.
Bergkirchweih: yes or no?
Although the Berg is in Erlangen, I really look forward to it every year. The train connections are quick and easy, and it's a great place to enjoy a beer with friends and colleagues.
Rock im Park or Bardentreffen?
Neither: I prefer to go to festivals or comedy shows. Kaya Yanar, for example, comes to the region at least once a year.
I always most look forward to…
die Blaue Nacht (city-wide art event). The whole city is lit up in blue, and various cool events are held. It really is a must, all students should experience this special night in Nuremberg at least once.
Last but not least, my insider tip for Nuremberg…
is the Wöhrder See. Now that the building work has finally been finished, the people of Nuremberg can finally enjoy a 'beach feeling' in our beautiful city.
---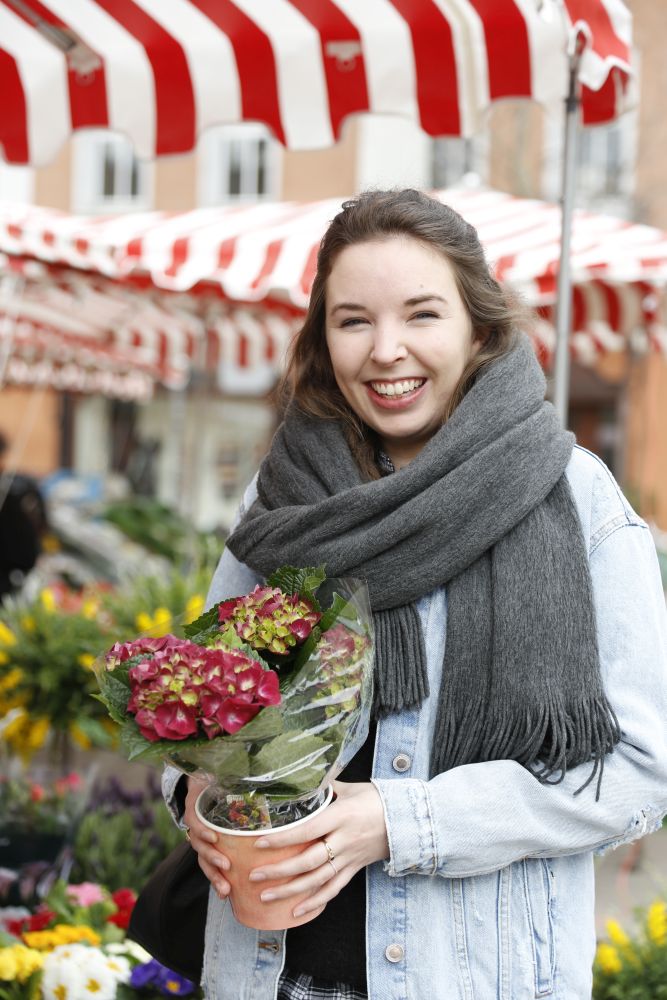 Erlangen: a small city with a lot to offer
Julia has lived in Erlangen for one and a half years and is studying for a Master's degree in book studies.
For studying…
I go to my room or to the University library. As I mainly have to write written assignments, I tend to go to my room more often.
When the weather is good…
I'll definitely be in the Schlossgarten, with my rug, a frisbee, some beer and a few friends. If I need to cool down, I like to go to the Dechsendorfer Weiher.
And when it rains…
I stay in my flat or go to one of the many nice little cafés or coffee shops. I especially like Erlangen because… the town is a nice size and has good connections to Nuremberg and Bamberg. If you're fed up of always going to the same café, you can easily go to Nuremberg or even Bamberg.
If I go for a trip in the region, I go to…
Bamberg, Nuremberg of course, the Dechsendorfer Weiher, the Fichtelgebirge for skiing or the Franconian Switzerland region for hiking. When I go out in the evenings…I go to a pub in Erlangen to play pool or darts.
You can meet nice people…
at University sports, at the Berg beer festival, in language courses, basically anywhere where there are a lot of students.
My recommendation for culture in Erlangen…
is the poetry festival, either listening to readings in the Schlossgarten or visiting galleries.
Bergkirchweih:  yes or no?
Definitely yeah. You can't avoid it in Erlangen (unless you go away for a week, but that would be a bad idea, it's well worth going).
Rock im Park or Bardentreffen?
Definitely both!
I always most look forward to…
Rock im Park is a highlight every year. Even if you just go for one day or choose not to camp there, it's worth going to the festival.
Last but not least, my insider tip for Erlangen…
if you want to get out of town without going far, I would recommend going to see the wild horses in Tennenlohe. It's a beautiful spot for walks in the woods, for a picnic and, if you're lucky, you can see the horses too.
---
Looking for an apartment?
Once the decision for a city has been made, it's time to start looking for an apartment. Information can be found on the FAU websites and at the Studentenwerk Erlangen-Nürnberg.
---
An online guide to starting at FAU
Congratulations! You've decided to study at Friedrich-Alexander-Universität Erlangen-Nürnberg. That's a great choice! Plus, you've just found the perfect companion to show you around: Our magazine frisch! an der FAU can tell you (nearly) everything you need to know about our university.
You can find more articles from the frisch! on this website.