#FAU4FAU – Staff for Students fund
Appeal for donations at FAU for students in need
The coronavirus pandemic has caused a great deal of upheaval – also at FAU. Some students are now facing serious financial difficulties through no fault of their own. FAU would like to offer its support in this situation with the #FAU4FAU – Staff for Students fundraising campaign.
Working in a bar or restaurant or in a department store – these are typical jobs for students that are currently not possible due to the lockdown. The measures in place for slowing down the pandemic have therefore placed a great financial burden on many students as they still have to pay for food, rent and insurance. In addition, they may also have to purchase additional technical equipment to take part in online lectures and seminars during the upcoming summer semester. These purchases, which were not planned for in advance, are now necessary and can be very expensive. Not all students have parents or relatives who can help them in this situation.
However, the FAU family can help – this is the idea behind #FAU4FAU – Staff for Students. FAU staff who are in the fortunate position that they do not have to fear financial losses as a result of the coronavirus pandemic support our students who are in need through no fault of their own.
Appeal to FAU staff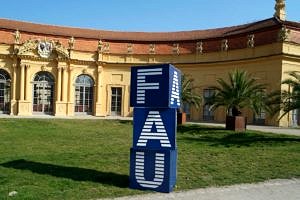 FAU President Prof. Joachim Hornegger is calling for donations on behalf of the Executive Board with the #FAU4FAU – Staff for Students fundraising campaign. 'The purpose of this campaign is to motivate FAU staff to offer their support to our students during this very difficult time. We can overcome this crisis together at FAU.'
The aim of the appeal fund '#FAU4FAU – Staff for Students' is to help students who are now in financial need due to the coronavirus pandemic so that everyone can use the digital learning services being offered by FAU during summer semester 2020. FAU staff can make donations until 31 May 2020. 'I would like to thank all staff at the University for their support for our students in these very challenging times,' says Prof. Hornegger.
How can I donate?
You can donate to the #FAU4FAU – Staff for Students fund until 31 May. FAU has set up an account for the fund:
Recipient:
Friedrich-Alexander-Universität Erlangen-Nürnberg, Körperschaft des öffentlichen Rechts
Bank details:
HypoVereinsbank
IBAN: DE22 7632 0072 0003 2202 22
BIC: HYVEDEMM417
Payment reference:
4170.0052.0641
Proof of a bank transfer to the account is sufficient as a donation receipt for amounts up to 200 euros. Please contact fau4fau-zuwendungsbestaetigung@fau.de for a donation receipt for amounts over 200 euros. Please note that we need your personal details (identity) for the donation receipt, which means you cannot make an anonymous donation in this case.
Who can apply for assistance?
Students who are enrolled at FAU in summer semester 2020 and who are currently facing financial difficulties as a direct result of the coronavirus pandemic can apply for financial help. The funding is limited to a one-off lump sum payment of 900 euros per student for living expenses. Students can also apply for up to 300 euros to cover costs for technical equipment if RRZE (Erlangen Regional Computing Centre) cannot provide this technical equipment. Financial difficulty due to the coronavirus pandemic is also a prerequisite for applying for this funding. Applications can be made by completing the application form and sending it to the following address: fau4fau-antrag@fau.de. Please note that the amount of funds available from the #FAU4FAU – Staff for Students fund is limited by the number of donations and there is no guarantee that you will receive any financial support.
Applications for support can still be submitted until 30 April 2020 inclusive.
Any donations not used during summer semester 2020 will be awarded to students in a new fund during winter semester 2020/2021.
Please contact fau4fau-antrag@fau.de if you have any questions about the #FAU4FAU – Staff for Students fund.
Campaign website: www.fau.eu/corona/fau4fau
Further information:
#FAU4FAU – Staff for Students
Doris Kühlers
Dr. Christopher Schmidt
Kanzlerbüro
+49 931 85-25816
kanzlerbuero@fau.de