'Bergauf': Online opening of Bergkirchweih with 'Friedrich' beer
A cooperation between funklust and 'WirBier', a start-up founded by FAU students
A summer semester without Bergkirchweih? Unthinkable! This year the traditional tapping of the first barrel of beer at Erlangen's Bergkirchweih is being replaced by an online toast with the University's own beer. In cooperation with WirBier, FAU has brewed its 'Friedrich' beer named after its founder Markgrave Friedrich von Brandenburg-Bayreuth.
Be there live on 28 May on YouTube!
If you'd like to join the 'Bergauf' beer tapping ceremony online, just visit the funklust YouTube channel on 28 May 2020 at 7pm. FAU campus media will be broadcasting the event live until 9pm. FAU President Prof. Dr. Joachim Hornegger will be there as well as a band and, of course, funklust, who has already tried the beer.
A Zoom channel will be set up for all FAU members so that they can also raise their glasses. More information will be available soon.
The beer is available here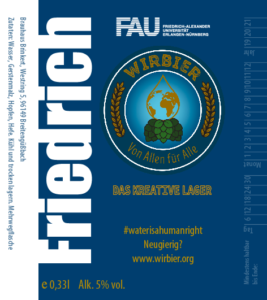 The 'Friedrich' beer will be on sale before the live beer tapping ceremony on May 27 and May 28 as well as on 2 June between 1pm and 4pm in front of the Schloss in Erlangen (Schlossplatz 1), in the cafeteria on the Southern campus in Erlangen (Erwin Rommel Strasse 60) and in Nuremberg in front of the main entrance to the School of Business, Economics and Society (WiSo) at Lange Gasse 20. A sixpack costs 6 euros, or for ten euros there is a face mask with the FAU logo included with the beer. Cash payment only. Part of the proceeds will go to charity in cooperation with 'Viva con Agua'. Of course, you can also toast with any other drink at the online event.
More information about 'WirBier', a start-up founded by FAU students
FAU – the most innovative university in Germany and ranked number 2 in Europe – has its own beer every year. This year, it is being provided by 'WirBier', a start-up founded by FAU students Vivien, Alex, Sanjog and Bernd. By brewing beer from sustainable resources and using the profits from the sales, they hope to set up and support projects that provide clean water worldwide. 'Over two billion people throughout the world still don't have access to a clean and reliable supply of drinking water,' explains Vivien.
Franconia, which has the largest density of breweries in the world, is the ideal location for their project. With 'WirBier', which is brewed at Brauhaus Brinkert in Breitengüssbach, they hope to produce the first beer that provides people all over the world with access to clean drinking water. 'We're currently working with Viva con Agua e.V. so we can use their donation channels,' says Vivien. The proceeds from 'Friedrich' will also support Viva con Agua.
Contact
Leontin Grafmüller
leontin.grafmueller@fau.de