Studying during the coronavirus pandemic  
Student Lisa gives us an insight into her online semester.
The coronavirus pandemic has severely affected many people's daily lives. And even students have been faced with considerable upheaval as they are now having to study online. Political Science student Lisa Hildebrand gives us an insight into her own personal digital summer semester at FAU.
We've been in lockdown for over two months now. Shopping and taking walks are allowed, but everything else has to be done at home or not at all. This, of course, also applies to university life. As face-to-face courses can't take place until further notice, other ways have been found to hold classes and lectures and video lectures, seminars via Zoom and live chats have now become the norm. This has completely changed my day-to-day routine as a student. Weekly seminars and lectures, consultation hours and group presentation meetings are now all being held online.
Off to the next Zoom call
Most of my seminars are held via Zoom. I open my laptop, enter my 11-digit number and password and off we go. The lecturer lets us all join the meeting and the seminar can start. Around 15 to 20 people take part in these meetings and you can see all the participants in the gallery and you always know who is talking. With the 'blue hand' you can show the host that you want to say something. By using the screen sharing function, lecturers or the group holding the presentation can simply share their own Powerpoint slides with the other participants.
You can also complete group work using Zoom. The tutor can split the participants into groups and they are then redirected into new 'meeting rooms'. Students are automatically directed back to the course when the group work session is over. All the functions you'd expect from a face-to-face lecture or seminar are there – all participants can see and hear each other, everyone can take part and you can even give presentations as you usually would. The internet connection has to be reliable and you have to find the right space to work in. So far so good.
No stress and at home – if the connection holds up
The fact that this type of online teaching saves time and is quite relaxed is definitely a benefit in my opinion. If I have several courses after each other, I don't have to rush from one place to the next and can just do whatever I want to do in between. This can make life quite a bit easier. If I have a seminar at 8 am, I know I can get up 10 minutes before it starts. And if I have a huge pile of laundry to do, I can get it done in the half an hour between courses. I don't have to be in Erlangen and can still take part in the seminar – something that gives me a lot of freedom.
Another benefit is the peace and quiet that I can have at my work space. You hardly notice if someone turns up late to a seminar. The meeting host just adds them without saying a word and there are no interruptions as the person who has just joined doesn't need to look for a place to sit or take their jacket off and look for their notes.
It's also easier to create an atmosphere at home in which you feel comfortable. If I am too cold, I just turn the heating up and if I am too hot, I can just open the window. I can also get a glass of water from the kitchen if I'm thirsty and mute my microphone if I need to go to the toilet. No-one needs to be bothered by anyone else.
Live chats with classmates
One of my seminars is held as a live chat. We 'meet' when the course is taking place in the StudOn forum and have a written conversation for around ninety minutes. One great advantage is the fact that the seminar takes place in writing. If I miss the session or if I just want to check again what's been discussed, I can just read the chat.
One problem however, is that you can't see if someone is typing and there's sometimes a delay in displaying the answers to questions. This means that either three people are typing the same answer simultaneously or someone writes an answer or a comment regarding an earlier topic although the chat has moved on. This can be confusing. Most of the time, we're able to match up the different parts of the conversation.
The good old video recording
And then there's a third online format, which has been used by other faculties for a long time, but is hardly ever or never used by the Faculty of Humanities, Social Sciences, and Theology – lecturers simply produce video recordings of their lectures. This is simple and efficient. As students, we can watch the video and view the learning materials for the lecture at any time and in any place and if there are any questions, they are usually answered in the StudOn forum or in the next video.
The downsides of online teaching
Although online teaching does work, it does have its downsides. The first is the importance of a reliable internet connection. I haven't personally experienced any problems with the WiFi yet, but I know that several of my classmates have had difficulties or even cases where the entire seminar session crashes.
In addition, I miss not being as active as I usually am. Of course, I can still do sports outside or go for a walk, but the lack of physical activity during the day can quickly make you lethargic and sluggish.
Finally, the most important factor for me and for many others is the fact that online teaching simply cannot replace social interaction and normal student life. Studying for a degree doesn't mean just attending lectures and seminars, but also going for a coffee after the seminar with friends, lunch in the cafeteria, events for students, parties, and so on. This is why this is hopefully the first and last semester of its kind.
---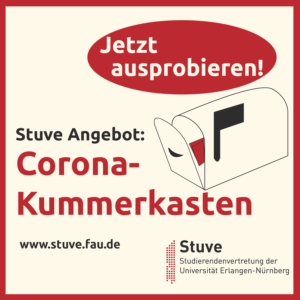 If you have problems with online teaching, you can contact your lecturers or tutors at any time. You can also get help and information by writing an e-mail to corona-informationen@fau.de. The Students' Representatives also offer help and support and have set up an online feedback form.
All information about studying during the coronavirus pandemic is available on the coronavirus information page.
The Student Advice and Career Service is also available via e-mail and phone.