Initial results of e-learning monitoring survey 2020
In spite of an increase in stress, students generally coped well with the first online semester.
How well did students cope with online teaching in the summer semester, both in terms of studying itself and also in terms of their overall mood? These are the questions a group of researchers at FAU hoped to answer. They have come to the conclusion that students coped well, attended more classes than originally planned on average, but increasingly suffered from stress. They also stressed that groups such as first year students, students with children and those who are not technically minded or who do not have suitable equipment need special attention.
The interdisciplinary group of researchers led by PD Dr. Marion Händel, Chair of Educational Psychology and Excellence Research, questioned more than 5,000 students between April and August for the e-learning monitoring survey 2020. The researchers were predominantly interested in whether the students felt well-equipped to cope, how they dealt with the challenges arising over the course of the semester and what their emotional state was.
Good equipment, highly skilled
Before the semester began, 99 percent of students stated that they had a PC, laptop or tablet, with male students generally having slightly better technical equipment. Male students also tended to be more positive about having the skills needed for remote learning, as were Master's degree students in general. Overall, students believed that they were well prepared for the digital semester. More than a third of students with children, however, found it hard to find a quiet place to work or study.
Students attended more classes and used new formats
Thanks to the technical opportunities afforded by online teaching, the majority of students were able to take more classes than they had originally planned. They didn't need to spend any time travelling to campus and there was no longer the problem of classes overlapping thanks to recorded lectures which were available for students to watch as and when it suited them. Videos like these were watched increasingly frequently as the semester progressed. The increase in the number of people taking part in livestreams was even more marked, and students also started to work through online learning modules or use online means of communication such as forums or chats more and more as well. Thanks to the new learning formats, students became more skilled at using digital formats by the time the semester was half way through, in June.
At the same time, the demands of online teaching forced students to become more organised when studying. The combination of synchronised and asynchronised classes, the changes to the learning environment such as restricted library opening times or the need to study at home and the reduction in contact to others for example through being unable to meet other students during or between lectures on campus made self-regulated learning more important than ever before. This is underlined by the results of the survey: they reveal that students found it harder than they had originally planned to organise their learning habits during the semester with respect to aspects such as goal setting, time management or seeking out help.
Stress a factor even before the actual examination period
The new and diverse range of options open to students led increasingly to a feeling of anxiety. Stress was experienced particularly by those students who did not believe they were well prepared to cope with the digital semester. Students increasingly began to worry and feel swamped by expectations from mid semester onwards. This was exacerbated by the tension typically experienced towards the end of the semester due to the thought of the imminent examinations. At the same time, students began to feel less lonely, which the researchers led by PD Dr. Marion Händel believe was due to the easing of contact restrictions over the summer combined with increased options for digital interaction.
Defensive use of webcams tailored to the group situation
More than half of participants in the survey claimed that they rarely or never switched their camera on during classes. The reasons for their reluctance were less a lack of technical equipment and more a wish to conform with the rest of the group and protect their own privacy. Students were increasingly willing to switch their cameras on and let themselves be seen during the class if a good working atmosphere was established, with open and transparent communication. In view of these findings, the FAU research group led by PD Dr. Marion Händel recommends that lecturers should offer students as many options as possible for communicating and interacting both with each other and with the lecturer when teaching online.
Recommendation: Tailor teaching accordingly, start using e-learning scouts
On the basis of the initial assessment of the e-learning monitoring survey 2020, Dr. Marion Händel recommends paying even more consideration to students in unfavourable circumstances when preparing and implementing e-learning. This includes, for example, giving students with children first choice when allocating course places to ensure that they can attend at a time which fits in with childcare. Students with less experience of studying, especially first year students, should also be offered special support, for example through courses on self-regulated learning in an online learning environment like the courses which are currently already offered by the Center for Applied Philosophy of Science and Key Qualifications (ZiWiS). In practice, older, more experienced students could act as e-learning scouts to support younger students and give them valuable hints and tips, similarly to what is already done during traditional face-to-face teaching.
Detailed information on the FAU e-learning monitoring survey 2020
Further information
PD Dr. Marion Händel
Chair of Educational Psychology and Excellence Research
Phone: +49 911 5302 579
marion.haendel@fau.de
---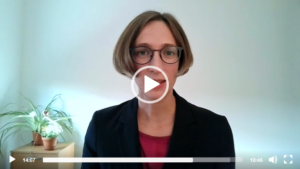 In conversation with the President
PD Dr. Marion Händel, Chair of Educational Psychology and Excellence Research discussed the online semester and her research on e-learning with FAU President Prof. Dr. Joachim Hornegger.