Travel in the future
Veronika Grimm, professor of economics and energy market researcher at FAU, discusses new mobility concepts, alternative drive systems and the question of what we can learn from the coronavirus pandemic.
Prof. Grimm, let's start by daring to predict the future: How mobile will we be in 50 years and how will we get around?
There will be two main trends: First of all, we will travel less. The coronavirus pandemic has shown how fast new modes of communication and social interaction can become established, for example video conferences or online teaching. Secondly, individual mobility will become more intelligent: not everyone needs their own car. There will be efficient car-sharing concepts, and thanks to assistance systems we won't actually have to drive the cars ourselves at all.
Back to the present: What has to change in the current transport sector?
In a nutshell: Lots. First and foremost, we must move away from emissions which are harmful to the environment. The best way to tackle this challenge is by pursuing three complementary strategies. Firstly, we will have to avoid mobility, for example by moving personal meetings online. This trend has already started in social media and new options will be added in future. Secondly, we will have to change our mobility habits, for example by creating incentives for swapping the car for public transport or bicycle. And thirdly, vehicles, not just cars, but also heavy goods vehicles, buses, trains, ships and aeroplanes must move over to zero-emission drive systems.
Which technologies are most promising for zero-emission vehicles?
I think we will see a mix of battery-powered mobility, fuel cells and synthetic fuels which are not gained from fossil energy sources. For lighter vehicles which travel short distances such as cars, for example, battery-powered mobility is the most economically feasible alternative. For heavier vehicles and those that are in constant use, such as trucks and construction vehicles, fuel cells offer a more attractive solution in the medium term. For large ships and aeroplanes, which require a high level of energy density, synthetic fuels would be the first choice. There will of course be a certain overlap between the various categories, and customer preferences will certainly also have a role to play.
You are in charge of the recently established Bavarian Hydrogen Centre, where research is carried out into alternative drive systems. What role will hydrogen have to play in the mobility of the future?
I am convinced it will have a fairly major role to play. In June, the Federal government agreed on a hydrogen strategy, and is providing nine billion euros in seed funding for the hydrogen economy and for initiating international partnerships. This is a clear indication of the government's positive stance towards hydrogen as a promising source of green energy. Hydrogen has a high energy density, but is not easy to handle, and it is even more expensive to produce climate-neutral hydrogen nowadays. The most expensive factor in electrolysis, the process of using electricity to split water into hydrogen and oxygen, is the cost of electricity. It will therefore become increasingly important for us to produce hydrogen and derived products such as synthetic fuels in locations where large quantities of renewable energy such as wind, solar or hydroelectric power are available at a low cost. We must think on a global scale, as only very few, if any, places in Germany can meet these prerequisites. In order to achieve this, however, we will need stable partnerships and effective logistics. Researchers from FAU have developed a promising approach at Energie Campus Nürnberg (EnCN), using LOHC technology. Last, but not least, commercial investments must be encouraged in order to drive forward the development of electrolysers and fuel cells until they are ready to go into mass production. Many different stakeholders are involved in generating added value, and we will have to mobilise and coordinate them.
Is there not a danger that Germany will lose some of its potential for adding value by shifting its energy production?
Value will be shifted, but I don't think that is a major problem in view of energy imports. Even today, Germany imports more than 70 percent of its primary energy requirements in the form of fossil energy carriers. In the age of renewable energy, we will remain a net importer. It certainly makes sense to generate and transform energy in locations with the most favourable conditions. As a high-tech country, Germany will benefit from the fact that infrastructure, such as the infrastructure required for using solar energy in North Africa, will need to be constructed in the first place and repaired or renewed at a later date. German companies will have a major role to play in setting up photovoltaic and wind power stations and delivering and providing maintenance for the electrolysers used to generate hydrogen. The timing of the hydrogen strategy will reinforce the competitive position of German industry and drive technological developments.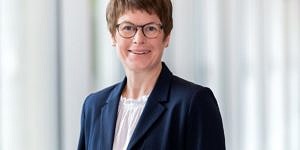 Prof. Dr. Veronika Grimm
is the Chair of Economic Theory at FAU in Nuremberg. Her research focuses on behavioural economics, industrial economics, auctions, and market design, in particular the design of energy markets. In April 2020, Prof. Grimm was elected to the German Council of Economic Experts. She will provide fresh impetus to the Council, particular through her extensive experience in the area of energy research. In addition, Veronika Grimm is Head of the Scientific Board at Energie Campus Nürnberg (EnCN) and a board member of the newly-founded Bavarian Hydrogen Centre (H2.B).
Will we also need to change our transport habits, for example by cutting back more than we do already?
Calling on people to do without something is never terribly successful. Giving someone a guilty conscience is not the best way to motivate them. It makes more sense to offer attractive opportunities and options which encourage them to change their habits. If you cycle more often, you don't only avoid emissions, you also get more exercise and boost your health as a result. However, the infrastructure must be available.
Advances in digitalisation will also have a decisive effect on changing mobility habits. Simplified access, compatible apps and flexible drop-off points will all make car-sharing models much more realistic. Automatic guidance systems and smart road pricing could direct traffic flow and guide our mobility habits much more effectively than strict driving bans.
Can we learn from the coronavirus pandemic in this respect? After all, we were forced to change our behaviour quite drastically at very short notice.
The first thing we learnt was that a crisis such as this can catch us off guard even though we live in a developed industrial country. However, we reacted surprisingly quickly and flexibly in a number of areas and showed that we are able to take a pragmatic approach in a number of different dimensions. Just think about how we switched over to working from home or managed to set up online courses at schools and universities. Restrictions on gatherings and events and in the travel industry are likely to be the order of the day for quite a while, and this may possibly lead to permanent structural change. New business models have already become established in a number of areas, as can be seen, for example, in the greater choice of domestic holidays now available, whilst new digital formats such as virtual rooms for fairs and events are also being developed. All of this will also lead to a reduction in mobility, and fewer greenhouse gas emissions.
However, we mustn't ignore the fact that not all parts of society will be able to participate to the same extent. Children from low-income and educationally disadvantaged families, for example, find it much harder to use digital learning formats, as they often do not have the necessary devices or their accommodation does not offer enough space for the children to study in their own room without disruption. It has also become apparent that not enough has been done to establish digitalisation in the school system and to ensure that all sections of the population have the same opportunities.
You have been elected to the German Council of Economic Experts. What can or should politicians do to drive forward the transition to renewable energy and an environmentally friendly transport sector?
It is vital that they establish a sound framework for energy policy, spanning all sectors and on a European level as far as possible. That is much more important than a number of smaller funding programmes and incentives. The CO2 pricing policy for heat and transport which is due to be launched in Germany in 2021 and which will make consumption of fossil fuels more expensive is a good approach. This will encourage consumers to switch over to more climate-friendly alternatives and use more renewable energy. The certificate system which is to be introduced in the medium term will contribute to avoiding emissions in the most cost-effective way. At the end of the day, this may be more effective than paying public money to encourage companies or households to do something which actually goes against their economic interests.
At the same time, duties and charges levied on the price of electricity ought to be abolished or at least greatly reduced. I have been calling for this for years in my capacity as an economist and energy market researcher. The EEG reallocation charge and electricity tax make electricity more expensive. In the long term, however, it is important that more climate-friendly electricity is increasingly used to decarbonise the heating and mobility sectors and industry as a whole. There is no financial incentive to do so if taxes and charges on electricity remain so high.
At the same time, other complementary steps must also be taken, for example by expanding the infrastructure for hydrogen and battery mobility, strengthening research and training experts. Every little helps until such time as the major framework is set up. However, at the end of the day it is vital that a paradigm change takes place in energy and climate policy which encourages commercial stakeholders to make large-scale investments in a number of areas as soon as possible.
About the author
Matthias Münch studied sociology before working as a freelance journalist for several daily newspapers. Since 2001, he has been providing support for companies and academic institutions in the areas of PR and corporate communication.
---
FAU research magazine friedrich
This article first appeared in our research magazine friedrich. You can order the print issue (only available in German) free of charge at presse@fau.de.
All articles