Nasal spray against Covid-19
Virologists in Erlangen report promising initial study results for an active ingredient from red algae.
Initial findings from a study involving hospital staff has indicated that nasal spray Carragelose® containing iota carrageenan– a natural ingredient from red algae – could protect against SARS CoV-2 infections. Several laboratory tests have already demonstrated the effect of Carragelose® against the coronavirus in cell experiments. With that in mind, this special nasal spray could support the general protective measures against SARS-CoV-2 and prevent infections.
Risk reduction of 80 percent
Carragelose® is obtained from red algae. The natural active ingredient forms a protective film as a physical barrier and prevents viruses from infecting the mucous membrane by introducing their genetic information into the membrane cells and propagating. This mechanism is exploited by many cold viruses and the SARS-CoV-2 coronavirus as indicated in current research. 'A nasal spray containing Carragelose® reduces the risk of infection with SARS-CoV-2 by 80 percent,' says Prof. Dr. Ulrich Schubert, researcher at Institute of Clinical and Molecular Virology (Director: Prof. Dr. Klaus Überla) at Universitätsklinikum Erlangen.
This finding comes from an Argentine study with almost 400 participants who had direct contact with Covid-19 patients daily. Subjects evenly divided into two groups used either the Carragelose® nasal spray or a placebo four times a day for three weeks. As in all previous clinical studies with cold viruses, the nasal spray proved to be safe and well tolerated. Laboratory studies demonstrated the antiviral effect of Carragelose® against SARS-CoV-2 in various human cell systems. Prof. Schubert explains: 'Together with the clinical study, the laboratory findings form the basis for a solid scientific justification that Carragelose® has a clear effect against SARS-CoV-2.'
Three further clinical studies on the efficacy and tolerability of Carragelose® nasal spray, inhalation solution and lozenges in the prevention and therapy of SARS-CoV-2 infections have already been initiated. The Institute of Clinical and Molecular Virology at Universitätsklinikum Erlangen is directly involved in this. Prof. Schubert and his research group are working with the Austrian company Marinomed Biotech AG. 'In the course of the studies, we examine samples from subjects who have used Carragelose® products for antiviral effects of Carragelose® against SARS-CoV-2. The aim is to support clinical research on patients with our knowledge and preventative options,' explains Prof. Schubert.
Covid vaccination as nasal or oral spray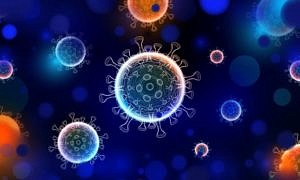 A team led by Prof. Dr. Klaus Überla and Prof. Dr. Matthias Tenbusch at the Institute of Clinical and Molecular Virology at FAU is currently conducting research into a vaccine that is administered as a nasal or oral spray and forms local antibodies in the mucous membranes.
Exploiting opportunities for prevention
The German Society for Hospital Hygiene has been recommending the use of Carragelose® nasal sprays to clinical staff on COVID-19 wards since December 2020. 'But the general public can also use this spray as part of their individual prevention strategy,' says Ulrich Schubert. 'In view of the in vitro data, I am convinced that the wide use of Carragelose® sprays is justified and beneficial. Carragelose® is effective against SARS-CoV-2 with virtually no side effects and it also protects against various cold viruses, as indicated by extensive evidence from laboratory and clinical studies. Any prevented or shortened cold reduces the overall burden on our immune system, which can use all the help it can get,' explains Schubert.
Carragelose® against SARS CoV-2 variants
Reports from the World Health Organisation (WHO) and the European Centre for Disease Prevention and Control (ECDC) make it clear that coronavirus mutations are spreading rapidly worldwide. The British mutation B.1.1.7, the South African mutation B.1.351 and the Brazilian mutation P.1(20J/501Y.V3) are under special observation. 'Carragelose® is a polymer that envelops the virus by an electrostatic interaction and neutralises it. Therefore, it should make no difference for the effectiveness which virus variant is present,' explains Ulrich Schubert. Especially in view of the mutations, which are currently spreading more and more rapidly, we consider Carragelose® to be a real option in combating the pandemic.'
Further information:
Prof. Dr. Ulrich Schubert
+49 9131 8526478 43666
ulrich.schubert@fau.de