Fit for the world
All about the Language Centre
Whether you want to learn everyday languages like English, French or Spanish or something more unusual like Arabic, Korean or Finnish: you are sure to find something in the courses offered by the Language Centre.
Whether you are studying languages, want to prepare for a semester abroad, gain an extra qualification for your future job or are just interested in different languages and countries, with more than 500 classes per semester in 28 different languages the Language Centre offers something for everyone.
'Nearly 9,000 students enrol on courses at the Language Centre every semester,' says Dr. Gunter Lorenz, Head of the Language Centre. 'Our students don't only learn the language, they also learn a lot about the country and its people at first hand, as most of our teaching staff are native speakers. More than half of the students who take courses at the Language Centre are studying a language for academic and special purposes alongside their main degree or as a key qualification. A lot of them hope to improve their chances on the job market by learning a language in addition to their main degree subject.'
Karin, for example, is studying Medicine, and has already taken courses in Spanish, English, French and Portuguese. 'As a doctor, it's important to be able to speak different languages. My patients often have a migrant background,' she explains. Karin studies International Business Studies at FAU, and is learning English, Korean and Chinese at the same time. 'I have been studying Korean since I spent a semester abroad in South Korea. In autumn I'm planning to study six months in Peking, and I hope that I'll have learnt at least some basic everyday phrases by then.' Daniel, who is interested in Eastern Europe, is learning Russian: 'I would like to be able to understand press articles and political speeches in the original.'
Language skills for work
In certain languages such as English, Spanish or French, the Language Centre also offers courses in language for special purposes, for example medicine, law, business or engineering, in which students learn the specialist terminology they will need for their future profession. As well as studying for a degree in Life Science Engineering, Monika is learning English and Swedish. She is already preparing for the future: 'as an engineer, I will spend several years abroad, and I need to be able to speak the language.'
The Language Centre offers the UNIcert® certificate as proof of language ability, available in four levels from beginner to advanced. UNIcert® guarantees high-quality language training and is recognised across Germany.
In many degree programmes, language skills are not just an added benefit, they are actually stipulated in the examination regulations as a compulsory component of the degree programme. You should look into it early on, or ask your subject advisor when the best time is to include language courses in your degree programme.
The Language Centre is keen to allow you to integrate languages into your degree programme as flexibly as possible, offering several other options for studying languages alongside the traditional semester courses, for example intensive courses which cover all the material for a semester in just a few weeks, or online language courses which you can work through at your own pace before practising what you have learnt in the attendance phases.
For all courses, it is important that you register in good time. If you would like to take a course which requires a prior knowledge of the language, you will need to take a placement test. Please refer to the Language Centre website for further details.
---
FRISCH! at FAU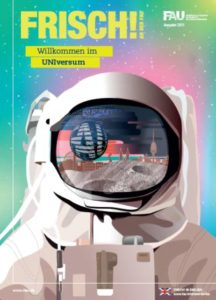 Here you'll find everything you need to know about starting your studies. From service facilities to reports on faculty projects and extracurricular activities at the university to alumni interviews, it's all here.
FAU freshman magazine "frisch" (June 2021) (in German)