Zooming through your studies
Starting your studies during a pandemic: Sophia's done it - and so can you
Things are probably not quite how you imagined when you thought about starting university. However, taking this next big step in your life is still something to look forward to even in these unusual times. At FAU, we are happy to help wherever we can, and you can learn a lot from other students too. Sophia, for instance.
Sophia has been studying to teach English and History for secondary school since winter semester 2020/21. After her first year at university, she has still never met any of her lecturers face to face, she has never attended a lecture in a lecture hall, and she has only ever seen the student restaurant from the outside. She shares her experience of starting university during the coronavirus pandemic with us.
In general, how was your first semester?
Studying is definitely more demanding than school, and at some points during the online semester I was desperate to just switch my computer off. But all in all, I really enjoy studying and I'm very much looking forward to the next semesters.
What did it feel like when you started out at university?
At first it was tough. The first challenge was drawing up my schedule. There were introductory courses via Zoom before starting uni, and they were really helpful for giving me a rough idea of what to do. At the end of the day, however, what helped me most were the tips from fellow students who have already been studying for a while. I contacted them via WhatsApp groups for those studying my degree program. I heard about the WhatsApp groups in the Facebook groups for new students. Once I finally managed to sign up for the various courses I breathed a huge sigh of relief. We got the rest of the information directly from our lecturers, and they took really good care of everything.
So your first contact to other new students was through Facebook and WhatsApp groups?
Yes, that's right. In WhatsApp groups I messaged random people, 'Hi, you're studying the same as me, where are you from?' Maybe we could get in touch sometime?' I also met a new friend during an introductory Zoom event about how to draw up a schedule. Everyone introduced themselves at the beginning and spoke about what they're studying. She was studying the same subjects as me and I just sent her a direct message.
What other events did the university offer for you to meet other people?
Something was offered every two weeks, for example an online get together or a virtual pub crawl. I heard about it via the WhatsApp group. There is also a mentoring program at the Department of History, where you can arrange regular virtual meetings with a student from a higher semester. My mentor explained, for example, how to borrow books.
Have you actually been in any of the university buildings yet?
I have only actually been in the university for examinations so far, but apart from that, no. Before the exam I was more anxious about finding the right room than about the test itself.
So all your courses were online. How did that work?
My courses were a mixture of Zoom meetings and asynchronous elements. For example, lecturers uploaded videos for us to watch, which we then discussed with them via Zoom. It worked out pretty well for me, actually. If you have problems, you can always write to the lecturer. And an e-scout was allocated to each course to answer any technical questions.
Do you feel that you've settled in as a student now?
Definitely more than in the beginning. Drawing up the schedule for the second semester was much easier, for example. But I still miss personal contact. I'm studying at FAU, but I've never actually been inside the university and I've not yet met any of my lecturers in person. It's a real shame.
What are you most looking forward to when university gets back to normal in the future?
I'm definitely looking forward to face-to-face lectures, when the lecturer stands up at the front and you can sit next to your friends. I have heard from a lot of older students that studying together with friends is what makes university fun. I am looking forward most of all to the typical clichés: eating lunch with other students in the Mensa, or studying together in the library. And seeing more of Erlangen. It's a lovely city, I feel very at home here.
Did you move to Erlangen to study?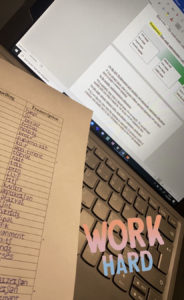 Yes, I rented a flat together with a friend when I started out at university. Most people decided to stay at home first of all, but I wanted to move out and focus on studying.
Do you already have a favourite spot in Erlangen?
The Schlossgarten is beautiful, and I think the Erlangen Arcaden shopping mall is great too. It's always fun to go shopping.
Do you sometimes think that studying online is actually pretty cool?
Yes, one advantage is that you don't need to travel into uni. A lot of my friends just get up a few minutes before their lectures and switch the laptop on. But I've always made a point of getting up and getting ready, as if I was going out to uni.
Do you have any tips for new first year students?
Be sure to go to the introductory events and get into touch with other students via Facebook and WhatsApp groups. Studying by yourself doesn't work very well in the long term, not even during an online semester. It makes it a lot easier if there are two of you trying to muddle through together. Basically, try your best to stay motivated, enjoy studying and look forward to when we are finally able to go to university properly. We're still going to be studying for a while, but things will get back to normal at some point.
Coronacoaster
The coronavirus can really take it out of you. Would you like to speak to someone in confidence about your anxieties and problems? Counselling services are available from Student Services Erlangen-Nürnberg.
Meeting people
Check Facebook and WhatsApp for groups of other fellow students. You can also find out whether your faculty or department organises (virtual) meetings for students.
Coping with studying from home
Our vlogger Hannah has some valuable tips for studying from home. You can access the programs you need, for example Word, from the Erlangen Regional Computing Centre.
If you are looking for a lecture hall, the FAU app can help.
Time for a break? After sitting for a long time, a bit of exercise does you good. Have a look at what sports courses are offered at the university. Courses are also available online.
Studying during the coronavirus pandemic
The latest information about the repercussions of the coronavirus pandemic at FAU is available at www.fau.de/corona. The latest trend: Washing your hands The hygiene concepts for most areas of the University and details of how contact tracing works are available here: www.fau.de/corona/hygiene/.
In his podcast, our President Professor Hornegger keeps all FAU members up to date with the situation on a regular basis.
Click here for the latest episode (German with English subtitles):
---
FRISCH! at FAU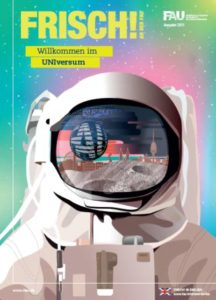 frisch! at FAU is the magazine for freshmen. In it, you'll find everything you need to know about starting your studies. From service facilities to reports on faculty projects and extracurricular activities at the university to alumni interviews, it's all here.
FAU Magazine Frisch (June 2021/ German)
As a first-year student, you received a copy together with your enrollment folder. Individual copies are also available at FAU, for example in the dining halls and various student offices. You can also read the magazine online.