Nuremberg: a vibrant metropolis
Why living in Nuremberg is awesome
Koray grew up in Nuremberg and is studying for a degree in business and economics.
To study…
…I like to go to the library. I like studying with other students in the relaxed atmosphere of the group room.
When the weather is good…
…we go to Dutzendteich or the Pegnitzbrücke, have a barbecue, play ball games and enjoy the good weather.
And if it rains…
…there are a lot of other options. One example is Palm Beach swimming pool, which has a lot of slides, a wave pool and a very large sauna. When you're there, you quickly forget that the weather's not so good.
I especially like Nuremberg because…
…everything is so central. If I want to go out, the various locations are all within a ten minute walk of each other. If I have some errands to run, I don't have to travel for hours on public transport. Despite its size, the city still offers a wide variety of events, there's always something going on.
If I go for a trip in the region, I go to…
…the Brombachsee. The Brombachsee is perfect for relaxing and unwinding, it's the perfect place to go to get away from it all for a while, and it only takes an hour to get there.
When I go out in the evenings…
…we usually have some drinks at a friend's flat and play drinking games, then we go on to a club. Most clubs charge reasonable, student-friendly prices for cocktails and entry.
You can meet nice people…
…at student associations. During courses and lectures you often don't have the chance to meet cool new people who are on the same wavelength as you. I would definitely recommend getting involved in a student association.
My recommendation for culture in Nuremberg…
…is the Imperial Castle. It's the perfect place to enjoy the view and relax in the evening after a long, tiring day.
Bergkirchweih: yes or no?
Although the Berg is in Erlangen, I really look forward to it every year. The train connections are quick and easy, and it's a great place to enjoy a beer with friends and colleagues.
Rock im Park or Bardentreffen?
Neither: I prefer to go to other festivals or comedy shows. Kaya Yanar, for example, comes to the region at least once a year.
I always most look forward to…
…die Blaue Nacht (city-wide art event). The whole city is lit up in blue, and various cool events are happening. It really is a must, all students should experience this special night in Nuremberg at least once.
Last but not least, my insider tip for Nuremberg…
…is the Wöhrder See. There, the people of Nuremberg can enjoy a 'beach feeling' in our beautiful city.
OurVlogger Daniel gives a tour of Nuremberg
FRISCH! at FAU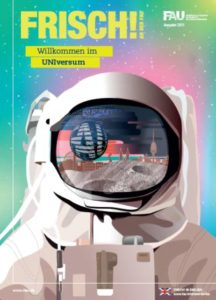 Here you'll find everything you need to know about starting your studies. From service facilities to reports on faculty projects and extracurricular activities at the university to alumni interviews, it's all here.
FAU freshman magazine "frisch" (June 2021) (in German)