FAU's start-up ecosystem
Start-up programs from idea to start-up
Have you ever thought about founding your own company while still a student? Why not try, as students at FAU are in the fortunate to have the Digital Tech Academy (DTA), the start-up consulting service and the digital start-up centre ZOLLHOF at their disposal. Anatoli took the bull by the horns.
Competition is good for business, or so the saying goes. However, if a company wants to be successful, it has to know its competitors and always keep an eye on them. This is where market research and competitive analysis come in. In databases and annual reports, consultants conduct research about how other companies are structured, how big they are, which patents they hold and how much they sell. This is usually done by hand and is complicated and time-consuming. 'There must be a way of doing this automatically,' thought Anatoli, a doctoral candidate at FAU, who took part in the Digital Tech Fellows program at the Digital Tech Academy.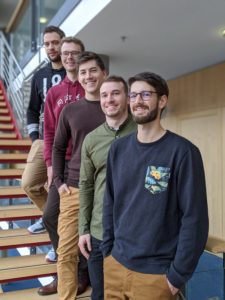 He set up Talos Insights with four co-founders, two of whom he met at the DTA. Talos Insights generates these reports automatically. It does not only uses databases, but can also read texts – something that has not been available up to now. Unlike other systems, their tool presents the data in a visual form. The founders would like to be the first to develop an interactive dashboard that only displays the information that the company needs at a certain moment.
The DTA participants came up with the idea for Talos Insights themselves, but received a great deal of support from mentors at the academy when developing a business and finance plan. 'The people at the DTA are very knowledgeable. The academy also regularly invites external experts,' says Anatoli. At first, the team just wanted to experiment and learn something new along the way. 'It worked out so well and we were having such fun, that we decided to set up a company together,' explains Anatoli. Time management is a major challenge, however. 'Setting up a company while studying is definitely an additional burden,' says Anatoli. 'It does have its benefits, though. We are working on our own project and know exactly why we're doing it and which goals we are working towards.'
Get off to a flying start with a start-up
Are you interested in  innovation and digitalisation? Maybe you already have an idea for a start-up, but you're not sure how and where to begin? Then you should apply to the Digital Tech Academy. It makes no difference what you're studying and which semester you are in. All that matters is that you are interested in digital topics and are motivated to work in an interdisciplinary team on a digital idea over the period of a year. During the project, you can develop your project, present a prototype to potential customers and experience all the stages involved in the start-up process.
The DTA is a good opportunity to build up an interdisciplinary network and meet students from other subjects and semesters. In the meantime, students from all five faculties are involved in the Digital Tech Fellows program. 'Some of the students have become friends and hold regular team events. We're naturally very happy to see that,' says Lisa Drescher, one of the DTA coordinators.
After completing the one-year fellow program, it is up to the teams to decide where to go from there: 'Students may just see it as a fantastic experience where they can learn a lot about themselves, their ability to work in a team and the ins and outs of going into business. Or they might choose to start their own company. It's completely up to them. Our aim is to develop digital talents. If students choose to apply their knowledge in a large company and bring new ideas to fruition that is also a great success for us,' says Lisa Wittenzellner. Applications and more information on the programme and the activities of the DTA.
Venturing into business
Anyone who intends to set up their own company can turn to the FAU start-up consulting service for advice. 'Ideally students should come to us with a concrete idea and a team interested in starting a business together,' explains start-up consultant Christoph Heynen. The start-up consulting service offers regular challenges for students who are interested, for example the '5 euro business challenge', the 'start-up challenge' or events such as the 'start-up café' where new founders can come to give it a go, gather information and share experiences with others.
ZOLLHOF – the tech incubator
The ZOLLHOF tech incubator originated from FAU and is the first port of call for start-ups in the Nuremberg region. But what exactly does ZOLLHOF do? Young entrepreneurs are not only able to use office space for a reasonable rate, they are also supported in setting up their company with business coaching events and mentoring. The principle is comparable to an incubator: 'At ZOLLHOF, young start-ups are given the opportunity to grow and thrive until they reach a certain maturity and can set out on their own,' explains Sebastian Engel, Head of Research & Pre-Incubation at ZOLLHOF.