The frisch! crash course in university policy-making
Theresa and Richard explain university policy
If you want to change something, go into politics. That also applies when you're at university. Here you can make your voice heard in many areas – like Theresa and Richard do.
You're active in university policy-making. What exactly do you do?
Richard: We chair the Student Council and are responsible first and foremost for organising the smooth running of the Student Council. The Student Council is the decision-making body of the Students' Representatives (StuVe) at university level.
Theresa: Basically, the Students' Representatives channel the interests of students at FAU and represent them vis-à-vis the university or external partners such as Student Services or local authorities in the cities where the university is based.

Our

vlogger

Hannah

asked

what

the

Stuve

actually

is

(

and

yo

u

can

find

out

all

about

the

u

niversity

elections

)
How can students get involved in university policy-making, and what kind of things can they achieve by doing so?
Richard: We have to differentiate between two different levels. There are committees which are elected once a year by all students in the university election, for example the Student Committees (FSV) at the faculty level and the Student Council at the university level. The Students' Representatives also have several different committees and working groups that work on specific topics, and there are a number of active university groups and student associations.
What working groups are there for student representatives?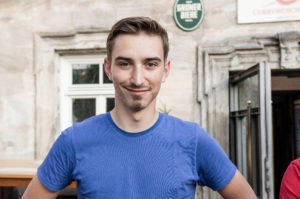 Theresa: We have either a committee or a working group for all topics of relevance to students, such as the working group on university law which deals with the university reform or the working group for teaching and studies, which deals with improving the quality of teaching at FAU. Our committees and working groups are open to all students who want to make a difference. If you are interested in getting involved, you can find out all about the various committees and working groups on our website, and just come along to one of their sessions.
Richard: The Students' Representatives depend on dedicated people who are willing to get involved and make a difference. The more students there are who get involved in the Students' Representatives, the more topics we can take on, helping us fight more effectively for better conditions for students at FAU.
What are some of the things you have achieved so far?
Theresa: There are many! One thing we managed to achieve after lobbying at the regional conference of student representatives known as the Landes-ASt-en-Konferenz (LAK), for example, was the extension to the individual study deadlines due to the coronavirus. That is an extremely important point, especially for students who receive BAföG.
Richard: We have also achieved a lot here at FAU during our term of office. We have not yet been able to convince the Executive Board to accept the 'free try' rule for examinations, but we have been able to arrange for several other restrictions to be eased for examinations during the coronavirus pandemic, such as the abolition of compulsory registration and deadlines for withdrawal.
How are student representatives elected?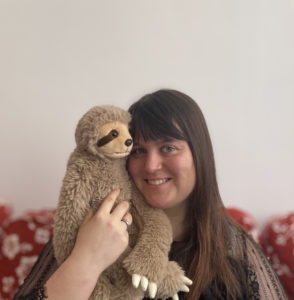 Theresa: Once a year, all students are requested to vote for their representatives at university and faculty level during the university election. It is usually held near the end of the summer semester.
Richard: New election regulations have been passed for summer semester 2021, allowing for digital elections. The topic of digital elections sparked hot debate amongst Students' Representatives, particularly as we felt rather taken aback by the speed at which the changes were implemented. We will certainly continue to keep a close eye on the university election in the new digital format.
What are you particularly concerned about at the moment?
Richard: We focus predominantly on the issues which most affect students. Currently, our main concern is naturally studying conditions during the coronavirus pandemic, but we also pursue topics such as affordable accommodation for students and mobility.
Theresa: Another issue we are very involved in is the current reform of university law. We are trying to positively influence the reform from the students' point of view. We have a delegation in the LAK and are also involved in public and online demonstrations.

Which groups are especially helpful for first-year students?
Theresa: The student associations (FSI) are a good place to start. They're on hand to help when you're starting out at university and can help you draw up your schedule. They're also a good place to meet others studying the same degree as you. And if you're struggling with your studies for whatever reason, you can be sure to find help and advice there.
Richard: We also have a number of political and non-political university groups where you can get involved in specific topics and meet other like-minded people. And if there isn't yet a university group for a topic or initiative you're interested in, you can get a group of people together and launch your own group at any time.
Interested? Take a look at the Students' Representatives' website.
The ABC of university policy-making
Student associations (FSI): Almost every degree programme has a student association (Fachschaftsinitiative, FSI). Their members, who are all students, can advise you on all matters relating to the degree programme.
Student Committee (FSV): At faculty level, students' representatives belong to the Student Committee (Fachschaftsvertretung (FSV)). Members are elected. Those who obtain the most votes are appointed as the spokespersons of the Student Committees.
Faculty Council: Each faculty has a Faculty Council (Fakultätsrat), made up of 22 members, four of whom are students. The Faculty Councils launch new degree programmes, approve examination regulations and appoint professors.
Landes-ASten-Konferenz (LAK): The LAK is an independent student representative body at the regional level, to which each university sends a delegation entitled to one vote each.
Committees and working groups: LGBT, computers, publicity… These are just a few of the topics dealt with by working groups where you can take part without having to be elected or meet any obligations. At present, there are ten main working groups and additional committees.
Senate: The Senate decides on legal regulations, establishing degree programmes, appointing honorary professors, and awarding honorary academic titles. Two of the ten voting members are students. If you become involved in the Senate, you can make your voice heard directly!
General Student Committee (Sprat): The General Student Committee is the executive body of the Student Council.
Student Council: The Student Council is the highest elected student committee at FAU. It consists of 15 directly elected members and three students from the five faculties. The Student Council elects the two student members of the Senate and the members of the General Student Committee.
---
FRISCH! at FAU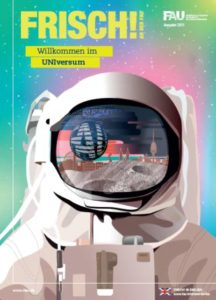 Here you'll find everything you need to know about starting your studies. From service facilities to reports on faculty projects and extracurricular activities at the university to alumni interviews, it's all here.
FAU freshman magazine "frisch" (June 2021)