Treating patients during your degree
Medical students gain practical experience in SkillsLabs
Practical experience is particularly important for medical students. They can gain experience and get feedback in the SkillsLabs. Franca talks about her experiences.
There's a hospital bed in one room and an examination couch in another. Both rooms are painted white and have an almost sterile atmosphere. There are dispensers for disinfectant on the doors. Everything looks like it would in a hospital, were it not for the cameras on the ceiling and the one-way mirrors that allow people to look in. We're in the simulated patient hospital of FAU, or SimPatiK for short, which is part of the SkillsLabs at the Faculty of Medicine.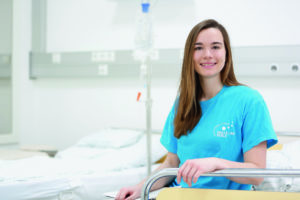 Franca is studying medicine at FAU and has already treated several patients here. Not real ones, of course – her 'patients' are people who have received training from psychologists and doctors and can simulate various medical conditions. The focus is not only on the symptoms, but also on the 'patients' themselves. Their concerns and anxiety influence their actions and reactions to the medical students.
The simulations at SimPatiK often leave the impression of real-life situations. 'When we practice with other students it's not as realistic because we all know each other. But when I'm treating an old man I don't know, I almost forget that he's not really ill. It really is like treating a real patient,' says Franca.
Medical students need a great deal of practical experience to become good doctors. 'Students can't practice some situations on genuine patients, even though they need the preparation. This is where the SkillsLabs, and SimPatiK in particular, come in,' explains Veronika Dannhardt-Thiem, the project manager of SimPatiK. In the SkillsLabs, students can learn important skills for their future careers as they not only put their theoretical knowledge to use, but also hone their practical skills and learn how to deal with patients.
Franca remembers one case in particular. A patient with back pain came to see her and wanted an injection for the pain. However, doctors can't just give injections without first conducting a thorough medical examination. The patient, who was also drunk, didn't make things easy for Franca though. 'I really wanted to do everything perfectly, but the patient insisted on having this injection and quickly became quite unfriendly and even aggressive. I had to come up with a strategy of how to deal with the situation and how emotionally involved I could become in the conversation with the patient.'
Cameras on the ceiling are used to record the exercises. This enables students to see what they did right and what they should do differently in future. The feedback they receive from the simulated patients is vital. They provide feedback from the patients' point of view – an opportunity not often available during a doctor's busy day. Lecturers also provide their feedback to the students.
Simulated illnesses from A to Z
The range of symptoms acted out by the simulated patients is very broad. 'These can be anything from neck, stomach and back pain, so basically any condition that a general practitioner has to treat. In their surgical bedside teaching module, students could encounter a case of appendicitis. In the Department of Psychiatry and Psychotherapy, simulated patients take on the role of patients with mental disorders. It all depends on the context,' explains Veronika Dannhardt-Thiem.
Ten institutes of the Faculty of Medicine are now using simulated patients in their teaching. An enviable range of equipment is available for the medical examinations, including an ultrasound scanner, an electrocardiogram machine and several trolleys for bandages. If required, the medical students can take blood samples, even if they don't do this on a real patient but on a model arm. 'On this arm, students can feel where each vein is located, just as they would on a real patient. This way they can practice taking blood samples before they have to do it on a real person,' explains Franca.
Franca recommends the SkillsLabs to all medical students. 'It's really worth taking part, as we don't often have the opportunity to do a lot of practical training during our degrees. There is a lot on offer and we can practice in a safe environment and make mistakes that we then won't make on real patients. And it's a lot of fun, of course.'
More SkillsLabs
How do I stitch a wound properly? How do I take blood samples? How do I perform a heat examination? The courses offered at the PERLE SkillsLab, which are organized by student tutors, provide useful advice with these and other questions.
Students can practice their surgical skills and skills required for emergencies on a dummy in the simulation and training center at the Department of Anaesthesiology.
Once a year, medical and nursing students go on a 'night shift' during the Skills Night, where they treat simulation patients in medical emergencies in teams.
More information on whether the courses in the SkillsLabs are running and in which format as long as contact restrictions due to the pandemic are in place.