Christmas puzzle, Christmas video and Christmas vlog
Happy Holidays!
The year is drawing to a close and Christmas is just around the corner. FAU wishes everyone a happy holiday season and a happy new year.
FAU closed during the holiday season
Christmas puzzle
In this year's Christmas puzzle by the Chair for Analytics & Mixed-Integer Optimization at FAU, the task is to place exactly 16 lights on the Christmas tree such that the tree is completely covered by light. With the underlying mathematical optimization problem, it is e.g. possible to plan the optimal positioning of ambulance cars to cover a certain area best possible. Similarly, one can use it to plan the optimal placement of cell towers in order to close dead spots in mobile phone networks. For each correct solution we receive, we donate for a good cause. Have fun puzzling!
FAPS Christmas video
---
The Uni Vlog. Make Christmas sustainable again
Advent calendar: 24 poems to listen to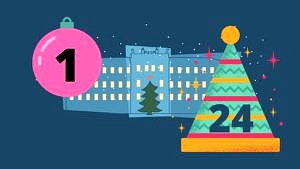 Twenty-four contemplative Advent poems, recorded by Stefan Rieger from ZiWiS.
Advent poems