friedrich121: Editorial
Introduction of the FAU President
Dear readers,
It's time to stop glossing things over. And we are ready to set an example. Instead of using our usual glossy cover, we have decided to go for a more environmentally-friendly version. Depending on how keenly you read it, our magazine may look worn more quickly, but it is a step on the path towards more sustainable production. And that is the topic of this issue, one of the most important topics of our times: sustainability. Several researchers at FAU concentrate on exploring how the global community can shape a world where we can all live well, now and in the future.
It is abundantly clear that sustainability means so much more than just protecting our environment. Sustainability affects so many areas of our lives – from healthcare and the economy to living together in society. This issue of friedrich deals with the topic of sustainability from a range of different perspectives.
We all know that we have to make a change, but why do we find it so difficult to change our habits? We have already gone a long way towards achieving equal opportunities for all. Can our society continue to keep up the good work, or are we likely to fall at the last hurdle? Is it possible to mobilise the international community to make a joint effort to tackle the challenges of our times? And how fair and sustainable is healthcare across the globe?
Another vital aspect for a sustainable lifestyle is a healthy environment, a healthy climate. Our magazine takes a look at how scientists are using complex computer models to research the workings of our climate and how it is likely to change in the future. What options do we have for tackling the ever-increasing mounds of waste on the land and in the water? A major aspect of our ongoing transformation process is the move towards renewable energy. However, no great leaps forward have yet been made. FAU researchers explain why that is the case.
Our western lifestyle is strongly influenced by the economy. The question arises as to whether it is time for a new economic order. And can digitalisation really help the climate? The coronavirus pandemic has changed the world of work and made it more flexible. Which aspects should we keep?
As you can see, ecological concerns are only part of the complex concept of 'sustainability'. I hope this issue of friedrich will open your eyes to some new aspects of this topic and inspire hope for the future.
I hope you enjoy reading,
Joachim Hornegger
President of the FAU
---
FAU research magazine friedrich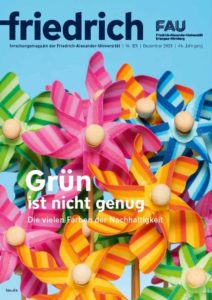 This article first appeared in our research magazine friedrich. You can order the print issue (only available in German) free of charge at presse@fau.de.
All articles