Life after the use by date
FAU team prepares old medicines for research
The old box of medicine lingering at the back of the medicine cabinet is a familiar sight. Often, it is old enough to be thrown away. In Germany, 30,000 tonnes of medicine are sold every year. There are no exact figures on how much of it is discarded, but experts estimate approximately 120 grammes per citizen per year. But when it comes to throwing out medicine, what should you do with it? Simply flush it down the toilet, like some people in Germany do?
Certainly not! Medicinal products should never be disposed of in water. If they are, their active substances can end up in our groundwater and drinking water and have a detrimental effect on agriculture, the environment, plants and animals. Changes caused by a high concentration of medicinal residues in water have in particular been observed in fish.
However, there are no fixed rules for how best to dispose of unwanted medicine. Depending on the administrative district or region in Germany, there are several different options. One good solution is to treat it as normal household waste, as this is incinerated without leaving any residue in the environment. Medicine can also be handed in at recycling facilities, mobile collection points for hazardous waste or pharmacies.
However, not every medicine that has passed its use-by date is automatically worthless. Prof. Dr. Markus Heinrich from the Chair of Medicinal Chemistry at FAU and his team often need substances for their research that are very expensive if they are purchased directly from the chemical trade.
Why not find another solution that is not only sustainable but also saves money?
Professor Heinrich and his team have launched a project to collect medicines that are out of date and then use their active substances for research purposes. Initially, they started collecting medicine that would otherwise have been disposed of from selected pharmacies in Erlangen. They have now expanded into another administrative district, covering a catchment area of over 300,000 people. Professor Heinrich and his team separate the pharmaceutical excipients from the medicine and use the remaining substances for research purposes, for example to develop pharmaceuticals with fewer side effects. 'Everything that we collect in Erlangen and the regional district Erlangen-Höchstadt and cannot use for our research is disposed of by the local waste management association along with normal municipal waste. We are very pleased that the city and regional district are so supportive,' says Heinrich.
The researchers hope to expand their project to cover the whole of Germany in the near future and provide other universities and university hospitals with the active substances they have recovered, thereby supporting more sustainable research. The project may also be of interest to the industrial sector. Every now and again medicine fails to meet the required standards. In future, Prof. Heinrich's project may prevent whole batches of medicine from being destroyed and valuable substances lost.
About the author
Deborah Pirchner studied American Studies at the University of Nottingham, UK. She is currently completing her traineeship in the Press and Communications Office at FAU.
---
FAU research magazine friedrich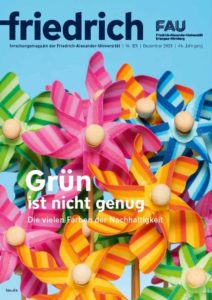 This article first appeared in our research magazine friedrich. You can order the print issue (only available in German) free of charge at presse@fau.de.