FAU Alumni Day 2022
Back to university
FAU will be holding a special event for its community this year for the very first time – the FAU Alumni Day 2022. On Saturday, June 25, 2002, alumni from all over the world as well as current students, scientists and members of staff will return to their alma mater to meet up with their former fellow students and their friends, make new contacts and reminisce about their time at FAU. During presentations and interviews and at the info stands at the event, participants will get the opportunity to find out what's going on at their FAU, now regarded as the most innovative university in Germany.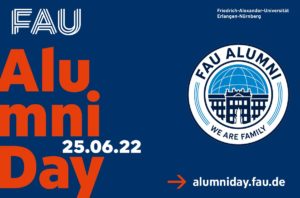 FAU Alumni Day
Saturday, June 25, 2022, 9 am until 4 pm
in Erlangen and Nuremberg
Further information and tickets
The event will be held in German.
Why hold an Alumni Day?
The University considers all those who have studied, researched, taught or were otherwise involved with FAU as an important part of the greater FAU community. With their extensive expertise and knowledge, alumni are some of the most important ambassadors and sources of inspiration for the University. To keep in touch with its alumni, FAU has set up an international alumni network – the FAU Community– which currently has more than 10,000 members.
Alumni can not only stay in touch with each other, but also network with current students, researchers and teaching staff, and keep themselves up to date with everything that's going on at FAU via regular events and by using the digital networking platform: www.community.fau.de.
The program for FAU Alumni Day 2022
Prof. Dr. Joachim Hornegger, FAU President, will personally greet participants in the morning and give an overview of all the current developments at the University. After the official reception, guests can look forward to inspiring presentations and interviews with some well-known FAU alumni and researchers. For example, Prof. Dr. Matthias Fifka, Professor of Business Administration at the Institute of Economics and Sustainability Officer at FAU, will be talking about the University's sustainability strategy. FAU alumna Christine Bruchmann, managing director of the Fürst Group, will be talking about her career and personal life (interview with Christine Bruchmann) and FAU alumnus Martin Aufmuth will be presenting his innovative and multiple award-winning project "OneDollarGlasses"(Interview with Martin Aufmuth).
In the afternoon, participants will have the opportunity to visit their old faculty, where they can expect a varied program of events. Alternatively, they can participate in special tours, such as in the University Library or the Botanical Gardens.
Participants can round off their Alumni Day by either spending the evening at FAU's Schlossgartenfest, Europe's largest and most beautiful garden party, at Entlas Keller beer garden on Erlangen's "Burgberg", or at the get together at the School of Business, Economics and Society in Nuremberg.
Further information
Aline Looschen
S-OUTREACH – Alumni/FAU-Community
Phone: +49 9131 85-70925
aline.looschen@fau.de