Report on Wissenschaft auf AEG 2016: videos of the lecture series
FAU presents exciting current research projects to the public in the lecture series 'Wissenschaft auf AEG'. The event location 'Auf AEG' – the former AEG site – has a unique atmosphere that provides the perfect setting for lecture series. It is a place that promotes knowledge and research.
Migration, integration and the city: the potentials and problems of space and community-orientated integration policies
In light of current immigration, questions of how people live together in cities are being discussed more and more frequently. In their lecture on 6 June, Prof. Dr. Georg Glasze and Jan Winkler from the Chair of Cultural Geography compared the potentials and problems of space and community-orientated integration policies – measures that focus on specific areas of cities and measures that focus on a specific target group, usually defined on the basis of ethnicity or religion.
The space-oriented approach uses the French concept of 'politique de la ville', which is now considered to have failed. It focuses on supporting specific problem neighbourhoods – often the large housing estates in the banlieues – with construction projects and social measures. In their second case study the two social and cultural geographers reported on an ongoing research project in which they are using interreligious dialogue as a new instrument in community-orientated integration policy in German cities and as a starting point for increasing openness towards Islam within communities.
Zuwanderung – Integration – Stadt: Potenziale und Probleme raum- und communityorientierter Integrationspolitiken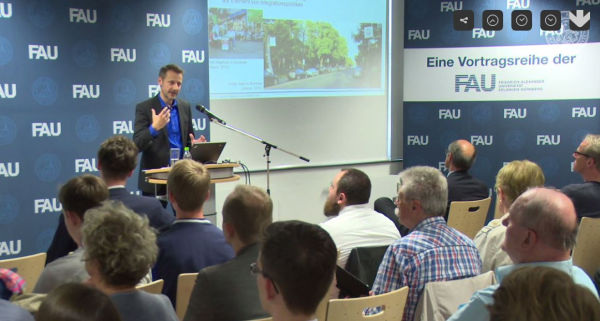 Refugee law: between politics and ethics
Refugee law is complicated. International, European and national laws are intertwined; lawmakers in Germany are attempting to control developments by constantly making new changes. Legal professionals are arguing about illegal entry, reception centres and limits. But what are the deciding legal, political and moral assessments?
In his lecture on 9 May 2016, Prof. Dr. Andreas Funke (Chair of Public Law and Philosophy of Law) presented the fundamental principles of refugee law that apply and are currently being put to the test. What rights do refugees have or, to put it another way, what do we owe them? He explained the room for manoeuvre that the law leaves politics to deal with the current challenges. He also discussed whether there are any moral and ethical requirements that laws and politics must satisfy.
The other side of the 'refugee crisis': reasons, paths and refuges
Whether they are coming from Africa or the Middle East, people who want to get to Europe have to rely on people smugglers. Each stage of the journey is dangerous for different reasons – starting on foot through the Sahara and then travelling across the Mediterranean on a dinghy. And what happens once they arrive in Europe? In her lecture on 18 April 2016, Prof. Dr. Petra Bendel (Centre for Area Studies) discussed three key questions related to European refugee policy: how much co-operation is there between EU countries and refugees' countries of origin and transit countries? How are the transit routes checked? How are refugees distributed inside the EU and how are they treated? Which instruments does the EU have at its disposal for dealing with the large numbers of incoming migrants? Prof. Dr. Petra Bendel suggested clear criteria based on the standards set by the EU and its member states in an attempt to evaluate the current policies that have been adopted. She also discussed how realistic alternative suggestions for solving the crisis are and what possible actions could result from them.