Integrated appointment and career system at FAU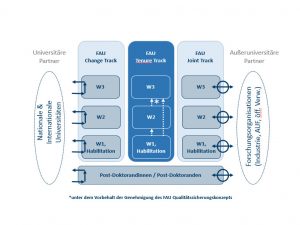 While the FAU appointment system is aimed in particular at recruiting and retaining professors, the integrated FAU appointment and career system is aligned with the general professional pathways that are available at German universities. This system is based on the most stringent international standards as well as documented, transparent performance criteria and systematically defines the possible career options.
There are three parallel, quality-assured pathways that are equivalent in terms of prospects for appointment and career development at FAU – these are the so-called FAU development pathways. These three development pathways provide for the career development of all academics at FAU and are intended to promote the careers of the next generation of academics and the appointment and continuing development of professors. Researchers are guided on their development pathways at FAU towards a career option that suits them perfectly.
Development pathways
The development pathways that involve a move from one institution to another represent the standard forms of career progression and also of appointment. These contribute to the expansion of the national and international academic network and make sure that the necessary dynamics and flexibility of the academic system are preserved by means of personnel changes.
Components:
The FAU tenure track system uses a stabilising approach for performance-orientated development of in-house talent. It fills the strategic gap in the standard career and appointment system by providing for reliable career options. Tenure track professorships are intentionally linked with the key research priorities at FAU in order to strategically strengthen these profile-forming areas.
Components:
Two EAM Awards (W2), six Rising Star junior professorships (W1) and an Industrial Liaison junior professor (W1) within the Engineering of Advanced Materials Excellence Cluster
Tenure Track professorships (W1 and W2) are defined as 'open topic tenure track' professorships in connection with the key research priorities of FAU.
The development pathway of cooperative career development and joint appointment accesses specific points of transition between FAU and its non-university partner institutions, be they research institutions, industrial enterprises, service providers or public administration organisations. The options of inter-institutional career development and joint appointments in collaboration with non-university research institutions enhance the attractions of the FAU joint track system.
Components: