FAU in the top 100 worldwide in 4 subjects
2022 Shanghai Global Ranking of Academic Subjects has been published
Energy Science and Engineering (40), Telecommunication Engineering (64), Metallurgical Engineering (73) and Medical Technology (88) – these are the subjects in which FAU has once again ranked among the top 100 best universities worldwide in the recently published Shanghai Global Ranking of Academic Subjects. Energy Science and Engineering has moved up six places compared to the previous year.
Ten subjects at FAU reached the top 10 in Germany: like both previous years, Telecommunication Engineering made it to first place, closely followed for the third time in a row by Energy Science and Engineering in second place. Electrical and Electronic Engineering and Chemical Engineering were ranked 4th, whereas Metallurgical Engineering and Materials Science and Engineering each came in 5th, keeping the same position as last year, as did Nanoscience and Nanotechnology in 6th place and Mechanical Engineering and Business Administration in 7th. The final subject at FAU ranked in the top 10 is Chemistry, in 8th place.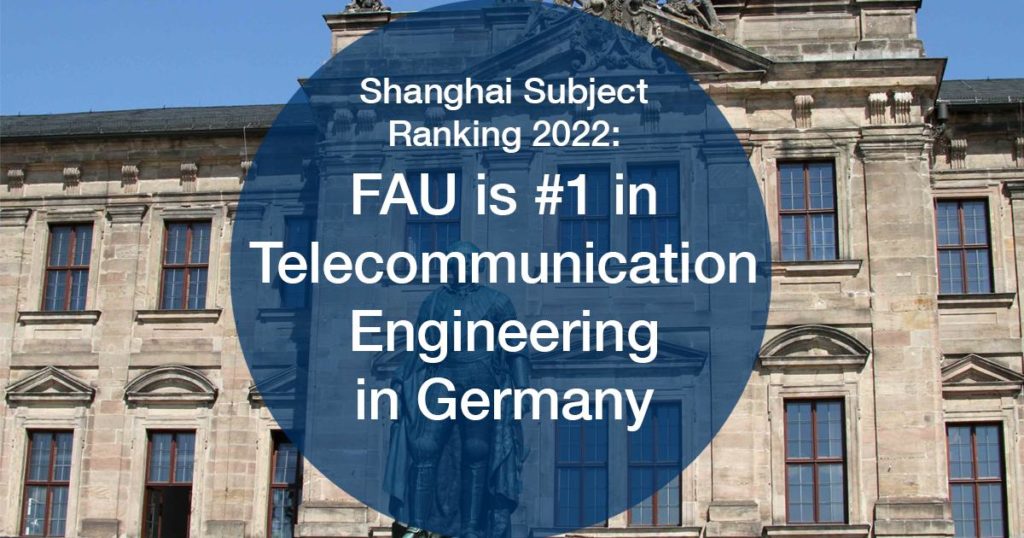 Cutting-edge research at FAU: Telecommunication Engineering and Energy Science and Engineering
Research into telecommunication engineering and energy science and engineering is carried out at the Department of Electrical Engineering (EEI). Researchers have been conducting cutting-edge research in the four focal areas of electrical energy technology, information and communication technology, electrical systems and autonomous technology for several years now, including in a research training group and a collaborative research center. Just recently, it received funding for a professorship in quantum research within the context of the High-Tech Agenda Bavaria.
The collaborative research center, for example, is developing methods and technologies that will provide new fundamental knowledge about linking internal biomedical processes with information from external movements that can be recorded using sensors. More information is available on the departmental website.
About the ranking
The Shanghai Ranking, officially known as the Academic Ranking of World Universities, has been published on an annual basis by the Shanghai Jiao Tong University since 2003. A total of 54 individual subjects are assessed from the fields of natural sciences, engineering, life sciences, medical sciences and social sciences on the basis of various indicators. The ranking focuses on research. Indicators taken into consideration include research publications, citations, Nobel prizes and Fields medals. More than 5000 universities were evaluated and 1800 of them from 96 countries were listed in this year's ranking.
The entire ranking and further information is available on the Shanghai ranking website.
Further information
Data and Management Information