Site development at FAU
A decade of change
Construction measures: FAU is changing its face and the cityscape in Erlangen and Nuremberg
The next ten years will bring important construction measures that will have a lasting impact on the appearance of FAU and the cities of Erlangen and Nuremberg in the long term.
Campus development: Three locations for FAU

Financing: Free State of Bavaria investing millions of euros

Plans are already underway for construction projects worth roughly 900 million euros, others are to follow.
View to the future: Impressions from planned construction projects
Join in and share your ideas
Would you like to help shape FAU and have your say in our site development? Get involved in our construction community open to all members of FAU (name of group: "Das Jahrzehnt des Wandels – Standortentwicklung an der FAU", or in English "The decade of change – Site development at FAU")
At a glance
The following pages give a brief overview of which areas and which locations of FAU are currently affected, and which new buildings are in the pipeline.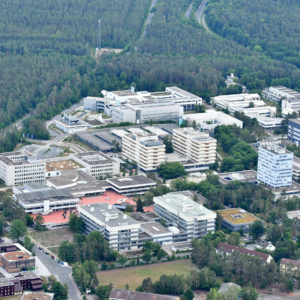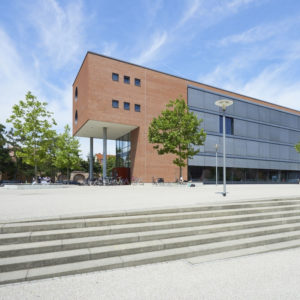 Frequently asked questions
What has funding been provided for? Which projects have been approved so far?
New projects totaling nearly one billion euros have been launched. In Erlangen city center, for example, the renovation of the Himbeerpalast and a brand new lecture hall complex in Henkestraße. The renovation of our Anatomy building and the successive sewer rehabilitation works in FAU campus Erlangen (city center) have also been approved. Two prefabricated lecture complexes, new buildings for Technical Chemistry and the second construction phase of the Chemistry building as well as the necessary development measures including a parking garage are major projects in FAU Campus Erlangen (South) that have now been commenced using these funds. The sum mentioned above does not include other major projects that are already nearing completion (such as ECAP) or have already been initiated, but are being financed by different means, such as the commissioned building for Education Science (call for tender for rental premises in North Nuremberg) or the purchase of part of the Siemens premises in Erlangen (Siemensareal).
Which projects are next in the pipeline?
FAU hopes that other projects will still be approved, for example the renovation of the Schloss building in Erlangen, for which an application has already been drawn up. Applications are currently at the drafting stage or are already being finalized for other urgent projects (for example NHR, Kollegienhaus, Materials Science and Engineering, renovation of MHB building).
Further information
All major construction projects at FAU that the Bavarian government has in principle agreed to implement at the current time or in the future are listed in the currently valid budget of the Free State of Bavaria (see draft for 2021: Einzelplan 15, Anlage S (individual plan 15, Appendix S) (listing of state construction measures totaling over 3,000,000 euros in any individual instance).
Energy-efficient construction and renovation works
As FAU is a Bavarian university, construction and renovation works are subject to the ambitious requirements of the Free State of Bavaria concerning energy-efficient construction. Further information is available (in German) on the following websites:
Contact