Medical Valley
A network of experts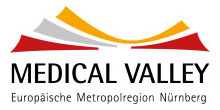 Medical Valley (EMN) is one of the strongest, most active medical technology research clusters in the world. Renowned partners from industry, research, healthcare and politics have come together to form this interdisciplinary network. Their common goal is to come up with successful solutions for the healthcare of tomorrow.
The year 2010 showed just how outstanding the structures in Medical Valley are, as the German Ministry of Education and Research (BMBF) chose Medical Valley EMN as a national Leading Edge Cluster upon its application as a 'Centre of Excellence for Medical Engineering'.
Medical engineering products and services are currently being developed in over 40 projects. These products and services are aimed at making prevention, diagnosis, treatment and rehabilitation in connection with a variety of illnesses more efficient and more effective. Activities in the cluster and communication among the stakeholders are co-ordinated by the Medical Valley EMN Association, which also supports its members with numerous services.
FAU is a member of Medical Valley and has close connections to many of its partners thanks to its research projects. Furthermore, research and teaching in this field have become a well-established part of the University through the Central Institute of Healthcare Engineering and the medical technology degree programme.