Vocational training at FAU
Vocational training at FAU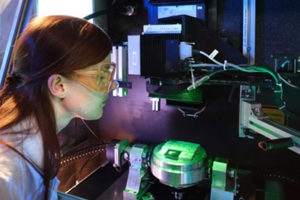 FAU offers a range of vocational training places for around 50 trainees in different departments and vocational roles throughout the University.
We expect to have 16 training places for 9 different roles starting in September 2024.
FAU is providing vocational training in the following fields in 2024:
Would you like to find out more about your future employer? Click on the relevant organizational unit to get some more information about your potential training institution.
---
Current vacancies for vocational training
Our current vacancies for vocational training are listed at jobs.fau.de.
---
New vocational training in 2024 at University Administration:
---
Several FAU trainees and their instructors have received awards during their vocational training.
Dorothee Friedrich (trainee gardener) was awarded a state prize for her outstanding achievements in her vocational training. She reports on her training in FAU's Botanical Garden in the FAU news portal.
In 2020, Sebastian Mayer (trainee gardener) received a state award for his outstanding achievements.
Lea Klein and Carina Popp (both trainee gardeners) won second place in the second round of the 2017 competition for young trainee gardeners, competition level A
With an average grade of 1.0, Sebastian Zenger came top of the class of around 900 students of the class of 2016 as an IT specialist in system integration at the state vocational school in Erlangen.
Instructor Andrea Kugler also received recognition of her achievements: In 2016, she received an award from the Chamber of Industry and Commerce (IHK) for 10 years' service as a volunteer examiner.
Marco Mackh and Daniel Wüchner (both trainee gardeners): third place in the German national vocational competition for young gardeners (2015); Bavarian state award for excellent academic achievements (2016)