Vocational training at FAU
Vocational training at FAU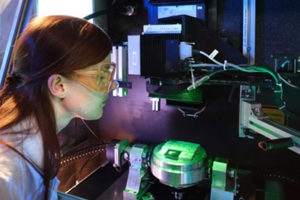 FAU offers a range of vocational training places for around 50 trainees in different departments and vocational roles throughout the university. A total of 46 training places in 10 different roles were available in 2020. We expect to have 21 training places for 11 different roles starting in September 2021.
New vocational training in 2024:
FAU currently provides vocational training in the following fields:
Chemielaborant/in
Elektroniker/in für Geräte und Systeme bzw. Automatisierungstechnik
Fachangestellte(r) für Medien- und Informationsdienste, Fachrichtung Bibliothek
Fachinformatiker/in (Systemintegration)
Fachkraft für Veranstaltungstechnik (m/w)
Feinwerkmechaniker/in
Gärtner/in (Zierpflanzenbau)
Kaufmann/Kauffrau für Büromanagement
Industriemechaniker/-in (Feinwerktechnik)
Mediengestalter/in (Bild und Ton)
Mikrotechnologe/in
Physiklaborant/in
Werkstoffprüfer/-in (Metall)
Vocational training places are available at these FAU organizational units:
Several FAU trainees and their instructors have received awards during their vocational training.
In 2020, Sebastian Mayer (trainee gardener) received a state award for his outstanding achievements.
Lea Klein and Carina Popp (both trainee gardeners) won second place in the second round of the 2017 competition for young trainee gardeners, competition level A
With an average grade of 1.0, Sebastian Zenger came top of the class of around 900 students of the class of 2016 as an IT specialist in system integration at the state vocational school in Erlangen.
Instructor Andrea Kugler also received recognition of her achievements: In 2016, she received an award from the Chamber of Industry and Commerce (IHK) for 10 years' service as a volunteer examiner.
Marco Mackh and Daniel Wüchner (both trainee gardeners): third place in the German national vocational competition for young gardeners (2015); Bavarian state award for excellent academic achievements (2016)