Energy-saving measures at FAU
#FAUsavesenergy – saving energy at FAU to keep our FAU open
This page will give you valuable tips for saving energy at FAU and at home, keep you up to date with current developments and give you the opportunity to bring any potential energy saving measures to our attention. We will also report back on ongoing results, savings and progress at FAU.
Taking stock: How much energy has FAU saved this winter?
In the summer of 2022, FAU set targets of five percent savings for both electricity and heat for the period October 2022 to March 2023, compared to the average consumption in recent years during that period. The data for each building for October until March 2023 are now available and it is time to take stock.
FAU achieved savings of 13 percent for heating, thus significantly exceeding its target. With the exception of the month of December, which experienced considerably lower temperatures, the University was able to achieve savings across the board in the two-digit percentage range. In contrast, with savings of only 2.1 percent, we have not been able to achieve our target for cutting electricity consumption and the expansion of infrastructure in the Regional Computing Center and for research is a challenge we must address.
Further information is available on the Green Office website under Energy management. In addition, FAU members can download detailed information about buildings.
#FAUsavesEnergy
Our motto is #FAUsavesEnergy. Let's all take this to heart and do everything we can to make it a reality. At the same time, this will help us reduce our greenhouse gas emissions and work towards reaching net zero quicker than originally planned (see BayKlimaG). Use the hashtag #FAUspartenergie to share the ways you are saving energy on social media with us and the world and generate more awareness of this important topic.
What we can all do on a daily basis
Heating/warmth
Heating/warmth
Turn the heating down (overnight) and switch it off when it is not needed (for example at the weekend)
Reduce room temperature as far as possible; you can adjust to a lower room temperature by, for example, wearing warmer clothes
Close doors, air rooms by opening windows wide for a short period of time instead of leaving the window tilted all the time
Cut down on using warm water at the sink, if you have one
Stromverbrauch
Electricity consumption
Stop using fan heaters, fans and other ineffective sources of heat/electricity
Switch off or replace old appliances such as fridges
Switch off PCs, monitors, printers and other devices instead of leaving them on standby
Reduce screen brightness to between 50 and 75% (saves over 25% energy), switch off second monitors
Avoid using lifts unless necessary for transporting items
Check whether fax machines are still necessary (they use electricity when kept in standby mode)
Use socket strips with toggle switches
in the office
in the office
Evening checks (lights off? Windows shut? Appliances turned off?)
Agree on fixed office hours for your team in consultation with your manager and adjust heating and lighting accordingly
Communicate possibilities for action, mention and raise awareness for energy saving measures among colleagues, pass on your knowledge and establish energy teams
Share electrical devices such as coffee machines and kettles in break rooms or kitchens and fill thermos flasks with coffee or hot water and have joint coffee breaks. Kettles should be descaled after a maximum of three months.
in research
in research
Reduce the number of devices left on standby when not in use
Switch off devices such as centrifuges, heating cabinets and water baths in the evening or directly after use (except for those marked otherwise)
Use socket strips with toggle switches
Share use of laboratories/devices
Introduce a booking schedule
Bundle production jobs (warm-up periods)
Only switch on those lights in the laboratory that you really need
Only open fridges/freezers/cooling chambers briefly and avoid keeping the door open for long
Check the temperature of the cooling chamber
Run freezers at -70°C rather than -80°C (28% saving), do not run them at their limit
Replace old, inefficient appliances and devices including appliances such as fridges (funding available for replacing old appliances from municipal authorities)
Ensure sufficient air can circulate around devices that emit a lot of waste heat, such as fridges or freezers. Remove servers from the broom cupboard.
in der Lehre
in teaching
Switch everything off after a class or lecture (lights, projector, audio equipment etc.)
Think about room bookings and keep the calendar updated:

Does the size of the room match the number of students attending the lecture/taking the examination? The smaller the room, the less energy is consumed when it is in use.
Is there another lecture after yours? – The fewer gaps there are between lectures, the less the air conditioning or heating is used in standby when the room is empty
Have you entered any changes in Campo? – Lecture halls can only be managed effectively (heating, ventilation, lighting, caretaker, cleaning etc.) if you keep all details up to date.
im Hochleistungsrechnen
Energy efficiency in high performance computing
Optimized programs use energy more efficiently and generate "more research per joule"
If you have any questions, please use the services provided by our HPC experts:
Share your ideas with us!
Thank you for helping FAU to save energy. You can share your ideas with us and make an important contribution to saving energy at FAU. Unfortunately, we will not be able to reply to every tip.
Please use this form to share your idea with us.
Error: Contact form not found.
FAU on the road towards net zero
No menu could be found under the specified name
name=2022_Energie sparen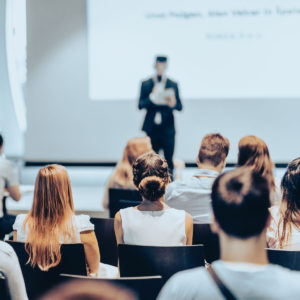 Lecture series: Ask the experts – Solutions for the future of energy
With rising energy prices and a shortage of gas, companies and private households are forced to save even more energy to lower their costs or prevent outages. What is the latest advice? Researchers at EnCN give advice based on practical examples from their work.
The lecture series is held online via Zoom between 5 pm and 6 pm on Wednesdays.
To the Zoom link for EnCN lecture series "Ask the experts – Solutions for the future of energy"
Greenify.work App
The Greenify.work app helps staff and students at FAU to adopt more sustainable habits, if they are interested. You can download it free of charge in the App Store or Play Store: greenify.work.
Energy-saving certificate
Bring your energy-saving skills up to scratch and earn a certificate: In interactive videos from the Green Office, you can find out everything you need to know about energy procurement at FAU and learn some useful energy-saving tips you can incorporate into your daily routine.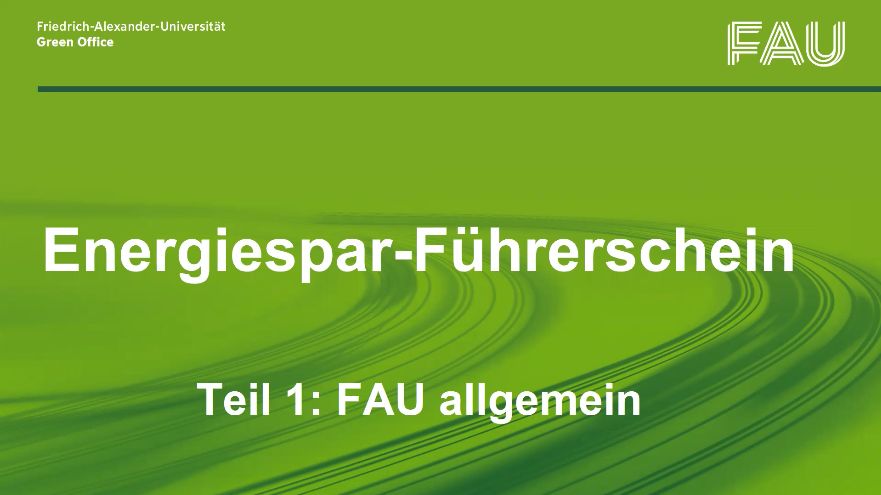 Energy transition activities at FAU
Energy-saving tips from vlogger Gill
October 21, 2022
Interview with Sebastian Hemmer, Green Office
October 4, 2022
Solar panels for Biologikum at FAU Campus Erlangen (South)
September 28, 2022
More information and news from the Green Office
Energy at FAU: Christian Zens talks in the Chancellor's podcast
FAU and its energy (November 2022)
50,000 people saving energy – sustainability at FAU (July 2022)