Landing page
---
News
Almost 90 percent of people who have contracted COVID-19 and suffer from persistent symptoms after the initial infection present with cognitive impairments such as memory problems or difficulties concentrating. This is the conclusion reached by a study conducted by the Post-COVID Center from Universitätsklinikum Erlangen.
In the international THE World University Ranking, FAU remains among the top 10 percent of participating universities in 2023. We are particularly pleased to have gained the top place in the area of Industry.
The Free State of Bavaria has now dedicated 10 million euros in funding to setting up a new Human Rights Research Center at FAU. It will be based in Nuremberg. This investment is intended to drive research forward in Nuremberg, the city of human rights, and to further increase international awareness of this area of research.
---
Study at FAU for a promising future
Choose from over 260 degree programs
---
Studying at FAU
With more than 260 degree programs, FAU offers an inspiring learning environment, student community and numerous opportunities to discover your passion. A lively metropolitan region with plenty of places to go out and get to know other students and breathtaking natural surroundings for outdoor activities awaits you. Choose your future. FAU is the right choice for your academic career.
---
Research at FAU
FAU is a full-spectrum university with a long tradition of research. Over 250 degree programs and long-standing partnerships with international research institutions such as Max Planck, Fraunhofer and Helmholtz give staff and students the opportunity to look beyond the boundaries of their own subjects, network with others and consider questions from different perspectives. FAU encourages its members to think in every direction. This diversity makes FAU one of Germany's leading research universities.
---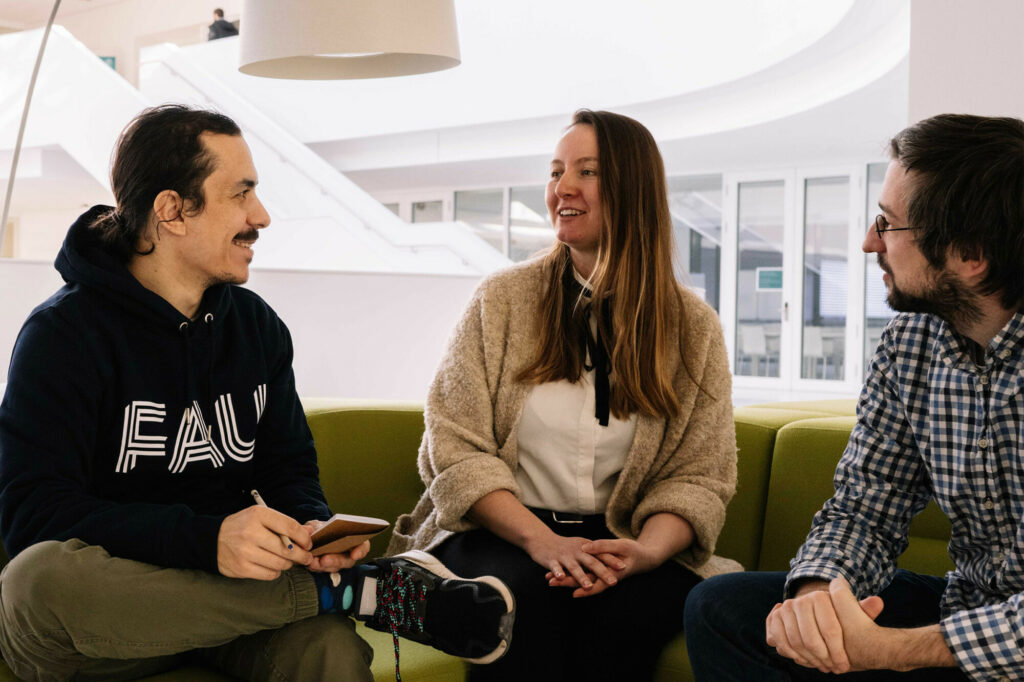 Working at FAU
FAU is one of the largest employers in the Nuremberg Metropolitan Region. Spread over the three cities of Erlangen, Nuremberg and Fürth, our University is the perfect location for research, studying and working, with more than 14,000 members of staff. FAU is always looking for talent in all areas, who are prepared to dedicate themselves to their work at FAU with passion, creativity and commitment. Our job vacancies might have just what you're looking for.
---
#FAUinsights: Discover the future of hydrogen technology!
Moving knowledge.
---
Get to know FAU
FAU - Moving Knowledge
---
Upcoming events at FAU
October 4, 2023, 1:00 pm – October 5, 2023, 1:00 pm

Max Planck Institute for the Science of Light, Staudtstr. 2, Erlangen / Online

October 4, 2023, 1:00 pm – October 5, 2023, 1:00 pm

Max Planck Institute for the Science of Light, Staudtstr. 2, Erlangen / Online

12:30 pm – 2:30 pm

Siemens Campus, Erlangen / digital
---
---