Developments at FAU Campus Erlangen (South)
Master plan FAU Campus Erlangen (South)
Large parts of the Faculty of Engineering and the Faculty of Sciences are located at FAU Campus Erlangen (South). A Cabinet resolution has been passed stipulating that in future all areas of the Faculty of Engineering should be consolidated in our campus in the south of Erlangen, which is to be extended accordingly. After taking a close look at the situation, we have drawn up a master plan for FAU Campus Erlangen (South) that details the various functions and uses of the extended campus that will house the entire Faculty of Engineering in future. We have taken a three-pronged approach involving making more intense use of our existing premises, adding on adjacent plots currently owned by the state and acquiring further premises (from the Siemens campus).
Master plan for FAU Campus Erlangen (South)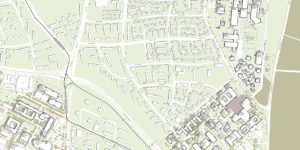 The master plan for site development was completed in 2021. It shows how the campus and the planned additional areas can be developed into and perceived as a joint high-tech campus. It describes our guiding vision, projects for the future and landmarks. The master plan offers information about how decisions are to be taken about the future of existing buildings, for example for Computer Science or Materials Science and Engineering, and sets out the planned transformation process in terms of location, functional connections and timescales.
The necessary work to make more intense use of our existing campus has already started, with plans for the new chemistry building well underway. The preparatory work for the construction phase has already started. The new lecture hall buildings are scheduled for completion this year. The Erlangen Center for Astroparticle Physics and the "Pfauennest" daycare center have already opened.
And now, a further milestone for the development of Erlangen Campus (South) has been reached with the purchase of an area measuring 105,000 square meters from the Siemens Campus. However, we are only just starting out on our successful transformation process and many other projects will be required and will be made possible because of the funding.
New building for a North Bavarian High-Performance Computing Center at FAU
In close collaboration with the Leibniz Computing Center, the Erlangen Regional Computing Center (RRZE) at FAU is to be extended and transformed into a high-performance computing center especially for the universities in northern Bavaria. This will allow IT services to be consolidated across regional boundaries.
The new building will be spread over three modules, with one building housing computers, one for offices and one possible extension. It is hoped that the first new building will start operations before 2030.