STEM instead of art – definitely the right decision!
In our series of 22 reports, we present a panorama of female researchers from various qualification levels and academic positions, ranging from students to W3 professors. With their individual career paths, the female researchers in STEM subjects act as role models to encourage young female researchers to pursue an academic career, giving interesting insights into their careers to date. The MINT experts also share aspects of their private lives.
Doctoral candidate Malvina Supper STEM instead of art – definitely the right decision!
Doctoral candidate Malvina Supper works in the Department of Chemical and Biological Engineering at FAU and is a far-travelled young researcher. Internships and study visits brought her around the globe and so it is no surprise that the 30-year-old engineer is looking for a postdoctoral position abroad after finishing her doctoral degree. Originally, she had planned a career in art as she struggled with maths.
From art to STEM
'A number of coincidences led to me taking a STEM subject. After leaving school I really wanted to study art, which was my favourite subject at school and one of my main subjects at senior school. I then decided to spend three months on a placement at a hospital before I started to study. There, I met another girl doing the same thing who raved about medicine and engineering. Intrigued, I started to look into possible degree programmes in this area and came across life science engineering. I was fascinated by the idea of working on innovative ideas and helping improve people's health. I also liked the interdisciplinary nature of the degree programme. I wasn't sure at first, though, until my friend asked 'why not?'. I couldn't give her an answer and enrolled spontaneously just before the deadline.'
Lots of exciting stages on the way towards the doctoral degree
'I am now completing my doctoral degree at the Chair of Thermal Process Technology at FAU. On the way to where I am today, I have gone through a lot of exciting stages and met great people who have inspired and supported me. Whilst studying, I worked for three and a half years at the Fraunhofer Development Centre for X-ray Technology, where I wrote my Bachelor's thesis, I completed a placement in breast cancer research in the Macao Special Administrative Region of the People's Republic of China, I studied more than one semester at Tokyo University in Japan, attended a summer school in Silicon Valley in California and wrote my Master's thesis in Biotechnology at Forschungszentrum Jülich.'
My work as a doctoral candidate
'In simple terms, my research is important for the medical and the pharmaceutical sectors as it focuses on how medicines work. I concentrate on the development of preparative chromatographic processes for the separation of nanoparticles based on size, in particular for the chromatographic separation of nanoparticles and polymers. My project is part of a collaborative research centre. The quality of the product depends on a controlled distribution of particles of different sizes. The pharmaceutical industry can use this method, for example, to control the biological activity of medical products using polymers of a defined size. I really like being able to put my own ideas into practice in the lab, and enjoy conducting varied work with young people and various different groups. I also really appreciate being able to follow my natural curiosity and have the freedom to try out creative solutions.'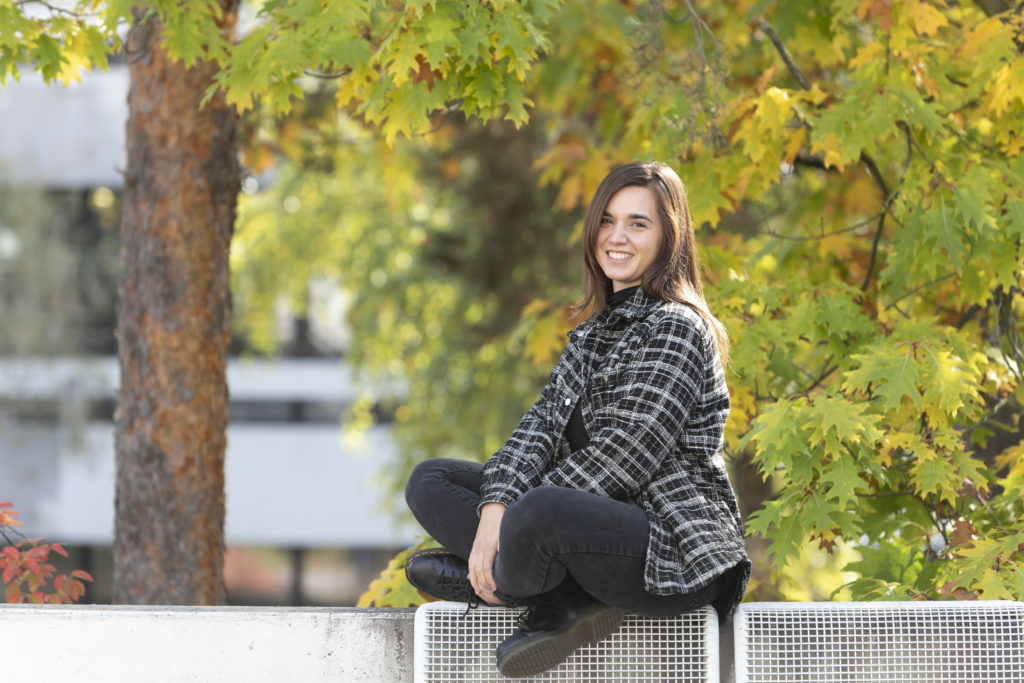 How FAU supported me
'Thanks to FAU, I was able to spend time studying abroad at one of our partner universities, Tokyo University. FAU was very accommodating in several matters, for example allowing me to write my final theses at external research institutions. It was also thanks to FAU that I was able to take part in the Silicon Valley Spring School, where I had the unique opportunity to make valuable contacts and experience the unique spirit of Silicon Valley at first hand. I also received a travel expenses grant on the basis of the target agreements for increasing the percentage of women in academia agreed between the Executive Board and the Faculty of Engineering. FAU offers a wide range of different options if you look for them. You need to be prepared to take the initiative.'
Beneficial networks
'I recommend BEST (Board of European Students of Technology) and IAESTE (International Association for the Exchange of Students for Technical Experience) for paid placements abroad. I was actively involved in IAESTE myself and it offered me the opportunity to carry out my placement at Macau University. IAESTE is an international association that organises placements abroad for students studying engineering and science subjects, as well as agriculture and forestry.'
Obstacles I had to overcome while studying …
'… were definitely the maths exams, but I managed them in the end. Even at school, mathematics was never my strong point. When choosing my second main subject at school, I threw a dice to decide between physics, chemistry and mathematics, and mathematics it was.'
In my free time …
'… I take time for my passion: art! Sometimes, I paint in the studio at the Faber Castell Academy. Yoga and meditation also help me cope with stress.'
My advice to young women interested in getting into science:
'I would like to encourage young women to study what they are interested in without being intimidated by complicated words. You grow to meet the challenge. Why not go for a STEM subject? Be brave, it'll be exciting!'
This article is part of the brochure "The Sky is the Limit"
Brochure "The Sky is the Limit"
Diverse, inspiring and innovative, the brochure "The Sky is the Limit" introduces female researchers in STEM subjects from the Faculty of Engineering and the Faculty of Sciences in a series of varied interviews.
Other interviews are available on the Research website.
Download the brochure "The Sky is the Limit — Female STEM scientists at FAU"
The publication is the result of collaboration between RTG 2423 FRASCAL and the Office of Equality and Diversity. Dr. Susanne Stemmler conducted the interviews.