FAU celebrates 279th anniversary
Dies academicus 2022 focuses on sustainability
Trailblazers, pioneers, and clever thinkers who drive the world forward and shape the future with their ideas and inventions. There is no shortage of such people at FAU, whether students, young researchers, professors or alumni. The celebration for FAU's 279th anniversary on November 4 was an opportunity to shine a spotlight on people like this and their groundbreaking ideas.
Did you miss it?
Error getting the video
The video ID used is invalid or could not be assigned to a video.
Looking back and looking to the future
"Over the past year, we have once more won prizes, acquired significant amounts of third-party funding and maintained our high standards of research and teaching in spite of the pandemic. We have made new contacts, we have agreed on partnerships, to be brief, we have continued to advance our FAU," stated FAU President Prof. Dr. Joachim Hornegger in his report on the University's founding day. "As a leading research university that offers the entire spectrum of academic disciplines, our FAU has a strong foundation to build on that allows us to cover the entire spectrum of complex research questions." It is also the heart of one of the most innovative regions in Germany. "This is due in no small measure to the unique ecosystem at FAU, its research institutions and our partners, the global players, innovative SMEs and up-and-coming start-ups."
FAU is setting a specific strategic focus in order to be fit to tackle the challenges of the future, such as the Excellence competition: "Our aim is to make FAU more attractive for students and researchers from all corners of the globe. This is a task that has to be tackled jointly by the entire FAU Community," Hornegger emphasized. "We can only move knowledge and our FAU if we work together."
According to Prof. Dr. Andreas Hirsch, Vice President People, FAU is a platform for innovative thinkers, inquisitive, bold, open-minded and respectful people and offers a number of measures aimed at expanding this aspect even further in future. These include measures specifically tailored towards encouraging young researchers or for integrating academics who have been forced to flee their home countries, but one thing all measures have in common is that they remain true to the core values of FAU: innovation, passion and diversity.
Prof. Dr. Bärbel Kopp, Vice President Education sums up the situation after two years of the Covid pandemic as follows, "FAU has demonstrated that it is a community of people whose strength lies in shared expertise, in dedication to their cause and solution-oriented thinking." The University has made the most of opportunities, continued to develop innovative teaching and at the same time encouraged everyone to get involved and strengthened internal dialog, all of which are prerequisites for a community in which diversity thrives.
Prof. Dr. Georg Schett, Vice President Research, reported that "last year, we raised almost 250 million euros more in funding. This makes us one of the top 10 leading research universities in Germany. That apart, FAU has gained several prestigious research awards, such as Humboldt professorships, grants from the European Research Council, or the Leibniz Prize." FAU's success is down to the innovative thinking of its researchers and the interdisciplinary exchange of ideas across subject and faculty boundaries at the University, which offers the entire spectrum of academic disciplines.
In her speech, Prof. Dr. Kathrin Möslein, Vice President Outreach, emphasized one of the major aims of FAU: boosting the image, responsibility and impact of FAU in the economy, society and politics, both in the local region and beyond. As the second-largest employer in the region and one of the most innovative universities in Europe, the University bears considerable responsibility. "With our FAU Academy and its principle of lifelong learning, we pave the way for the future in people's minds, in companies and in society as a whole:" FAU also has Zollhof, the most rapidly growing tech incubator in Germany, an accelerator for young start-ups, creating jobs and shaping the future. In this way, FAU acts as a hothouse for an entire innovation ecosystem, in which everyone is cordially invited to take part.
In his interview, the Bavarian Minister President Dr. Markus Söder reported back on the success of the High-Tech Agenda Bavaria and the efforts taken by the state government to continue to bolster Bavaria and FAU as a location for cutting-edge research.
Green is not enough
As soon as you start to consider what a world where everyone can live well might look like, you soon realize that sustainability is so much more than just protecting the environment and our climate. It runs like a common thread through all areas of our lives – from health care and the economy to living together in society. Sustainability was the focal point of the Dies academicus.
FAU paleobiologist Prof. Dr. Wolfgang Kießling, one of the main authors of the current World Climate Report, reported on the threat posed by climate change and species decline. He forecasts that we will probably fail to meet the planned global biodiversity, climate and sustainability goals for 2030 and 2050 if politics continue to not only pay too little consideration to the two topics but also to view them separately.
In the subsequent discussion round, experts discussed the opportunities and possibilities for sustainable development at FAU.Prof. Dr. Anuscheh Farahat, professor of public law, migration law and human rights, Prof. Dr. Matthias Fifka, professor of business administration and Sustainability Officer at FAU, Prof. Dr. Wolfgang Kießling and Christian Zens, FAU Chancellor.
Innovation at FAU
Once again, FAU used its anniversary celebrations as an opportunity to shine the spotlight on its particularly creative thinkers: the FAU innovators of the year.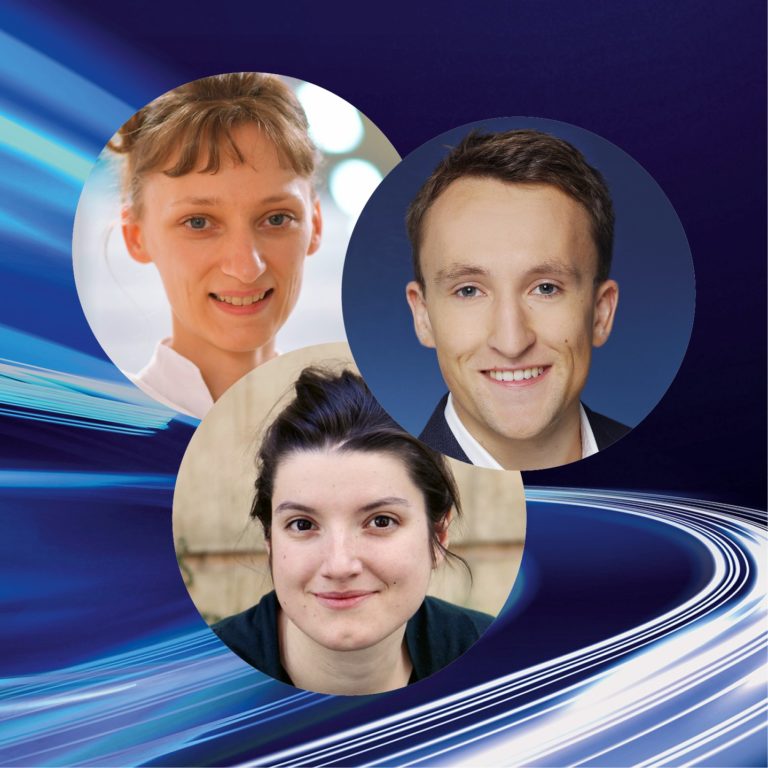 Using artificial intelligence to analyze images
Alexander German received the FAU Innovator prize in the student category. He proposed the principle of voxelomics that may improve the precision and effectiveness of diagnostics using imaging methods. Voxels are spatial image elements that can be used to visualize the physical characteristics of tissue during radiological cross-sectional imaging. Although the spatial resolution is on the millimeter scale, voxelomics is capable of detecting the physical characteristics of fine tissue. The pioneering method uses machine learning to evaluate hundreds of contrast images.
The battle against Long Covid
The FAU Innovator prize in the research category was awarded to PD Dr. Dr. Bettina Hohberger and the team led by Prof. Dr. Christian Mardin at the Department of Ophthalmology, Universitätsklinikum Erlangen. They discovered that a drug used to treat heart conditions could reduce or cure symptoms in post-COVID patients. The first successful trials were conducted in summer 2021. In March 2022, the project was granted research funding of 6.5 million euros by the Federal Ministry for Education and Research. PD Dr. Dr. Bettina Hohberger received the award on behalf of the team for their significant contribution to fighting the pandemic.
Profits are no longer top priority
Maike Kauffmann is FAU Innovator 2022 in the alumni category She is actively committed to promoting an independent and sustainable economy and her work at Stiftung Verantwortungseigentum is contributing to the transformation toward sustainability and greater social responsibility. Her research focuses on steward ownership. This is understood to mean that the owners of a company have voting and participation rights, but do not share in the profits and value of the company. This is to ensure that the company acts in a way that serves its purpose and stakeholder interests, rather than the profit motive of shareholders.
Awards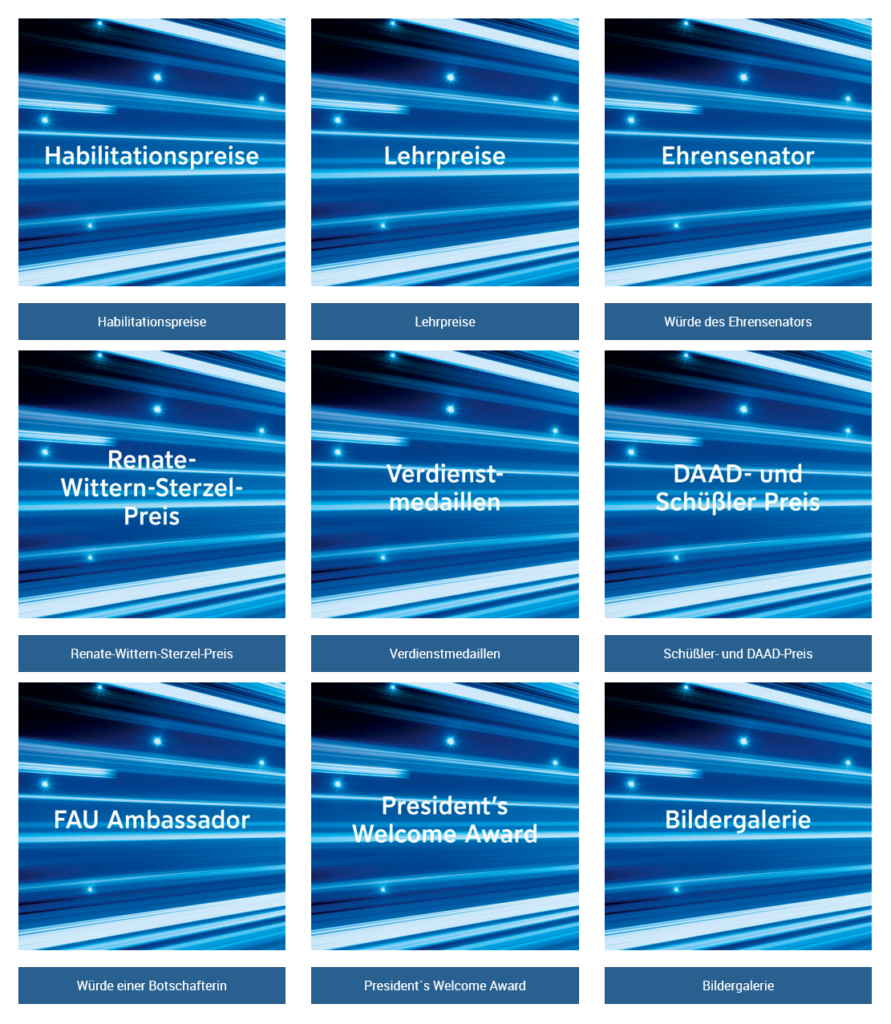 The prizes awarded every year during celebrations marking FAU's anniversary were handed over in a separate ceremony several days before the Dies academicus.
Detailed information on the award winners
More information on the event: www.dies.fau.de.