Topping out ceremony for four new lecture theaters at FAU Campus Erlangen
Construction work is scheduled to be completed by the coming winter semester
Four new lecture theaters in two highly efficient and sustainable timber frame buildings: On Friday, March 17, 2023, the topping out ceremony for both buildings took place on the FAU Campus Erlangen (South). Vice President Prof. Dr. Andreas Hirsch noted the significance of the event: "Our University is in the middle of a decade of change and modernization. These two new lecture theaters are an important part of the future of FAU and will make a lasting improvement to the University."
Both buildings mean that FAU will have four modern and attractive lecture theaters with a total of 1,658 seats on the FAU Campus Erlangen (South). The project, which cost 22.5 million euros, was planned with sustainability in mind and is a timber construction using untreated wood of a single variety and erected with the greatest possible avoidance of petroleum-based insulating materials.
---
Site development at FAU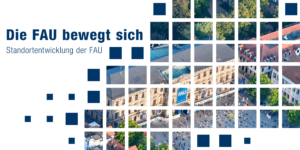 The next ten years will bring important construction measures that will have a lasting impact on the appearance of FAU and the cities of Erlangen and Nuremberg in the long term.
An overview of all the construction projects for the next few years is available on the "Site development at FAU" website.
Join in and share your ideas
Would you like to help shape FAU and have your say in our site development? Get involved in our construction community open to all members of FAU (name of group: "Das Jahrzehnt des Wandels – Standortentwicklung an der FAU", or in English "The decade of change – Site development at FAU")