Deutschlandstipendium
Promoting clever minds: Deutschlandstipendium
(Bild: Vinnolit)

"We are taking part in FAU's Deutschlandstipendium in order to allow talented individuals to benefit from an excellent education and to facilitate their entry into a successful career. (…) Some connections have already been made that have led to internships and traineeship positions."
– Dr. Karl-Martin Schellerer, managing director of Vinnolit GmbH & Co. KG

"I am incredibly happy about the support I received during the Deutschlandstipendium. On the one hand, the financial support means stability and freedom. On the other, it does not only mean that I can concentrate better on my studies and gain a further education, it also gives me an opportunity to mix with other like-minded students."
– Julia Lantelme, holder of a scholarship from Rödl & Partner

(Bild: Manjit Jari)

(Bild: Stefan Heigl)

"As I have first-hand experience of the value of a high standard of education and financial support as a former FAU student and holder of a scholarship from the Hanns Seidel Foundation, I am pleased that we are able to make a valuable investment in the future with the Deutschlandstipendium."
– Dr. Walthes, CEO of Versicherungskammer Bayern

"The Deutschlandstipendium is a welcome recognition of my achievements, but at the same time it is also an incentive to keep going and keep helping other people. The scholarship and my supporter Robert Bosch GmbH have allowed me to study a wide range of subjects, to get involved in society and to do a Erasmus semester abroad. (…)" – Annika Fenn, holder of a scholarship from Robert Bosch GmbH

(Bild: Annika Feen)

(Bild: Gisela Heinrici)

"As an alumnus of FAU, the Deutschlandstipendium is a great opportunity for me to provide financial support to students (…). It allows me to remain in touch with the current generation of students at my alma mater, I can pass on my experience and I am pleased to be able to support high-performing medical students by making a contribution to the Deutschland Stipendium."
– Dr. Stefan Thürmer, alumnus

"I am very proud to receive the Deutschlandstipendium. It shows me that my effort and dedication are paying off and motivates me to continue doing well in my studies. The scholarship also allows me to volunteer in various areas and makes it easier for me to finance my stay abroad. (…)"
– Mareike Bauer, holder of a scholarship from FAU alumnus Dr. Thürmer

Bild: Guilia Iannicelli

(Bild: Stiftung für Nephrologie)

"The Stiftung für Nephrologie would like to offer young students an insight into nephrology, to show them the varied professional opportunities there are including working in their own practice and offer support through the foundation's network.
– Dr. Michael Daschner, CEO of Stiftung für Nephrologie

"I am especially grateful to the organizers of the Deutschlandstipendium at FAU and the provider of my scholarship, the Stiftung für Nephrologie, which not only provided me with financial support but also allowed me to attend national meetings and opportunities for work shadowing. (…) "
– Justus Osterloh, holder of a scholarship from Stiftung für Nephrologie

(Bild: Giulia Iannicelli)

(Bild: MAUSS-Daeschler)

"The MAUSS-Daeschler Stiftung funds projects in Erlangen aimed at helping children and young people in society to mature and develop through sport, music and art. The Deutschlandstipendium fits in well with our other activities in this field."
– Reinhard Daeschler, CEO of the MAUSS-Daeschler Stiftung

"Above all, the Deutschlandstipendium gave me time: time to learn languages, time to get more involved at university, time for sport to compensate for sitting so much at university, time for my own personal development. (…) I am very grateful for that!"
– Eva Maria Hille, holder of a scholarship from the MAUSS-Daeschler-Stiftung

(Bild: Eva Maria Hille)

(Bild: Nürnberger)

"(…) We support the Deutschlandstipendium as a way to give students at FAU the possibility to concentrate entirely on their studies. We are pleased to maintain close contacts to very good students, we are always on the lookout for new highly-qualified employees and offer excellent working conditions at the NÜRNBERGER."
– Walter Bockshecker, CEO of Nürnberger Versicherungsgruppe, and member of the University Council

"(…) I am particularly pleased about the opportunity to get to know all about the exciting areas of responsibility of a computer scientist in the insurance sector. As well as being a welcome addition to the continually tight student budget, it is the contact to the company that motivates me and for which I would like to express my gratitude (…)"
– Simon Langer, holder of the scholarship from the Stiftung NÜRNBERGER Versicherungsgruppe

(Bild: Fotostudio Unger)

(Bild: intego)

"The students of today are the decision-makers of tomorrow. (…) I am struck by the curiosity and creative drive with which these young people set out, and I am pleased if Intego GmbH and my wife and I as individuals can support these young people on their path."
– Dr. Thomas Wagner, managing director of Intego GmbH

"(…) The financial support offered by the Deutschlandstipendium allows me to concentrate better on my academic studies and worry less about financial aspects. (…) I would therefore like to express my heartfelt thanks to the provider of my scholarship Intego GmbH for the financial support and expertise they provide."
– Bashar Salloom, holder of a scholarship from Intego GmbH

(Bild: Fotoatelier Katrin Wiegand)
Would you like to support clever minds?
With the Deutschlandstipendium, FAU is investing in the leaders of tomorrow, together with the federal German government and companies, foundations and private individuals. As a donor, you can support young academic talent and come into contact with highly qualified students.
Feel free to get in touch!
How it works
With a Deutschlandstipendium, you support young talents from all subject areas. The criteria assessed for the scholarships include academic achievement, voluntary work, international experience, and other personal qualities. The German government doubles your contribution.
Options for providing support
For companies, foundations and private individuals
You can support a talented young student with just 150 euros per month. The government adds 150 euros a month.
Scholarship holders therefore receive 300 euros a month (3,600 euros per year).
For alumni
Our alumni can also provide support for outstanding students through the Deutschlandstipendium. FAU awards alumni scholarships financed from donations.
Donations of 150 euros and above are possible, and are doubled by the government.
Are you interested? Please feel free to get in touch, without any obligation.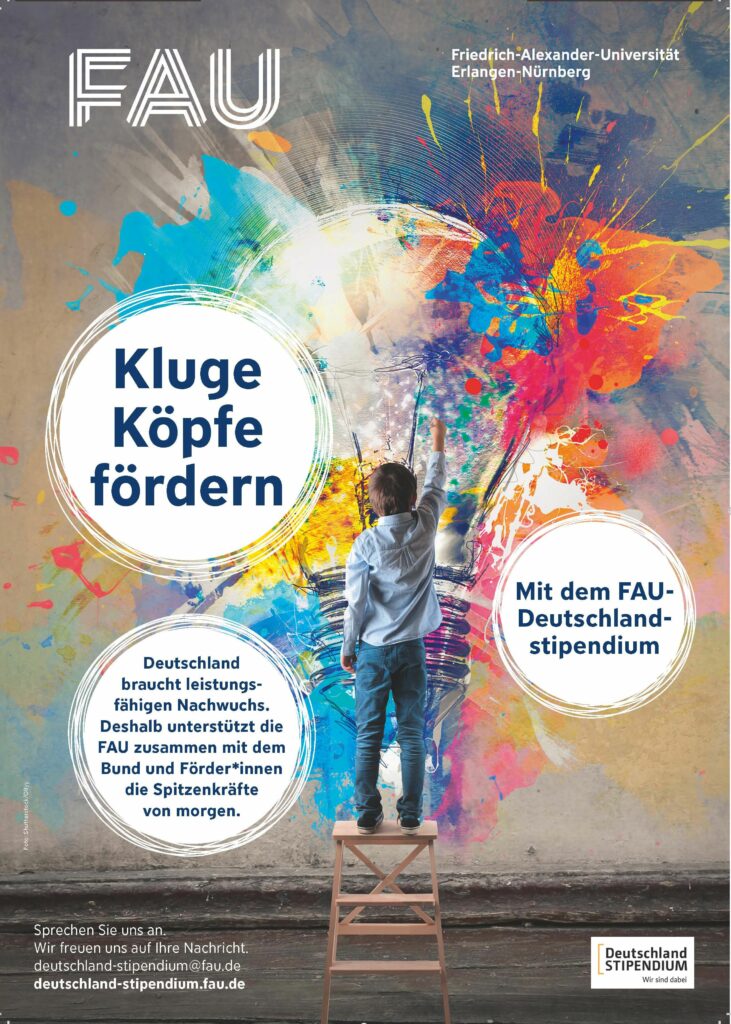 Your advantages at a glance
Strengthen our metropolitan region
As a scholarship partner you will be supporting the community, contributing to strengthening academic excellence in the Nuremberg Metropolitan Region, and helping promote links between academia, society and the economy.
Tax benefits
Donations are tax-deductible.
Recruiting and exclusive contacts
If you would like to become more involved, you can meet the recipient of your scholarship in person, provide them with advice during their studies, and offer them further opportunities such as visits to your company, internships and mentoring, or invite them to events. Invest in your leading talents of tomorrow.
Public relations
FAU thanks its donors in its various media activities, if you agree, and invites you to events.
Scholarship ceremony
Our donors belong to our FAU family and can therefore take part in our interactive platform for exchanging ideas and opinions, the FAU Community.
We look forward to hearing from you and welcoming you to the FAU family.
Networking within the FAU Community
Unsere Förderinnen und Förderer sind Teil unserer FAU-Familie und können so auch an unserer interaktiven Plattform zum Austausch, der FAU Community, teilhaben. Wir freuen uns, von Ihnen zu hören und Sie in der FAU-Familie begrüßen zu können.
Testimonials
Our donors tell us what they think about the Deutschlandstipendium…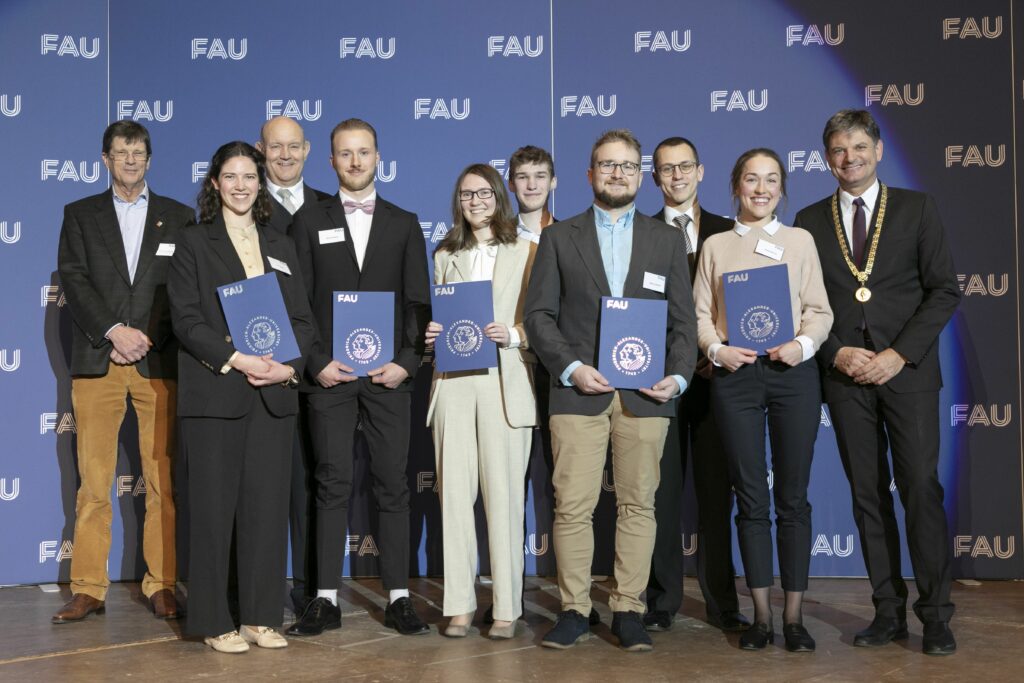 Would you like to award a Deutschlandstipendium?
Please feel free to get in touch!
Provide support with donations
As well as committing to a regular contribution, you can also choose to make a donation. This contribution is entered into a donation fund allocated to the Deutschlandstipendium.
FAU donation account
Recipient: Universität Erlangen-Nürnberg
Bank details:
Bayerische Landesbank München
IBAN: DE66 7005 0000 0301 2792 80
BIC: BYLADEMM
Purpose: PK-Nr. 0002.0159.2954 / Deutschlandstipendium der FAU
FAU donation platform
Make a donation either directly via our FAU donation platform from Betterplace or directly on to FAU's donation account.
You will, of course, receive a donation receipt, if the payment confirmation from your bank is not sufficient as proof of your donation.
We look forward to receiving your donation.
Your contacts
Are you interested? Please feel free to get in touch, without any obligation.
We are happy to call you back. Please let us know when it suits you.
Our donors and talents