The next generation
About Education for Sustainable Development
'We must change the way we think and act so that we can continue to live on this planet in the long term,' says Dr. Katrin Valentin, an expert in education, research associate at the Centre for Teacher Education at FAU, and course coordinator for 'Education for Sustainable Development' (ESD). The aim of this course is to help people develop sustainable ways of thinking and acting. 'Each and every one of us must understand that our actions have consequences. For ourselves and our surroundings, but also for other people worldwide and for subsequent generations,' explains Valentin. She is convinced that we can all learn to make responsible decisions with sustainability in mind. 'We have to, as our planet only has limited resources. Riding your bike to work every once in a while or separating your rubbish is simply not enough.'
Actions speak louder than words
But which skills do school pupils need for this? 'In conjunction with other researchers, education scientist Prof. Gerhard de Haan has drawn up a concept for these skills. According to this concept, education for sustainable development involves the ability to reflect upon one's own guiding principles and those of others, to plan one's own life while taking sustainability and justice into consideration, as well as to show empathy and solidarity with others,' explains Valentin. 'It also involves the interactive use of media, the adoption of perspectives from other cultures, the forward-looking analysis of developments, and the knowledge of how to deal with incomplete and overly complex information.'
These individual skills result in the ability to make a difference: 'This includes the ability to adopt one's own position and to take action.' The youth movement 'Fridays for Future', which campaigns for more climate protection and global sustainability, demonstrates the fact that many young people have already internalised this concept.
Having the courage to try new things
To create teaching strategies within the scope of education for sustainable development, an international team of researchers led by Prof. Dr. Katja Brundiers has developed five key skills. 'I think the ability to come up with future scenarios is particularly important,' says Valentin. 'For example, teachers can offer a simulation game or a workshop for the future and develop various scenarios with their pupils and reflect upon different versions of their own futures.'
On a general level, education specialist Valentin recommends that all teachers should be bold and try new things. 'There is a great need for action. This is where the provocative nature of education comes in. Don't just teach facts, but try something new, explore uncharted territory, use new methods, work with your colleagues, blur the boundaries between established disciplines, get your pupils involved and investigate complex issues together, think about how our actions affect the world and will affect subsequent generations, be open to discussions and take a clear stance.' Education for sustainable development has already been included as a general educational objective in the Bavarian curriculum and the numbers of eco-schools or climate schools in which various projects are being implemented are increasing across Germany. 'However, there is still a long way to go until ESD is taught across all subjects in schools,' explains Dr. Katrin Valentin.
Practical suggestions
How can the subject be implemented on an institutional level? 'The subject should be taught to students of teaching degree programmes, and there are an increasing number of opportunities to do so,' says Dr. Katrin Valentin. To support this process, the Centre for Teacher Education at FAU has recently published a handout called 'BNE in der Lehrkräftebildung' (ESD in teacher training). It is intended as an introduction for lecturers at universities, takes a basic approach to the topic of ESD from various standpoints and provides many practical suggestions.
About the author
Elke Zapf is a freelance communications expert and science journalist. She lives and works in Nuremberg.
---
FAU research magazine friedrich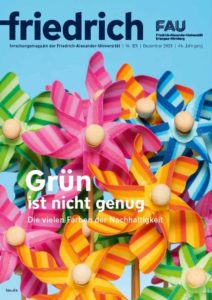 This article first appeared in our research magazine friedrich. You can order the print issue (only available in German) free of charge at presse@fau.de.
All articles