Excel, InDesign, Word & Co.
Pick up valuable skills for university and beyond with the software courses from our training center
Do you soon have to start formatting your first written assignment? Are you expected to automatically insert cross-references and start numbering pages from page three? Have you collected quantitative data in a study and now need to analyze and prepare statistics using Excel or SPSS? Or do you just like the idea of realizing your own projects using WordPress or Adobe? The training center at FAU's Erlangen Regional Computing Center (RRZE) is on hand to help. It regularly offers courses for various software programs: online, as video tutorials or face to face. As a student at FAU, the courses are available to you at a very reasonable fee. After the course, you will not only have gained skills that are valuable for your university studies and your future career, you will also be issued with a certificate you can include in your CV.
Timon Sengewald is a doctoral candidate at FAU and has been giving courses at the RRZE training center since 2015. In our video, he explains why you should make a point of attending courses during your studies and what you can expect.
Timon, which courses are available at the training center?
The courses we offer include courses in Microsoft Excel, Adobe InDesign, Access, PowerPoint, WordPress, reference management with Citavi or SPSS, a statistical analysis program. Of course, we also offer courses in Word, for example academic writing using Word. You can learn some useful tricks for written assignments and final theses.
Why is it worth students taking time to attend some of the courses the training center offers?
Particularly when it comes to courses in Word and Excel, students can learn a lot that will help them when it comes to academic working, for example how can I automatically generate a table of contents or my bibliography, how can I create cross-references? Students tend to take the courses just before they start writing their final theses, but if you are aware of all the functions the programs offer when you are writing your first written assignment, you can save yourself a lot of time and hassle later on.
At the end of the course you are given a certificate that you can include in your CV to prove, for example, that you have the relevant skills in Excel.
Depending on the course or your own personal interests, you can also learn a lot you can use outside of university, for example how to create your own blog using WordPress or edit your photos using Photoshop.
How often are courses offered and what form do they take?
Courses are offered at all times, you can check the training center's website to see which are currently on offer and where there are free places. Our courses always follow the same pattern: After an initial introduction to the theory, participants have the opportunity to apply what they have learned in a specific project. If you run into any problems, the instructors are always on hand to help you out.
All participants in the courses are also given a detailed script for the course that they can keep for future reference.
---
FRISCH! an der FAU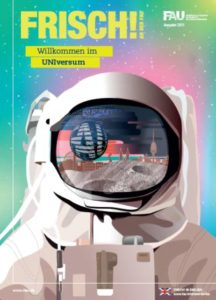 Here you'll find everything you need to know about starting your studies. From service facilities to reports on faculty projects and extracurricular activities at the university to alumni interviews, it's all here.
FAU freshman magazine "frisch" (June 2021) (in German)