FAU Fürth campus
FAU in Fürth
At the banks of the River Pegnitz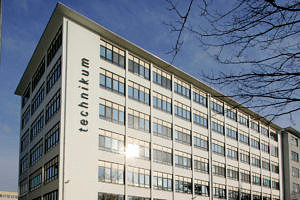 The FAU campus in Fürth, known as the Technikum, is home to the Institute for Learning Innovation (ILI), the Institute of Advanced Materials and Processes (ZMP) and several other university institutes. The Technikum is in the area of Fürth known as the Uferstadt, directly at the banks of the river Pegnitz. Just a stone's throw from the Technikum, in the area known as the Pegnitzauen, you can get away from the hustle and bustle of the city, cycle leisurely along the riverbank, or stop and enjoy a barbecue with friends.
---
Fürth is one of the very few German cities allowed to use the title 'city of science'. However, Fürth is not only a key location for research and a good place to work, it is also a great place to live. Many FAU students make the most of the excellent public transport connections and choose to live in Fürth whilst studying or working in Erlangen or Nuremberg. Fürth offers a wide choice of cultural events and live venues, from the vibrant scene in the Gustav-Straße and the Comödie Fürth to the Michaeliskirchweih beer festival, the Grafflmarket flea market and the medieval Christmas market.
---
Map
The FAU map service helps you find your way around the University buildings. The results are generated by the map service of the Computer Centre (RRZE) and show the various institutes of the University in the correct surroundings.