Restructuring of central research institutions
Information on the new organizational structure
Since 2018, the Executive Board has prepared the restructuring of the central scientific institutions under the leadership of the Vice President Research The aim is to establish a future-oriented structure based on academic centers focusing on the key research priorities at FAU that will help cultivate our particular research profile and increase FAU's international visibility at the same time as strengthening FAU's position for the Excellence Strategy. This intention is also based on the unequivocal verdict from the research evaluation conducted between 2014 and 2018 in all faculties.
Proposals for the restructuring were developed in numerous discussions with the institutions and research foci, such as during subject-related retreats, strategy meetings, and individual meetings. All FAU committees (Executive Board, University Governing Board, Senate and University Council) have been involved in this discussion process since the beginning of 2019.
New structure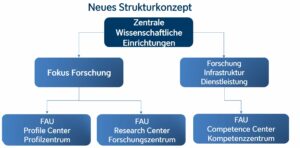 The new structure provides two forms of purely research-based centers for central research institutions and a further form of research-based institution with infrastructure or service competence (FAU Competence Centers).
The research institutions are based on the research priorities at FAU and also contribute to their content. The research institutions are further organized based on their scope and services into:
FAU Research Centers (individual institutions)
FAU Profile Centers which consolidate research strengths to sharpen FAU's profile
In view of the rapidly changing topics, the research facilities are generally established on a temporary basis and via a target agreement with the Executive Board, which includes extensions and transitional options. Competence centers are established on a permanent basis and are evaluated on a seven-year cycle and through target agreements with the Executive Board.
Summary of institution types
FAU Profile Centers
Shapes FAU's profile
Participation in ExStra, ongoing collaborative projects
Fixed seven-year term
FAU Research Center
Relevance to FAU research priorities
Collaborative projects (e.g. RTG, RU, CRC/TRR, BMBF, EU)
Fixed seven-year term
Status change possible within project duration
FAU Competence Center
Research-based, with reference to the fields of action (People, Education, Research, Outreach).
Long-term perspective, evaluation after seven years
The following applies to all institutions:
Target agreements are concluded.
Funding and positions are allocated centrally.
Resolution and legal basis
On September 30, 2020, the Senate adopted the statutes for the establishment of central research institutions pursuant to Section 20a of the University Constitution. The statues came into effect on January 1, 2021.
In accordance with the statutes, a two-year grace period was implemented or existing central research institutions from January 1, 2021.
Contact
Questions regarding the restructuring process
Vice President Research
Ulmenweg 18
91054 Erlangen
Schlossplatz 4 (Postanschrift); Halbmondstr. 6-8 (Besucheranschrift)
91054 Erlangen
Drafting statutes, legal questions
Schlossplatz 4
91054 Erlangen
Schlossplatz 4
91054 Erlangen