FAU guest houses
Temporary accommodation for (international) researchers
Our guest houses provide rooms for guest researchers for the initial period of their stay to allow them to feel at ease right from the start and to concentrate on their research. The minimum rental period for guest houses is one month and the maximum rental period is one year.
To make a reservation, please contact the office responsible for the guest house at uni-gaestehaus@fau.de.
Facilities and equipment at the guest houses
All apartments are fully furnished and equipped with cooking facilities including pots and pans, crockery and all necessary household appliances. Bed linen and towels are changed and rooms are cleaned every fortnight. The guest houses are equipped with washing machines and tumble dryers. The common rooms are a great place to meet other residents and have a chat or cook, eat and drink together. All apartments are also equipped with an internet connection. You can easily reach all our guest houses by public transport.
The complex is located at the foot of the Erlangen Burgberg and is well suited for families. Once a year, at Whitsun, it is right in the centre of activity when the traditional Bergkirchweih, one of Germany's most famous beer festivals, takes place.
Address:
Bergstraße 13, 91054 Erlangen
Contact:
Phone: +49 9131 4001700
Fax: +49 9131 9080140
E-mail: uni-gaestehaus@fau.de
Office hours:
Wednesdays and Thursdays from 8 am to 12.30 pm
Rooms:
4 x one room apartments, each 49 m2
4 x 1-1.5 room apartments, each 53 m2
2 x three room apartments, each 95 m2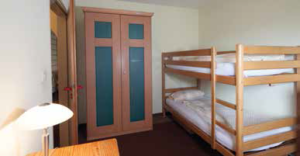 Bergstraße guest house (image: Erich Malter)
The two International Meeting Centres (IBZs) are located off Erwin-Rommel-Straße in the green suburbs of Erlangen and close to the University's southern campus in two buildings with a unique heritage. The Faculty of Engineering, some units of the Faculty of Sciences and the University's sports facilities are in easy walking distance. The bright and welcoming common room with kitchen in Building 61 is open to residents of both buildings and is highly popular venue for parties and private functions.
Address:
Erwin-Rommel-Straße 61 (IBZ I) and
Erwin-Rommel-Straße 63 (IBZ II),
91058 Erlangen
Contact:
Phone: +49 9131 6872880
E-mail: uni-gaestehaus@fau.de
Office hours:
Tuesdays, 8 am to 12.30 pm
Rooms:
Internationales Begegnungszentrum (IBZ) I: (International Meeting Centre I)
7 x one room apartments, each 16 m2
2 x three room apartments, each 40 m2
(one of which has disabled access)
2 x four room apartments, each 62 m2
Internationales Begegnungszentrum (IBZ) II (International Meeting Centre II)
7 x maisonette apartments, each 39 m2
1 x one room apartment, 49 m2 (with disabled access)
Erwin-Rommel-Straße guest house (image: Sabine del Alcázar)
The UniKate at Röthelheim Campus, a listed building on the grounds of former artillery barracks, is undoubtedly the showpiece among FAU's guest houses. It was purchased with funds from the Hans-Wilhelm and Helga Schüßler Foundation and has undergone complete refurbishment. The foundation aims to further the exchange between researchers from all over the world, which was also the motivation for acquiring this guest house. The name UniKate chosen by the trustees is to evoke associations such as university, cosy home – i.e. the German word Kate – and uniqueness, which all come to mind with regard to the guest house. Several supermarkets, medical centres, university institutes and restaurants are within easy walking distance of UniKate.
Address:
Carl-Thiersch-Straße 5, 91052 Erlangen
Contact:
Phone: +49 9131 8526617
Office hours:
Mondays, 8 am to 12.30 pm
Rooms:
7 x one room apartments sized 23 m2 to 28 m2
1 x two room apartment, 43 m2
FAU is pleased to offer visiting international researchers a special home from home at the 'Villa Jordan' guest house at the foot of the Burgberg in Erlangen.
The new guest house has 12 modern furnished units of various sizes between 17 and 42 square metres on the first and second floor. One apartment has disabled access and another four have their own kitchens.
On the ground floor, there is a light and airy common room, a catering kitchen, and a cosy lounge that can be used by residents for informal chats or to hold small-scale events such as presentations. The grounds of the guest house have been designed to incorporate the old oak and pine trees as well as possible, and offer another place where residents can meet.
Several shops, medical centres, University buildings and restaurants are only a short distance from Villa Jordan.
Address:
Jordanweg 2a, 91054 Erlangen
Contact:
Office hours:
Monday from 8 am to 10 am.
Rooms:
3 single rooms with bathroom
3 double rooms with bathroom
6 apartments with bathroom
Unfortunately, the University's guest houses cannot accommodate all guests at the University. They are sometimes fully booked months in advance. In this case, you will need to search on the private housing market. Please contact uni-gaestehaus@fau.de for more information.