Sustainability during your studies
Sneep at FAU - student network for ethics in economics and practice
Do you want to make sure that less food is wasted? Do you want to prevent plastic waste? Do you want to help promote more sustainability? Get involved in 'sneep' like Marlene and Regina.
'We want to increase more people's awareness of sustainability and get them involved. For example, we once set up a 'smoothie bike' in front of the student restaurant. Customers could mix their own smoothies by pedalling the bike,' explains Regina who has been involved with sneep since the summer semester of 2018. Sneep stands for 'student network for ethics in economics and practice.' The nationwide network promotes sustainability and ethics in economics and FAU even has two local groups of the organisation, in Erlangen and in Nuremberg. Check out sneep's Instagram account – you'll always find all the latest news there.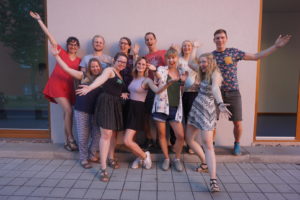 Sustainability Days in autumn
The groups organize a wide range of events and workshops about sustainability. 'We have a meeting at the beginning of the semester to decide what we would like to do. Then we form working groups and get to work,' explains Regina. There's no limit to creativity as far as their work is concerned. For example, FAU students worked with Student Services to cook more climate-friendly food in the student restaurants, held special events about food waste and organised a workshop for home-made cosmetics. The Sustainability Days are also held every year, during which both local groups work closely together and offer various activities during the course of three days such as a vegan cookery class. And it's very well received. 'I first heard about sneep at the Sustainability Days in 2018 and decided to become a member quite quickly,' says Marlene, who studies Social Economics at FAU. She is now one of four local group leaders at sneep in Nuremberg.
A degree in economics is not a must
Students interested in getting involved don't need to be studying economics or even be studying at FAU. 'Sneep Erlangen has members who are studying a very wide range of subjects,' says Regina. Anyone can get involved, the main thing is that they are interested in sustainability. And getting involved is worth it. 'If you're interested in getting to know the University and its structures better, learning more about sustainability and taking part in real projects, then sneep is the right place for you. We network with other university groups and can make contacts at various companies. I want to continue working on sustainability later on in my career, so this networking is very useful,' says Regina. 'We meet a lot of like-minded people who we can talk to. We really can make a difference and get involved. Sometimes we only take small steps, but it all counts,' adds Marlene. The group has already achieved a great deal. For example, sneep was involved in making FAU a 'Fairtrade University' in 2019.
FRISCH! at FAU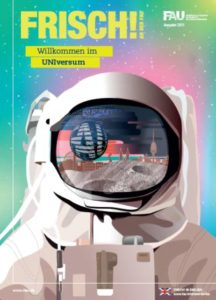 Here you'll find everything you need to know about starting your studies. From service facilities to reports on faculty projects and extracurricular activities at the university to alumni interviews, it's all here.
FAU freshman magazine "frisch" (June 2021)