Life after uni
This is how FAU helps you to start your career
FAU has a range of services to help get you off to a flying start and make sure the transition from uni to work is a nimble sprint rather than a torturous marathon.
Good advice from career pros
If you're looking for advice on jobs and careers, FAU's Career Service can provide guidance tailored to your individual needs. All you have to do is make an appointment.
The Career Service also holds regular talks, workshops and webinars on everything to do with entering the world of work. Topics include how to have a successful interview and do well at an assessment center. You can also attend courses on project management, presentation methods, and much more. The full program is available.
Are you thinking about applying for an internship or a job and want to know how you can make your documents stand out? Why not sign up for one of our application-pack checks? Experienced consultants will give you tips for optimizing your chances, including in interviews.
Register for an appointment with the Career Service
Valuable insights
You can benefit from the work experience of former students at our career meet-ups. Several times a semester, the FAU Alumni Management Team and the Career Service organize relaxed, informal meetings where graduates who are well established in their careers offer insights into their daily working lives and take questions from the audience. FAU holds career meet-ups for many different occupational fields and specialisms. The program is available online.
Online bulletin board
Whether you want to start getting work experience while you study or are just looking to earn some extra cash, it's a good idea to keep your eye on the university jobs notice board. FAU's Stellenwerk website advertises internships and part-time jobs. It also posts calls for proposals for dissertations and theses, graduate vacancies, as well as dates of virtual job fairs.
Taking your studies further
Are you fascinated by numbers, formulae and equations? Do your eyes light up when two substances react with each other in the way you were expecting? Can you spend hours animatedly discussing irregular verbs with your professor? Then perhaps an academic career is just the thing for you. The first step on this road is a doctoral degree. FAU's Graduate Centre can tell you how to go about earning one, and what you need to know as a doctoral student.
In our video series FAU4you, doctoral students of the Faculty of Natural Sciences talk about their research time and again – for example here:
FRISCH! at FAU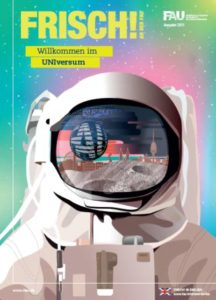 Here you'll find everything you need to know about starting your studies. From service facilities to reports on faculty projects and extracurricular activities at the university to alumni interviews, it's all here.
FAU freshman magazine "frisch" (June 2021)