"It was an amazing experience!"
FAU medical student and rower Till Martini wins silver at the World University Games.
Till Martini has been fascinated by rowing since he was just 13 years old, and has now made it into the German men's eight team as the coxswain. In August 2023, the 23 year old represented FAU and Germany at the World University Games in Chengdu, China, gaining second place with his team. His next goal is to compete in the World University Championships in Rotterdam, and possibly even the Olympic Games.
Competing at this level requires extensive training, and it is not always easy to juggle studying and sport, especially during examination periods. In our interview, Till explains how he masters this challenge and how he manages to pursue his passion even while studying, in spite of the major time demands.
Till, what exactly do you do as a coxswain?
As the coxswain, I am the "ninth" man in an eight, and am responsible for steering the boat as well as for planning our tactics during the race and technical work during training. I basically act as a link between the coach and the other rowers.
Why rowing?
Working together as a team and watching how I and the team develop over the years is just fascinating. All rowers from our discipline train together at the national training center in Dortmund. We see each other nearly every day. Being together all the time like that obviously leads to close friendships and experiences that I certainly wouldn't like to miss. And when we are successful, that motivates me to keep going.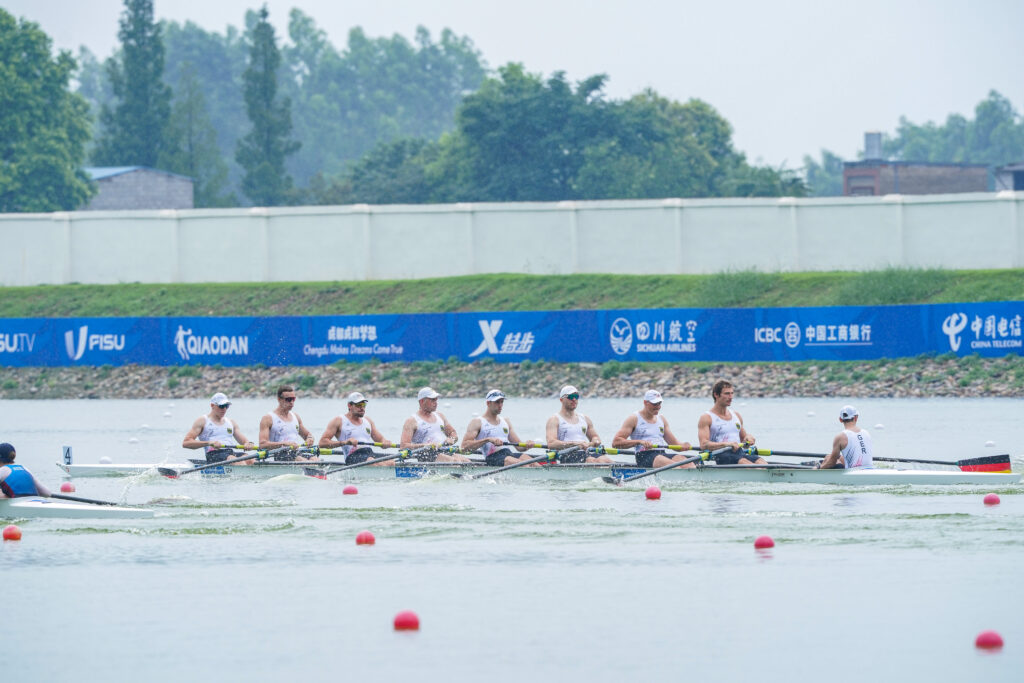 Studying and competitive sport – that's quite a lot to take on at once. How do you manage to cope with both?
Yes, it's extremely time-consuming. Planning is the be-all and end-all, and I have had to accept that I simply can't do everything at once and have to set priorities. Especially in summer, when there is a considerable amount of overlap between competitions and examinations my days literally consist of sleeping, eating, training and uni. Nothing else. Rowing is a very training-intensive sport, and participating in a team sport means that I am first and foremost a member of a team and do not always have to freedom to do what would be best for me to get ahead in my studies. I think juggling university studies and competitive sport is always a challenge.
What are your tips for coping with both in spite of everything?
Good time management is essential. I have always found it helpful to take time at the beginning of the semester to compare the dates of my lectures, seminars and examinations with the schedule for competitions and training. This means that I can approach my coaches and professors in good time and find a solution for any clashes.
It is also important to communicate honestly and openly with all parties, to ensure that everyone knows what is at stake and how many appointments we are talking about.
And you have to accept that not everything will work out the way you would like it to. Sometimes you have to be prepared to take a decision that will have negative consequences for either the university or the sport.
What strengths have you gained from your experience as a competitive athlete?
Above all the ability to work in a team, discipline and coping with pressure. Throughout the year, the team trains towards competing in the highlight of the season, it is inevitable that you start to feel the pressure at some point. And you do not only have to cope with external expectations, you also have your own expectations that you would like to live up to. It is just the same with the examinations. Over the years, sport has taught me to cope better with stress. Sport psychology has been very helpful in this respect. I can now cope better with defeat, in sport, but also at university, when examinations don't go how I wanted them to.
What support do you get from FAU?
FAU is a partner university of elite sport, which means that the majority of professors are open to finding a solution. I am very grateful for that. There is also someone at the university who is responsible for the competitive athletes and who can liaise with professors if need be. However, the degree program and examination regulations provide a fairly strict framework that restricts the amount of support that can be given, for example when it comes to alternative dates or achievements.
What is your plan for the coming year, for your sporting career on the one hand and your studies on the other?
I have several exams to take in this coming winter semester, and I hope that I will be able to take my first State Examination (the Physikum) at the end of the semester. I am currently the second coxswain for the German men's eight, and we are now training for the Olympic Games after having successfully qualified. That will entail several training camps and a lot of training in Dortmund. For me, that means that in Paris I will probably "only" be the stand-in and will then train with the other athletes who did not make it into the national team this year for an alternative highlight in the season. For example, the World University Championships in Rotterdam.
About the FISU World University Games
The FISU World University Games, previously known as the Universiade, are the largest multi-discipline sporting event after the Olympic and Paralympic Games. Since 1959, the games have been held every two years, alternating with the World University Championships. Similarly to the Olympic Games, the World University Games are held in summer and in winter. Participants from German universities are nominated by the German University Sports Association. In 2023, the World University Games were held in Chengdu, China. The host for 2025 will be Germany.