HOCHSPRUNG Award 2023: Prize for two FAU startups
Startups with solutions for the climate and energy crises received the second and third prizes
On October 13, 2023 in Munich, the HOCHSPRUNG Award was presented to startup projects from Bavarian universities. This year, the award was presented to startups who make a contribution to solving the challenges posed by the climate and energy crises. Startups from FAU won the second and one of the third prizes.
2nd prize (2000 euros) – Evolonic
Detecting forest fires early on using drones: The Evolonic student group. The system developed by Evolonic is able to detect forest fires in early stages of development, thus preventing damage to the environment and financial losses.
Their drones can search wide areas of forest quickly and detect sources of fire with their sensors and cameras. The drones are extremely quiet so that they do not disturb animals in their natural habitat.
In addition, Evolonic's software provides information about the spread of a fire to fire crews on the ground in real time. The officers in charge can plan and coordinate the firefighting measures using this information.
The interdisciplinary student group has around 25 members. The group's workshop is located south of the Faculty of Engineering on the premises of its most important cooperation partner, the Fraunhofer Institute for Integrated Systems and Device Technology (IISB).
3rd prize (1000 euros each) – Amperial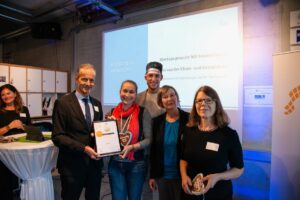 A film that reflects the heat of the sun's rays, but lets daylight pass through – that is what AMPERIAL Window Technologies has developed. The invention of a material based on nanotechnology has enabled the team to develop cost-effective sun protection films that can reduce the temperature reached in buildings by up to seven degrees and the electricity consumption for cooling and lighting by up to 26 percent.
CEO Matthias Trost studied International Business Studies at FAU. The preliminary work was carried out in the FAU research group "Solution Processed Semiconductors" at Energie Campus Nürnberg. Matthias Trost was also honored during this year's FAU Dies academicus as an FAU Innovator in the "Alumni" category.
The Hochsprung Award
HOCHSPRUNG is the entrepreneurship network for universities in Bavaria and is a support program provided by the Bavarian State Ministry of Science and the Arts.
The aim of the HOCHSPRUNG Award is to provide funding to startups at Bavarian universities. 26 startups from all over Bavaria entered their projects for the HOCHSPRUNG Award. In the final, six teams pitched their idea in front of a jury and an audience at Hochschule München.