Studying abroad
Studying abroad
With its numerous foreign partner universities, FAU offers a wide variety of options for studying abroad. With Erasmus+ you can study at FAU partner universities throughout Europe and in selected partner countries. The FAU direct exchange program offers opportunities for studying in countries outside Europe. In addition, you can also study abroad as a free mover rather than with one of the exchange programs offered by FAU. Please therefore ensure you start planning and preparing your stay abroad as early as possible and contact us if you have any questions. Click on one of the buttons below to find out more about various options for stays abroad:
Interactive world map: Overview of exchange programs (beta version)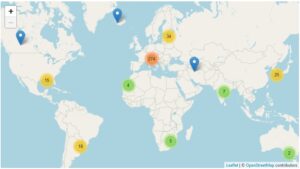 To display the options open to you for studying abroad (including testimonials from previous students), click the map on the right hand side. Please note that the interactive map of our Mobility Online portal is still a beta version that merely provides an initial overview. Please therefore ensure that you compare the results of your search with the updated lists of our Erasmus partner universities and FAUexchange universities and ask your department coordinator.
We are continuously improving the interactive world map and are grateful for your feedback. Send us an e-mail at mobility@fau.de.