Studying abroad
Increase expertise in your subject, broaden your horizons
Studying abroad opens up new perspectives on the subject you are studying. You can increase your subject knowledge and explore areas that interest you in more depth. At the same time, you learn a new culture of teaching and learning, as well as boosting your language skills. You can arrange to have your study achievements from abroad accredited towards your studies at FAU.
With its numerous foreign partner universities, FAU offers a wide variety of options for studying abroad. With Erasmus+ you can study at FAU partner universities throughout Europe and in selected partner countries. The FAU direct exchange programme offers opportunities for studying in countries outside Europe.
Even if you choose to study abroad as a free mover rather than with one of the exchange programmes offered by FAU, you can find important information on our website to help you organise and prepare for studying abroad.
Due to the current situation, please send us your inquiries by e-mail to
mobility@fau.de
. We can also make an appointment for a telephone call with you.
Mobility Online portal
Our world map also shows you all the options available to you for studying abroad.
Information about using Mobility Online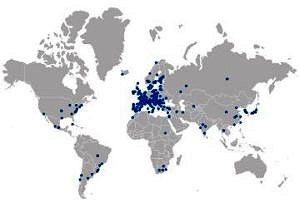 In the Mobility Online portal, click on the link called 'Exchange possibilities' on the top left hand side. If you click on the link called 'Questionnaires' on the top left hand side, you can read about the experiences of other students who have already completed a stay abroad.
The world map sometimes takes a while to load – please make sure you plan enough time for detailed searches.
Please also read the additional information about Erasmus partner universities and FAUexchange universities.
Free spaces for exchanges on Mobility Online
We recommend that you include the option of an exchange lasting one academic year in your initial search. This is the only way to ensure that only currently available exchanges are displayed in the results.
Please note that the current Erasmus programme will soon be coming to an end. The process for extending the exchange contracts for the new programme is currently underway. Not all opportunities for exchanges available as of the 2021/22 academic year are displayed in the search results. Please therefore ensure you also check our list of Erasmus partner universities and ask your department coordinator about which opportunities for exchanges are available.