The University Council
Contributing to the decision-making process
The University Council is involved in all decisions which are relevant to the entire university. This includes development planning, the structure of the university, the introduction of new degree programmes, policy issues and budget priorities. The University Council is also responsible for appointing the President of the University and the Vice Presidents.
It consists of the elected members of the Senate and important figures from the worlds of scholarship, culture and practice. The Executive Board, the Women's Representative and the Doctoral Candidates' Representative participate in its meetings in an advisory capacity. A representative of the Bavarian State Ministry of Education, Science and the Arts is invited to its meetings.
External members
Roland Auschel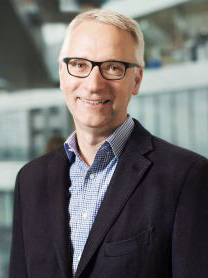 Roland Auschel, who holds a diploma in Business Administration, a BA in European Business Studies (UK) and an MBA (USA), began his career at adidas in strategic planning, later taking on management posts in the company at the regional and global levels. His previous roles include Business Unit Manager, Key Account Manager Europe, Managing Director Market Central and Head of Region Europe, Middle East and Africa. He became Chief Sales Officer for Multichannel Markets in 2007. He is currently a member of the Executive Board of adidas AG in Herzogenaurach. Roland Auschel represents FAU's involvement with local businesses and its wide network of regional, national and international contacts with global players in industry.
Walter Bockshecker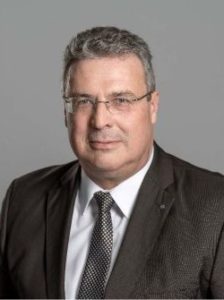 After studying Vocational Education at Universität der Bundeswehr in Munich, Walter Bockshecker spent seven years in the Bundeswehr, during which time he held various posts. In 1990, he moved to the German Insurance Association for Vocational Education and Training (BWV), where he later became managing director. In addition, he was managing director of the newly established Deutsche Versicherungsakademie (DVA) for three years, starting in 2001. Walter Bockshecker has been a member of the Executive Board of NÜRNBERGER Versicherungsgruppe since 2004, where he is responsible for human resources and welfare, as well as materials management. He has also been chairman of the Board of Directors of NÜRNBERGER Communication Center GmbH since 2013 and chairman of the Supervisory Board at NÜRNBERGER SofortService AG since 2014. He additionally holds several voluntary posts as a member of the Executive Board of the German Insurance Association for Vocational Education and Training (BWV), is chairman of the Executive Board of BWV Nordbayern-Thüringen and deputy chairman of Forum V. Walter Bockshecker personifies the vigorous insurance industry in the Nuremberg Metropolitan Region with its strong ties to FAU.
Prof. Dr. Claudia Breger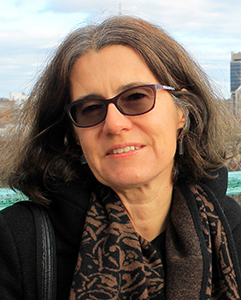 Prof. Dr. Claudia Breger studied German literature at Freie Universität Berlin and Washington University, St. Louis (USA). She completed her doctoral degree and habilitation at Humboldt Universität Berlin and worked at several other German universities before then becoming Assistant Professor and later Associate Professor of Germanic Studies at Indiana University, in Bloomington, USA, where she was appointed Professor for the subject in 2013. In addition, she was Head of the Department of Gender Studies from 2012 to 2015. In 2017, she was appointed Villard Professor for German and Comparative Literature at Columbia University, NYC. She has received numerous awards as a researcher, teacher and mentor. Her list of publications and lectures is remarkable. Her extensive international experience in the research landscape as well as her knowledge in the field of gender studies are a valuable asset to FAU.
Dr. Roland Busch (Chairman)
Dr. rer. nat. Roland Busch, born in 1964, is an alumnus of FAU. He studied physics here and at the University of Grenoble. He started his career in 1994 at Siemens AG, as a project manager at the Global Research Department, before he moved to the Strategic Planning department in the Automotive Division in Regensburg in 1995. He held several other leading positions in various departments and regions within Siemens. Dr. Roland Busch became a member of the Managing Board at Siemens AG in 2011. He was initially responsible for the Infrastructure and Cities sector, before. being appointed Chief Technology Officer, in charge of Research and Development. Subsequently, he was named Deputy CEO. Since February 2021, Dr. Busch has been the President and CEO of Siemens AG. Dr. Busch represents sciences and engineering at FAU, and his long and varied experience in a major international company makes him a particularly valued advisor for FAU.
Peter Kurz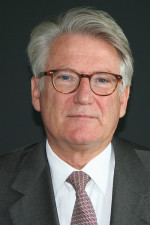 Peter Kurz is chairman of LEONHARD KURZ Stiftung & Co. KG in Fürth, an international group which is a global leader in transfer and coating technology and has 4500 employees. KURZ manufactures and sells decorative and functional hot stamping foils for a wide range of applications. After studying Business Studies at the European Business School in Frankfurt, Paris and London, Peter Kurz became the fourth-generation managing director of the family company. In addition to this role, he is also a voluntary member of the Executive Board of the Arbeitgeberverband der Bayerischen Chemischen Industrie. Peter Kurz was previously a member of FAU's Advisory Board. By making him a member of the University Council, the university hopes to benefit further from his expertise by including a representative of SMEs/hidden champions of business on the University Council.
Prof. Dr. Reimund Neugebauer
Professor Reimund Neugebauer was born on 27 June 1953 in Thuringia, Germany. He studied mechanical engineering at Technische Universität Dresden (TUD), where he obtained his doctoral degree in 1984 and completed his habilitation in 1991. After working as a manager in industry, he returned to TUD as a university lecturer in 1989, and was appointed Head of the Institute of Machine Tools in 1990. In 1992, the Fraunhofer Research Institution for Forming Technology and Machine Tools was established and Professor Neugebauer was appointed a director of the institute, responsible for machine tools and automation technology. In 1994, he was appointed Executive Director of the research institution now known as the Fraunhofer Institute for Machine Tools and Forming Technology IWU, and remained in that position until September 2012. In 1993, was appointed temporarily to the Professorship of Machine Tools at Chemnitz University of Technology, and became the regular holder of the chair in 1995. From 2000 to 2012, he was the Executive Director of the Institute of Machine Tools and Production Processes at TU Chemnitz, and from 2003 until 2006 he was also the Dean of the Faculty of Mechanical Engineering. On 1 October 2012, Professor Neugebauer became the President of the Fraunhofer-Gesellschaft. Two of the many awards Professor Neugebauer has been presented in recognition of his achievements are the Officer's Cross of an Order of Merit of the Federal Republic of Germany (Bundesverdienstkreuz 1. Klasse der Bundesrepublik Deutschland) and an Order of Merit of the German State of Saxony (Sächsischer Verdienstorden).
Prof. Dr. Benno Nigg
Born in Switzerland, Prof. Nigg studied Nuclear Physics at the Swiss Federal Institute of Technology in Zurich (ETH Zurich). He began his career in biomechanics in 1971. and became director of the biomechanics laboratory at ETH Zurich in 1976. In 1981, he moved to the University of Calgary, where he established and developed the Human Performance Laboratory, a multidisciplinary research centre with approximately 180 researchers working on research into the human body and how it moves. The goal of this work is to improve mobility and quality of life. Prof. Nigg has received numerous prizes and awards for his research (over 31,900 citations, h-Index: 97), including the Olympic Order, an honorary doctorate of the University of Salzburg and an honorary professorship at the Shanghai University of Sport. His experience as a dean at the University of Calgary in Canada, which is comparable to FAU, his work as a member of the Alberta Economic Development Authority, a think tank of the Alberta provincial government, and his practical experience in developing and managing spin-offs as well as his business contacts are incredibly valuable for FAU.
Prof. Dr. Dr. h.c. Margit Osterloh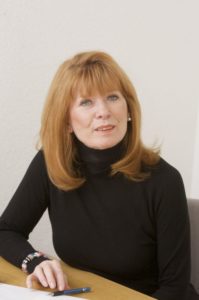 Margit Osterloh studied industrial engineering and management at the Technische Universität Berlin, completing her Diplom in 1970. She then spent several years working for a medium-sized company in Nuremberg as an assistant to the director. She received a scholarship from the Max Planck Institute for Human Development from 1976 to 1981 and was awarded her doctoral degree by Freie Universität Berlin in 1981. Margit Osterloh obtained her habilitation at FAU in 1990. She spent some time as Professor of Human Resources at the University of Lüneburg before being appointed as a professor at the University of Zurich. She became Chair of Business Administration at the University of Zurich in 1991. She has held various research fellowships at institutions such as the University of Canberra in Australia and the Institute for Advanced Study Collegium Budapest, and spent time as a visiting professor at the University of Vienna. She was Professor of Management Science at Warwick Business School at the University of Warwick, UK, from 2010 to 2013. Margit Osterloh holds an honorary doctorate of the University of Lüneburg and was a member of the German Council of Science and Humanities to 2011. As part of her academic activities, Margit Osterloh is involved in a wide range of committees and boards. FAU benefits from her international experience in academia and science management, and the expertise in business administration that she brings to the University Council.
Prof. Dr. Beate Rudolf
Prof. Dr. iur. Beate Rudolf has been the Director of the German Institute for Human Rights since 1 January 2010. Previously, she was a junior professor for public law and equality law at the School of Law at Freie Universität Berlin for six years and led the sub-project 'Requirements under international law for governance in weak and failing states' as part of the collaborative research centre 'Governance in areas of limited statehood'. Her research focuses on fundamental and human rights and principles of state structures as set out in international law, European law and German constitutional law as well as taking a comparative law approach. In addition to more than 20 years of experience in research and teaching in these areas (at the universities of Bonn, Düsseldorf, Tulane Law School in New Orleans and Freie Universität Berlin), she has practical experience of working in human rights, for example during her legal training at the Human Rights Directorate at the Council of Europe, as a representative of complainants at the European Court of Human Rights and many years voluntary work within the Deutsche Juristinnenbund (German Women Lawyers Association) and the European Women Lawyers Association, where she was vice president until the end of 2011. From 2016 to 2019, she was the head of the Global Alliance of National Human Rights Institutions (GANHRI).
Prof. Dr. Luc Sels
Luc Sels, born in 1967 in Merksem, Belgium, is rector of KU Leuven. His four year term of office as rector began on 1 August 2017. He began working at KU Leuven in 1996 as an assistant professor and from 2004 as a professor at the Faculty of Economics and Business. He was elected dean in 2008, and he was re-elected in 2013 for a second term of office. From 2013 onwards he was an adviser to the rector for integration at KU Leuven. Luc Sels is honorary professor at Cardiff University and a research associate at Vlerick Business School.
His most important research interest include labour market prognosis, active labour market policy, talent management, employee differentiation, and co-operatives. He is holder of the Randstad Chair of Employer Branding, the Chair of Belgian Business Champions of the Belgian company association VBO FEB and the CERA-Boerenbond Chair of Cooperative Entrepreneurship. Luc Sels carries out research in labour market policy and is a political adviser. He represents the Employment Minister in the Belgian High Council for Employment (Hoge Raad voor de Werkgelegenheid) and heads the Centre of Expertise for Labour Market Monitoring (CELM), which advises the Flemish government in matters of labour market policy.
With Prof. Dr. Luc Sels, FAU is intensifying its links to prestigious international universities, as well as benefiting from his experience as the rector of the most innovative university in Europe.
Members of the Senate with voting rights
Advisory participation
Coordination