Neologistics
More individual solutions, faster delivery and lower costs. Modern logistics in an increasingly connected and technological world involves much more than simply transporting goods efficiently from A to B.
Our lives in our modern connected world would be unthinkable without logistics. Thanks to logistics, supermarket shelves are stocked with all the products we need, a replacement part for an aircraft is available at short notice at almost any location in the world and production lines at car factories never stand still. Modern logistics, however, involves much more than transporting goods efficiently from A to B. Over time, the processes involved have become more complex, and now range from the procurement of raw materials to the manufacturing, marketing and shipping of goods. All this in a world that constantly demands more individual solutions, faster turnaround times and lower costs.
These are the challenges explored by researchers at the Chair of Supply Chain Management at FAU. 'Logistics has changed. The trend for outsourcing and for lowering the number of manufacturing processes carried out in-house has resulted in an increasing number of supply chains that are based on a division of labour,' emphasises Professor Evi Hartmann, Chair of Supply Chain Management. 'Competition in global markets, short product life cycles and higher and increasingly individual customer expectations have catapulted supply chains to the forefront of business decisions.'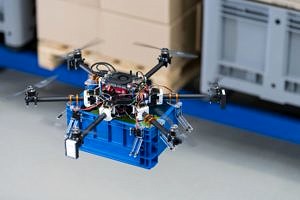 Increasingly, we are seeing a shift away from competition between individual manufacturers and towards competition between complex supply chains comprised of connected but independent companies.  The partners in such logistics chains must work together closely and share updates on operational aspects such as disruptions or fluctuations in demand through connected systems. Modern supply chain management goes above and beyond the conventional focus of business administration and the idea of companies as 'systems', moving instead towards global value chains.
Specifically, Professor Evi Hartmann and her team investigate how the flow of goods, information, money and personnel can be planned and managed in the best possible way over the entire length of a value-chain – from the suppliers of raw materials right up to the end customer. 'The primary aim of supply chain management is to improve the efficiency of processes, increase customer benefit and optimise the demand for resources – ultimately to supply customers and markets with goods in a way that is commercially successful,' says Hartmann.
She focuses on numerous challenges and trends that influence the German logistics sector as a whole and supply chain management in particular. In addition to cutting the costs incurred for logistics, these include coping with changing expectations and improving the flexibility of logistics systems to meet customers' individual needs. Customers want their products even quicker than before. 'This increases the pressure on the competition to match or even outdo the delivery times offered by their competitors,' says Evi Hartmann. 'The higher number of parcels in transit this causes increases the demand for logistics facilities near cities. This trend aggravates the shortage of space in urban centres in Germany and demands new solutions for how space is used.'
'Logistics in Germany needs to become greener, and it is starting to do so'
The transfer of information and technology is another challenge. 'Online retail is one of the main drivers here, too – in terms of logistics, our consumption is becoming boundless,' says Professor Hartmann. 'At the same time, we're seeing a continuing trend for product customisation. For example, end customers of large sportswear companies can choose almost every last detail of their new sneakers before ordering them. This individualisation significantly increases the complexity of logistics.' The issue of sustainability is also playing an ever-increasing role in supply chain management.
'Logistics in Germany needs to become greener, and it is starting to do so,' emphasises Dr. Hendrik Birkel, whose work focuses in particular on the aspect of sustainability in supply chain management. As the postdoctoral researcher at the Chair of Supply Chain Management explains: 'Logistics facilities, vehicle fleets and production and logistics processes are no longer evaluated based solely on efficiency, but increasingly also for their sustainability. We must therefore also consider which technologies and types of fuel are needed for climate-neutral logistics.'
Another aspect of supply chain management, known as intralogistics, deals with the flow of materials and goods on site within a company. A project at the Institute for Factory Automation and Production Systems (FAPS) focuses on current developments in this area of logistics. Project initiator Markus Lieret and his team are developing autonomous unmanned aerial vehicles (UAV) or drones for fully-automated transportation of materials within companies as part of the research association Forschungsgemeinschaft Intralogistik/Fördertechnik und Logistiksysteme (IFL) e.V.
'Expanding intralogistics to include the third dimension – airspace – allows previously unused space to be integrated into the material flow, and the floorspace needed for logistics processes can be reduced as a result.'
The idea behind the AIRKom research project is that autonomous UAV can be used in an extremely wide range of applications such as aircraft construction, shipbuilding or the automotive industry due to their ability to fly directly from one location to another, the transport speeds they can reach and their low maintenance and low cost design.
'Since every car is now customisable, it's no longer feasible to place a container on the production line full of only one type of steering wheel or navigation system. Rather, the individually required part must be delivered to the line during a specific time frame, to avoid holding up production,' explains Markus Lieret. 'At the moment, employees have to deliver parts from the warehouse to the production line by bicycle or car if a navigation system, for example, is damaged. Staff at the production line can't simply install another device as they have all already been reserved for another car. We are hoping that drones will help us automate and simplify the process involved in delivering urgently needed spare parts.
AIRKom is also looking into innovations in picking, which is the process of putting together individual deliveries. 'Mobile robots are already in use at large online retailers, bringing entire shelves to the picking stations so that staff can put all the goods ordered by a customer into a cardboard box,' says Markus Lieret. 'We want to go a step further and transport individual containers such as plastic boxes, which only contain the relevant products.'
For Markus Lieret, the benefits of the drones are obvious. 'Expanding intralogistics to include the third dimension – airspace – allows previously unused space to be integrated into the material flow, and the floorspace needed for logistics processes can be reduced as a result.' An interdisciplinary approach across several disciplines ranging from electronics engineering and computer science to mechanical engineering is being taken to create a concept for the use of drones and to develop the technology required.
With his colleague Christian Hofmann and FAU students, Markus Lieret is working on the battery and drive technology of the drones for the AIRKom project, developing the control software and flight intelligence system. They are also fine tuning the drones' route planning system, and are working on issues regarding occupational safety, such as how to prevent crashes, or parts falling from the drones and how to minimise the noise they produce to ensure that staff are not disturbed by the drones flying above their heads. Both FAU researchers have set their sights on creating a functioning prototype by the end of the project in 2021 that can precisely, reliably and autonomously fulfil orders, for example by fetching the box containing the goods, transporting it to a destination, depositing it there, picking it up again and returning it to the storage location before it flies back to the loading bay and waits for the next order.
About the author
Michael Kniess studied political science and sociology at FAU and completed training as a journalist before starting his career as a freelance journalist and author. The publications he writes for include heute.de, die Welt am Sonntag and the Nürnberger Zeitung.
---
FAU research magazine friedrich
This article first appeared in our research magazine friedrich. You can order the print issue (only available in German) free of charge at presse@fau.de.
All articles