A home away from home
How student services can help you
Off to university! For most new students that also means leaving home for the first time. Student Services is on hand to help, however, no matter what crops up.
Student Services – the basics
First things first: Student Services is always there for you, irrespective of whether you need help coping during a global pandemic or your fridge is empty. It offers you a wide range of catering services in the direct vicinity of the university, processes your BAföG application and points you in the right direction for other financial support, gives you advice free of charge and at short notice for any problems you may be facing, rents out rooms in student accommodation at student-friendly rates and even runs childcare facilities for students who are parents. Details of all services and further information is available at www.werkswelt.de and on Twitter, Facebook and Instagram.
Eating
Student Services has six cafeterias in Erlangen and Nuremberg that usually offer three meals each lunchtime including one vegetarian option. There is at least one vegan dish on offer every day and fish is served on Fridays. You can also find soup, sides and a range of delicious desserts. And there's a salad buffet for when you're in need of a vitamin fix. Main meals are often available for under two euros for students. In a move to become more environmentally friendly, re-usable cups and dishes are also available for your takeaway. You can pay at all cafeterias and cafés with your FAUcard.
The best place to meet up in Nuremberg is the Insel Schütt cafeteria in the city center. In Erlangen, it's the cafeteria at Langemarckplatz. As well as the standard cafeteria meals, it offers a grill and wok station, a pizza/pasta and salad bar, and the new vitamin-rich, low-fat mensaVital menu. The cafeteria on the Southern Campus in Erlangen is also worth a visit. There you will find a daily deals counter and an organic veggie point offering crunchy veg and soup made from only organic ingredients.
Information on the cafeterias and menus is available online. If you just need a little snack or want to take a coffee break, you can visit one of the 16 cafés. Student Services only sells fair-trade, organic coffee. The cafés sell sandwiches, cake, sweets and of course drinks. Some of the cafés are open in the mornings for breakfast and have special offers in the afternoons. There are also vending machines at various locations around the University where you can get something to eat or drink when the cafeterias and cafés are closed.
The Südmensa in Erlangen can get pretty busy at lunchtime. The Südblick cafeteria right next door has been opened to ease the pressure. In Erwin-Rommel-Strasse 51a you can enjoy a savoury snack, something sweet, or hot and cold drinks. Our tip: try the frozen yoghurt!
Accommodation
Finding somewhere to live isn't always easy, but Student Services can help you with this too. It has student accommodation at 16 locations in Erlangen and Nuremberg with space for around 3500 students. The newest is the accommodation at the southern campus in Erlangen, which was opened in 2018. The advantages of student accommodation are that the rooms and apartments are inexpensive and you are guaranteed to meet a lot of your fellow students. Demand is high, though, so you will need to apply early. You can apply via the Student Services website.
If you don't get a place in student accommodation or would like to live somewhere smaller, it's worth checking the private accommodation on offer at the referral service, which has offices on the ground floor of the Studentenhaus at Langemarckplatz 4 in Erlangen and at Andreij-Sacharow-Platz in Nuremberg. You can also find the addresses of student accommodation run by other operators in the WERKsWeiser brochure and on the Student Services website.
Money
Student Services can also help you with financial questions. It provides advice on BAföG and is the place to submit applications. If you have any questions, just contact Amt für Ausbildungsförderung at Student Services Erlangen-Nürnberg, Hofmannstraße 27, Erlangen, phone: +49 9131/8002-900 or Andreij-Sacharow-Platz 1, Nürnberg, phone: +49 9131/8002-59. It's very easy to submit your BAföG application online at www.bafoeg-bayern.de. Nearly all students will find that it is worth submitting a BAföG application, and only part of the state support has to be paid back.
Transport
Once you have transferred your semester fees you receive a semester ticket for the VGN network. This allows you to travel on the entire VGN network between 7 pm and 6 am during the week, or all day at the weekend, and you can take your bike with you too.
Why not make the most of it and take a trip to the water sports centre at the Brombachsee, go climbing in the Fränkische Schweiz or do a bit of sightseeing in Bamberg? You also have the option to buy an additional ticket each semester which allows you to travel at any time of day.
Advice
If you have any legal issues, such as with your landlord, the Examinations Office or your employer, you can make use of Student Services' legal advice service which is free of charge. Just e-mail rechtsberatung@werkswelt.de. The psychological counselling service can help you with anxiety about examinations, conflict with your partner, social anxiety and other personal issues. It offers weekly drop-in consultation sessions where you can air your concerns entirely anonymously, as well as discuss them in more depth if required. You can even take part by phone or video chat. The social counselling service provides advice on topics such as studying as a parent or with a disability or chronic illness, and arranges student loans.
What else?
Student Services also provides music practice rooms and offers assistance to students who want to organise their own cultural events. It runs the 'Musenhäppchen' events, where student performers have the chance to showcase their talent twice a semester. In addition, it supports students with children and runs four daycare facilities in Erlangen and Nuremberg, one of them together with a parents association, and a parent and child café at the campus on Regensburger Straße in Nuremberg. Children with at least one parent who is enrolled at the University can receive a special card for free meals at the cafeterias on request.
---
FRISCH! at FAU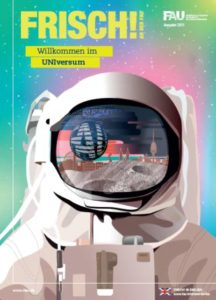 Here you'll find everything you need to know about starting your studies. From service facilities to reports on faculty projects and extracurricular activities at the university to alumni interviews, it's all here.
FAU freshman magazine "frisch" (June 2021) (in German)