An unexpected change of key
Melanie talks about her career after her teacher training
When you've got your degree, it's usually time to start looking for a job, but sometimes things don't always turn out the way you expect them to – like for FAU alumnus Melanie Lokotsch.
Melanie, your career took a different turn to the one you planned. You studied for a teaching degree at FAU, decided not to complete your practical teacher training and set up a songwriting and music production team with two fellow students instead. How did that all come about?
I must admit that a teaching degree with English and Music Education as my subjects was a bit of a stopgap as I was rejected several times from the University of Popular Music and Music Business in Mannheim. However, I quickly realized that the degree I had chosen was just right for me after all. I had so many opportunities at the Chair of Music Education to develop my musical talents – in the chamber choir, the rock ensemble or during student concerts. After my State Examination, two fellow students and I decided to set up a songwriting and music production team instead of completing our practical teacher training. All three of us had this feeling that there was something bigger out there for us than a career in teaching and we knew we could write good songs. So we sat in our home studio for days on end and wrote songs together so we could offer them to producers and artists. Later on, we started collaborating directly with some artists. Even though I didn't become a teacher in the end, I would not have missed my time at uni for the world. I would definitely not be at this stage of my musical career now if I hadn't studied at FAU.
You're not only a songwriter now, but you've also been performing your own songs as 'HILLA' on stage since 2020. Why did you decide to take this step?
Even as a child I wanted to get on stage and sing my own songs, but I struggled with a huge lack of confidence. As a songwriter, I thought I could still make music and express myself in the lyrics without having to stand on stage and perform my songs myself. While working as a songwriter for other performers, I started to realize that I still wanted to work on my own project as an artist. After the team split up, I decided to take the plunge and released my own song called 'Kein Mittelmaß' (No Mediocrity), which is how my project called 'HILLA' came about. The name is the Finnish word for cloudberry, which is a berry that only grows in the north and looks a little bit like an orange raspberry. I'm a big fan of all things Scandinavian and also took a Finnish language course at uni for two semesters, so that's the reason I chose it.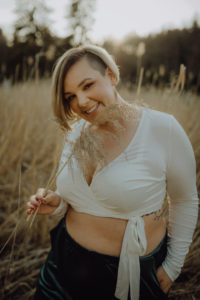 What are you working on at the moment?
I'm currently concentrating on the next few HILLA singles, so that I can release them as soon as possible. I'm also doing some writing sessions via Zoom with songwriters and producers for some pop and 'Schlager' songs for other artists. I really hope we can work face to face again soon though. At the same time, I'm working on putting my own project on stage so that it's ready to go once live performances are possible again.
What did you gain from your time at FAU apart from your Finnish language skills?
I definitely expanded my horizons in many ways. Before starting my degree I didn't know much at all about classical music, but then at uni I studied classical singing and sang in the chamber choir. I discovered my love for choir music and really improved my musical skills, especially on the piano. A fellow student and I had the opportunity to travel to Philadelphia for four weeks to stay with a host family via the Bavarian Teachers' Association and I did some work experience in all sorts of different types of schools there. That was an unforgettable experience. I also still use a lot of the knowledge I gained during my psychology and education seminars today.
Which tips would you give to students who are just starting their degrees?
Take it easy! Those legendary parties with your fellow students that you'll probably still be friends with 20 years down the line are more important than getting top marks in the exam you have to take the morning after. Someone probably said that to me too, but I was simply too stubborn and too much of a perfectionist to listen.
And what advice would you give to students who start having doubts that they're doing the right thing?
Don't be put off by what other people say and trust your instincts. It's only natural for parents to want their children to get a really good degree so that they have the best opportunities in life after university. But a degree isn't the right thing for everyone. It takes a lot of courage to drop out of university or to admit to yourself that you're out of your depth. This is precisely because of the great deal of pressure from society and the high expectations of those around you. Ultimately, however, you have to take responsibility for your own life and decide how you want to spend the precious time you have on this planet.
HILLA's Website
HILLA's Instagram
Out of sight, out of mind?
Not a chance! FAU keeps in touch with its former students via a lively alumni network. It doesn't even matter if your graduation is still a long way off – you can join the alumni network while you're still a student. You can make interesting contacts which might prove to be useful in your later career both via the FAU Community and by attending events. Register free of charge.
FRISCH! at FAU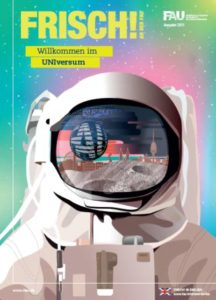 Here you'll find everything you need to know about starting your studies. From service facilities to reports on faculty projects and extracurricular activities at the university to alumni interviews, it's all here.
FAU freshman magazine "frisch" (June 2021) (in German)