Music to the ears
Music offers at the FAU
Do you have music in your veins? FAU offers plenty of opportunities for the musically inclined. You could, for example, join the University orchestra in Erlangen – like Sophia.
'We all wait in the wings, then we're allowed to go up on the stage. You can feel the atmosphere intensify as we take our seats. Before playing the first note we whisper 'have fun' to each other. There's a great sense of community. At this moment in time, we all have the same goal, we are all together in one place. Then the conductor comes in, lifts his baton, everyone raises their instrument, and the music starts.'
The last few seconds before the concert begins are always very intense, and Sophia savors the special atmosphere. Sophia is studying Theatre and Media Studies and Education at FAU, and plays the violin in the University orchestra. Twice a semester, Sophia takes to the stage with the University orchestra and plays for an audience of several hundred people. In Erlangen, performances are held in the Heinrich-Lades-Halle. This is a major success for the students, who previously only played in smaller venues such as churches.
A shared passion
The University orchestra was launched in the 1960s, and currently has roughly 75 members, the majority of whom are students. It is a good way for first year students to meet new people: 'I have met lots of people who share my passion for music,' explains Sophia, who has been part of the orchestra for two and a half years. They meet to practice once a week, as well as at special rehearsals and the rehearsal weekend. After the weekend, if not before, the orchestra members are a close-knit team: 'We spend the whole weekend together, from Friday until Sunday. When we're free in the evenings, we meet up and have a good time. The rehearsal weekends are definitely one of the highlights, as well as the concerts, of course,' says Sophia.
Open to all
If you are a talented musician you can join in, no matter what you study and no matter whether you are based in Erlangen, Fürth or Nuremberg. Anyone who is interested just has to attend an audition. But don't panic: the audition is very relaxed. It only takes between three and five minutes, and you can even choose what you want to play. It is certainly worth joining in, if only because playing music is such a good way to switch off whilst studying. 'I often have several different things on my mind. But when I play, I have to concentrate on what I am doing and can't afford to think of anything else. Being able to switch off and focus on something else is extremely valuable,' according to Sophia.
Prefer singing?
Then why not join the Academic Choir? If you prefer ragtime, blues, rock or pop to Mozart, Beethoven or Bach you should look into the JRP (Jazz Rock Pop) choir, the big bands or the jazz or rock ensemble at the university. Would you like to perform and improve your skills in singing or playing an instrument? Singing lessons are available for all students in Erlangen. At present, music lessons are also offered in piano, organ and violin.
There are also rooms available for anyone wanting to 'make some noise', for example in the Orangerie or Schallershofer Strasse 84 in Erlangen.
FRISCH! at FAU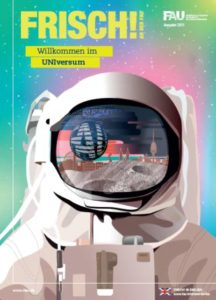 Here you'll find everything you need to know about starting your studies. From service facilities to reports on faculty projects and extracurricular activities at the university to alumni interviews, it's all here.
FAU freshman magazine "frisch" (June 2021)