Off the couch!
University Sports at FAU
No matter whether you want to become really fit or just want to meet new people while doing sport. University Sports offers something for everyone!
With options as diverse as Aikido, tango or lacrosse, you can get involved in many different sports at FAU. Of course, more traditional sports like football, tennis and swimming are included in the wide range, too. University Sports runs courses in around 70 different sports each normal semester. This year, more courses will be offered online. As soon as it is possible, however, on campus options will be added to the programme. The costs are low, so it's the perfect opportunity to try something new.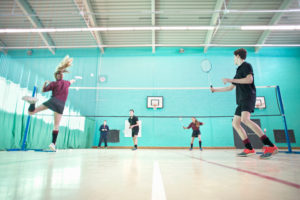 For example, why not have a go at sailing? The University's water sports center is located by the Brombachsee Lake. Complete beginners and those with more experience can take part in courses there to gain sailing qualifications.
If you are already qualified, you can hire a boat from the center.
University Sports also organizes a range of keep-fit courses including aerobics, Tae Bo and fitness gymnastics where you'll exercise muscles you never knew you had. You can also go for a workout at the University Sports gym.
Fans of the Far East can train their body and mind in courses such as karate or Tai Chi. If that's not your style, you might prefer ballet, zumba, climbing or yoga – to name just a few of the alternatives. Whether you prefer indoor or outdoor, individual or team sports, there's something for everyone. You can also meet new people who are interested in the same sports through the 'Find a sport partner' service. You can't find exactly the sport you were looking for?
Then suggest it to us, or even take the course yourself as the instructor. University Sports is always open to new sports and courses.
Daniel
has
taken
a
closer
look
at
a
few
sports
Full speed ahead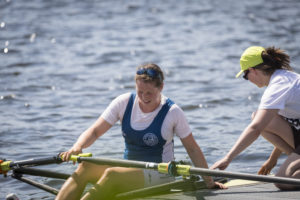 You want to test your skills by competing against other students? Then why not join one of the FAU teams that regularly take part in competitions. Like Ruth.
Just a few more powerful strokes and the rowing boat will cross the finishing line – ahead of all the others. Ruth, her seven teammates and the cox are thrilled, as they have won the bronze medal in the women's eight at the European University Championships (EUC). But that's not the only reason for Ruth to be happy. She also qualified for the EUC in the category single scull. Ruth studies medicine at FAU and rows for the Erlangen Rowing Club (Ruderverein Erlangen). She started the students' rowing team together with her fellow student Hedwig when she first came to university. Sporting success is not the only thing that motivates the 28 year old to take part in the competitions such as the German University Championships (DHM). 'The DHM is the perfect combination of sport and fun. You get to spend a lot of time with the team and it really is a great experience, not just during the races,' reports Ruth. Standards at the DHM are very high, as a number of top athletes take part.
However, you don't have to be particularly experienced at rowing, as there are special races for beginners. Anyone can join in at rowing, no matter whether they are setting out to win or just want to give the sport a try. According to Ruth, some are pushed to their limits, others are encouraged to develop their potential and others just enjoy the exercise and companionship within the group.
Rowing motivates Ruth whilst studying, and is a welcome way to relax. The DHM is usually held right in the main examinations period. However, team members give each other valuable moral support during this stressful period, as they are, quite literally, all in the same boat! They are a great source of encouragement and motivation for each other – both when rowing and when studying. There is also plenty of opportunity to relax and have fun together, whether having a barbecue, playing board games, watching favourite series on TV or going skiing.