The library: A meeting place for creative minds
Everything you need to know about the University Library and for winter semester 2022/23
A place where new ideas are formed and historical knowledge is stored. Knowing how to make the most of the University Library (UB) will help you get ahead in your studies.
You've already been given your FAUcard which functions as a library card. Before you can borrow your first book, however, you need to activate your library user account on the IDM website. Your library ID is on the back of your FAUcard under the barcode. One working day after activating your account you can start using all the services at the University Library.
Library and research basics
The University Library contains more than five and a half million printed books and a great many e-books. To make sure you know how to find what you're looking for, we recommend attending the course on "Library basics" and "Research basics". Each 30-minute session will introduce you to the secrets of our University Library. You will learn how to find the books quickly in the catalog, what the different signatures mean, which books you can borrow or read online – everything you need to know for your studies. If you have any specific questions about the library, for example on interlibrary loans or databases, you can take a look at the University Library's YouTube channel.
For the beginning of the winter semester, you can find out more about the University Library's locations in Erlangen and Nuremberg during some short drop-in sessions.
You'll find many of the books you'll need when starting out at university in textbook collections. They are available at the four main libraries, as well as in some of the over 100 institute libraries in Erlangen and Nuremberg. They contain several copies of textbooks and basic literature according to subject. A lot of these books are available for borrowing directly off the shelf. However, a large proportion of the UB's stock is stored in closed stacks and cannot be collected from the shelves by users. You can order these books and journals via the catalog in one click: simply enter your library user ID and password. You will receive an e-mail as soon as the book is ready for you to collect. Essays for written assignments can be found easily using the search function for essays and more in Primo.
Studying at home
You can read the UB's many e-books and e-journals at any time and almost anywhere. To access them from outside the University you must set up a VPN on your computer.
You can borrow printed books for up to four weeks. If that's not enough, you can renew them several times via the catalog. To be on the safe side, the library will send you an e-mail reminding you of the date your books are due back. However, not all books in the UB are available to borrow and take home. Only books from the Main Library, the three branch libraries and some of the institute libraries can be borrowed. Books from the reference libraries can only be borrowed over night or over the weekend, if at all.
If the library doesn't have a book that you need, you can request an interlibrary loan from another library in Germany. This means you have free access to a few more million books for your studies. When you have written assignments to do you may want to make use of the document delivery service FAUdok which allows you to have journal articles sent directly to your desk.
Happy to help
And because the range of media and services on offer is so huge and can be confusing for new students in particular, the library is available to help via several different channels. At the major branches there are information desks which offer individual support and advice. You can also phone the librarians or go to the library's website to find answers to any questions you may have about the library and how to use it.
Self-study facilities
In addition to providing books for you to borrow, the UB is also the ideal location to study. Whether you prefer to study alone or with others, you are certain to find your favorite spot in one of the library's many locations. In some libraries you can reserve a space in the study areas via an online reservation system.
The University Library is always open for you and your ideas!
FRISCH! at FAU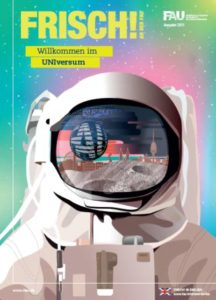 This magazine that tells you everything you need to know about starting university at FAU. It includes everything from information about service centers, faculty projects and extracurricular activities at the University to interviews with FAU alumni.