ProFund programme
Professional third-party research funding for academics
The ProFund programme aims to ensure young researchers are familiar with the procedures involved in applying for third-party funding.
We provide support in this important area while the programme provides you with the opportunity to participate in targeted continuing education courses designed to further your research career.
ProFund is aimed at young researchers from all FAU faculties, in particular postdoctoral researchers, habilitation candidates and junior professors.
The objective is to learn how to develop ideas for new projects, apply for third-party funding, and organise and carry out third-party projects. The programme provides participants with the skills they need to create promising applications and successfully carry out third-party projects funded by providers such as the DFG, the EU, the BMBF and major foundations.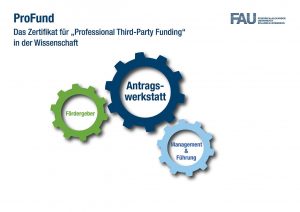 To obtain the ProFund certificate, participants must attend the following seminars and events:
Module 1 – Funding providers
Module 2 – Application workshop
Module 3 – Management and leadership
You can register to take part in the individual seminars at the Graduate Centre and apply for the certificate after completing the programme.
The modules at a glance
Methodology and origin
Contact persons in the faculties
FAQs